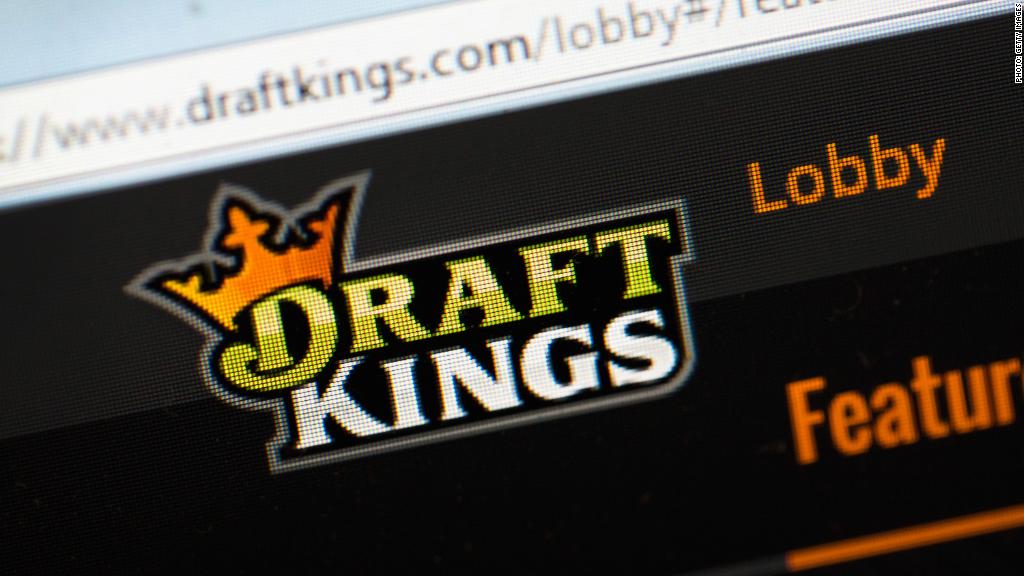 The Supreme Court is expected to soon decide if New Jersey can legalize gambling.
But the case is much bigger than the Garden State, and the sports world knows it.
In 1992, Congress passed a law that makes it illegal for people to bet on sports in most states. Nevada was made exempt -- because gambling is legal there and highly regulated -- and Montana, Delaware and Oregon were allowed to keep their sports lotteries. New Jersey is challenging the constitutionality of that law. The case, which pits Jersey against the government, has made it all the way to the country's highest court.
Annually, illegal sports betting amounts to a roughly $150 billion industry.
DraftKings, a daily fantasy sports site, wants a part of that. It's currently preparing for the best case scenario: That a positive ruling for New Jersey will open the flood gates for legal sports gambling across the United States.
CEO Jason Robins told CNNMoney in an interview that DraftKings is staffing up for a potential rush.
"We're pretty excited about it," he said. "It's a huge market that has the opportunity to create lots of new players, lots of new revenue and really open up things in a way that they never have been before in the United States."
It's a radical change for a company that spent years separating itself from gambling, but Robins said he thinks sports betting could become one of the biggest parts of DraftKings' business if the Supreme Court rules in favor of wagering on games.
Related: DraftKings and FanDuel won't merge after all
In 2015, DraftKings, along with its rival in daily fantasy sports, FanDuel, faced regulatory crackdowns and scrutiny from the feds and several states, including New York, Texas and Illinois. The two companies then brought lawsuits against several states and attorneys general who said their business was illegal.
The issue was in the way DraftKings and FanDuel presented themselves. They billed themselves as games of "skill" versus games of "chance," which are considered betting. But the states alleged that their marketing and websites misled consumers.
According to several filings, both sites downplayed the addictive nature of their games and the advantages professional users had over amateur players. Both sites also inaccurately portrayed how difficult it is to win money.
The companies navigated a series of lawsuits and negative opinions, some of which ended in penalties.
Both companies eventually agreed to each pay $6 million to the state of New York and $1.3 million a piece to Massachusetts. Other litigation is either still pending or was resolved without penalty.
DraftKings and FanDuel attempted to merge their companies as a way to bounce back from the regulatory hurdles they'd faced.
But the Federal Trade Commission raised concerns about antitrust violations and the two companies called it off.
They now face regulations in 19 states, but DraftKings continues to grow its daily fantasy sports business. It currently has a fan base of 9 million players and operates in 41 states, including DC.
Related: DraftKings, FanDuel agree to end college sports contests
Robins said he hasn't considered what will happen if sports betting is legalized and the NFL doesn't get on board. But it's no sure bet that the NFL -- perhaps the league most crucial to DraftKings' success -- will embrace gambling.
The NFL has been a vocal opponent of sports betting. It refused to run Super Bowl ads from the Las Vegas Convention and Visitors Authority and prohibits players from participating in "advertising or promotional activities" that could be seen as relating to gambling or endorsing it.
During a press conference after the NFL's league meetings on Wednesday, Commissioner Roger Goodell said the league is working to ensure NFL clubs understand how things might change if sports betting is legalized.
"We have to make sure that whatever environment we're working in, and some of that may be related to what the Supreme Court decides, some of it may be future legislation, but we need to make sure that we're operating in an environment where we can protect that integrity of our game," he said.
Despite the NFL's careful approach, Robins is optimistic.
"I think if it's done in the right way, then everybody will see that it's a great value driver. It creates more revenue opportunity for them. It creates more engagement with their fans," he said.
"Everybody should be able to benefit from it. And when you have a situation like that where everyone should be able to benefit from it, as long as you do it in the right way, I think everybody usually ends up happy at the end."