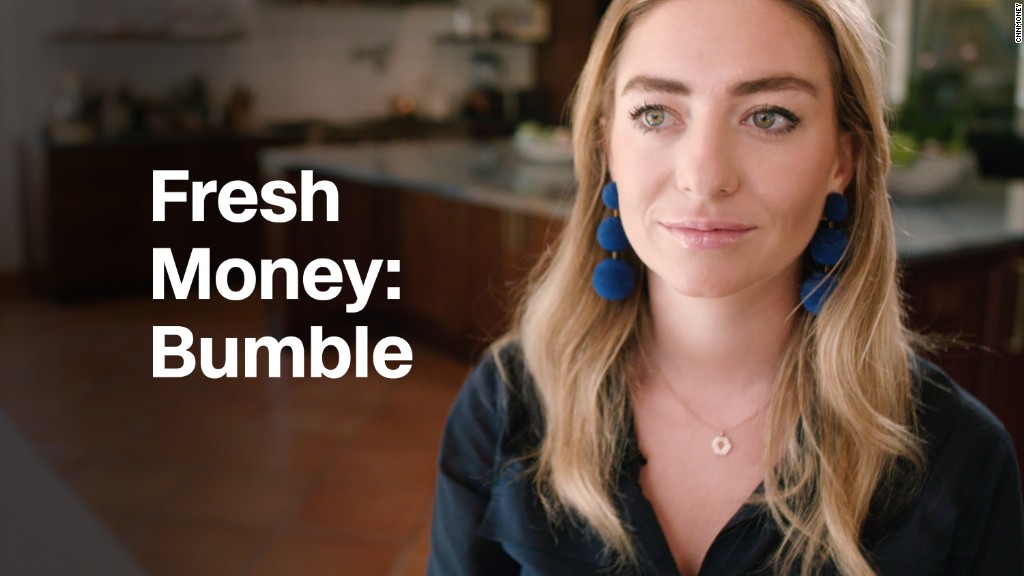 Bumble is seeking $400 million in damages from Match Group, Tinder's parent company.
That's according to a new countersuit that Bumble, the female-friendly dating app company, says it filed late Thursday.
Two weeks ago, Match Group filed a lawsuit against Bumble accusing it of patent infringement and stealing trade secrets. It said Bumble is virtually identical to Tinder, the app that popularized the swipe right to like, swipe left to dislike functionality.
But Bumble's countersuit suggests that Match Group went on the offensive against it because of something many of the apps' users can relate to: rejection.
"After Bumble's parent company rejected repeated lowball offers by Match to invest in the Bumble platform, Match embarked upon a tortious and fraudulent campaign against Bumble," according to a copy of the complaint seen by CNN.
Related: Men swipe right, but women make the first move
It's been widely reported that Bumble once turned down a buyout offer from Match Group, which has previously told CNN that it doesn't comment on speculation about mergers and acquisitions.
Bumble's suit claims the two companies were in talks as recently as December 2017. Match Group "deviously asked for, and received Bumble's most sensitive competitive information -- without disclosing that it was already planning to sue Bumble," the complaint says.
It also takes a dig at Tinder's swiping design patent, calling it "invalid."
Tinder and Bumble have a complicated history.
Bumble — founded by Whitney Wolfe Herd, a former Tinder employee — has become one of Tinder's biggest competitors.
Bumble launched in 2014 and has more than 22 million users. What makes Bumble different from other dating apps is that only women can make the first move. But Match confirmed last month that it plans to launch a similar feature for Tinder, making it possible for women to only have to interact with men whom they message first.
Related: Bumble ad responds to Tinder suit: 'We swipe left on your scare tactics'
Match Group CEO Mandy Ginsberg addressed the company's lawsuit against Bumble in an internal email sent last week that was obtained by CNN.
"I want to be clear about something: this is not about singling out any individual company. This is about protecting the integrity of your work," she wrote in the email.
On Thursday afternoon, after this story was originally published, a spokesperson for Match Group sent a statement about the Bumble lawsuit to CNN.
"This lawsuit is a petulant and meritless response to our patent and trade secret claims. Last week, Bumble claimed our complaint was baseless and won't affect them, and this week they claim it is 'chilling' the sale of their company," the statement read. "They also shockingly claim that our patents issued by the United States Patent & Trademark Office are 'bogus.' We obviously think their lawsuit has no substance and look forward to proving that in court."
Last week, Match Group also filed a lawsuit against another app, Chinese dating service TanTan, for patent infringement.
Bumble already publicly responded to the Match lawsuit when it took out full-page ads in The New York Times and The Dallas Morning News last week. In the ad, Bumble called the lawsuit's claims "baseless," noting that the company "looks forward to telling its story in court."