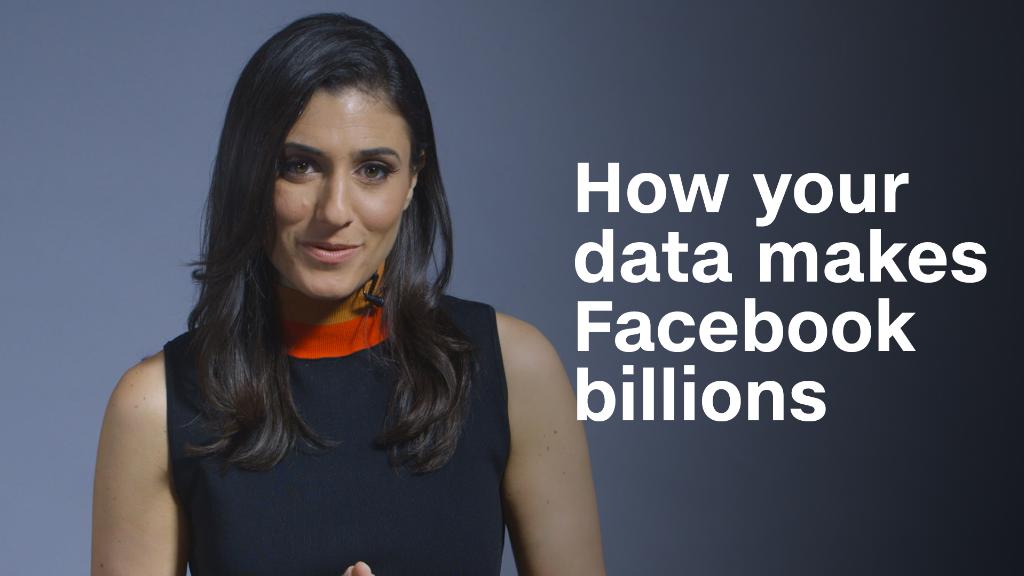 Facebook keeps apologizing for privacy. Apple uses privacy as a selling point.
Apple CEO Tim Cook teed off on Facebook's digital advertising strategy in an interview hosted by MSNBC's Chris Hayes and Recode's Kara Swisher on Wednesday.
He called privacy a "human right" and "a civil liberty." When "all of a sudden something is chasing me around the web," Cook said, he finds it "creepy."
Cook claimed the moral high ground, saying Apple "could make a ton of money if we monetized our customers" the way Facebook does. But he said he decided not to do it because it would violate the trust Apple has built with its fans.
Easy for him to say. Apple makes the vast majority of its money selling hardware, including iPhones, iPads and Macs, and it doesn't sell as much of its customers' personal information to advertisers as Google and Facebook do. Its iAd advertising business is extremely small — not by choice, but because it failed to take off.
Instead, Apple has made privacy a sales pitch for its products.
In a 2010 interview with The Wall Street Journal's Walt Mossberg, former CEO Steve Jobs defiantly defended customers' right to transparency.
"Privacy means people know what they're signing up for, in plain English and repeatedly," Jobs said in 2010. "Ask them. Ask them every time. Make them tell you to stop asking them if they get tired of your asking them. Let them know precisely what you're going to do with their data."
In 2014, after hackers stole celebrities' nude photos from their iCloud accounts, Apple committed to transparency about the information it collects and shares. It said it wouldn't sell information to advertisers based on the content of your emails and texts. And it encrypted iPhones so the government can't get its hands on data stored on your phone.
That issue blew up in 2016, when Apple refused to comply with a court order to break into the iPhone owned by the gunman in the mass shooting in San Bernardino, California.
An Apple spokesman declined to comment for this story.
Related: A long awaited privacy awakening is here
Facebook, on the other hand, has built an entire business on selling information about its customers to advertisers.
CEO Mark Zuckerberg says the public doesn't understand Facebook's business model. In an interview with CNN's Laurie Segall, he noted that Facebook doesn't sell raw data to advertisers.
Instead, Facebook analyzes its 2 billion customers' personal information, assigns it to categories, such as 18-to-20-year-old women who like baseball, and allows companies to target ads to those groups.
Yet Facebook's reputation is decidedly different from Apple's. The company is taking heat after Cambridge Analytica, a data company with ties to President Trump's campaign, accessed information from about 50 million Facebook users without their knowledge.
Problems with privacy and privacy settings have plagued Facebook for years. The FTC fined Facebook for privacy violations and Zuckerberg has apologized a number of times for Facebook's screw-ups.
Zuckerberg has struggled to articulate his position on privacy. In a recent post, he called for internal investigations and trust-building. Facebook has also made its privacy settings easier to navigate and dialed back its business with companies that collect information about consumers. A Facebook spokeswoman declined to comment beyond its blog posts and recent actions on privacy.
In his CNN interview, Zuckerberg said he would welcome regulation — maybe.
"I actually am not sure we shouldn't be regulated," he said. "I think in general technology is an increasingly important trend in the world. I think the question is more what is the right regulation rather than 'yes or no, should we be regulated?'"
In a recent Wired interview, Zuckerberg hedged further, saying government "guidelines are much better than dictating specific processes." For example, he said Germany's laws against hate speech "backfired."
Cook disagrees. He said Facebook's privacy situation was "dire," and he called on legislators to fix it.
"Some well-crafted regulation is necessary," Cook said.
Zuckerberg's wishy-washy answers aren't surprising. If Apple were in the same line of business, it would probably hedge, too.