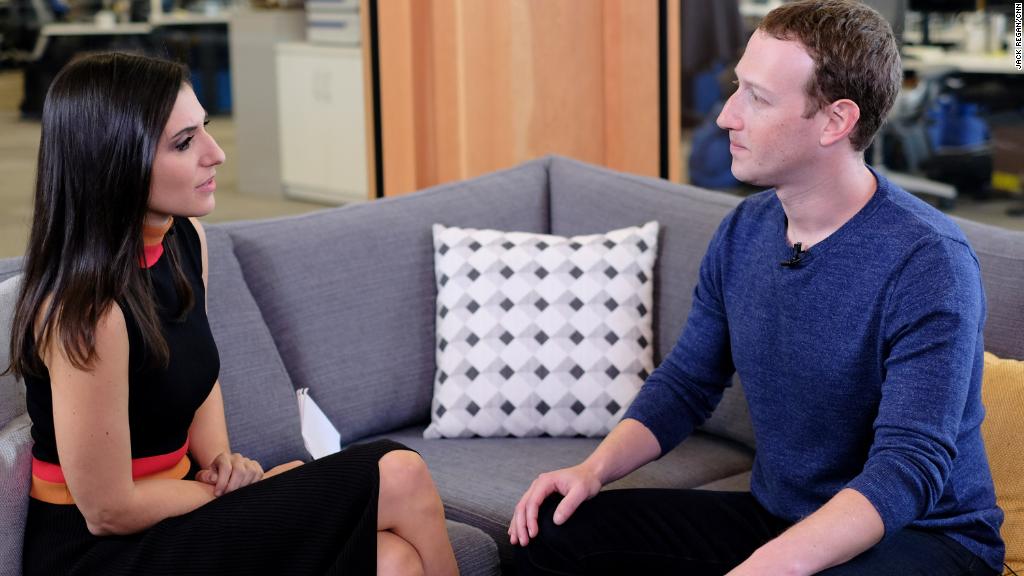 Facebook CEO Mark Zuckerberg doesn't typically give interviews, but he's been on something of a press tour lately, most recently speaking with Ezra Klein of Vox.
Zuckerberg is defending Facebook's business model in the wake of revelations that political data firm Cambridge Analytica had accessed and improperly stored data on millions of Facebook users.
These are the main points he made in his conversation with Vox.
1. Zuckerberg fires back at Tim Cook
Zuckerberg responded to recent criticism from Apple CEO Tim Cook.
Cook recently said there should be increased regulation of social media and called privacy a "human right" and "a civil liberty." The Apple chief questioned companies monetizing user data on free platforms by selling targeted ads.
"You know, I find that argument, that if you're not paying that somehow we can't care about you, to be extremely glib. And not at all aligned with the truth," Zuckerberg told Vox.
He also defended Facebook's business model.
"The reality here is that if you want to build a service that helps connect everyone in the world, then there are a lot of people who can't afford to pay," he said. "Having an advertising-supported model is the only rational model that can support building this service."
2. Facebook will consider letting users appeal posts that were taken down
The company could add an independent process for appealing content that has been removed by Facebook for violating standards.
"Right now, if you post something on Facebook and someone reports it, and our Community Operations and Review Team looks at it and decides that it needs to get taken down, there's not really a way to appeal that. I think in any kind of good-functioning democratic system, there needs to be a way to appeal," Zuckerberg said.
In the future, Facebook employees could make the first decision based on company standards, and then users could get a second opinion from outside of the company.
"You can imagine some sort of structure, almost like a Supreme Court, that is made up of independent folks who don't work for Facebook, who ultimately make the final judgment call on what should be acceptable speech in a community that reflects the social norms and values of people all around the world," Zuckerberg said.
3. Fixing Facebook will take time
Zuckerberg admitted that solving Facebook's problems -- such as fake news and foreign election meddling -- won't happen overnight.
"I think we will dig through this hole, but it will take a few years," Zuckerberg said. "I wish I could solve all these issues in three months or six months, but I just think the reality is that solving some of these questions is just going to take a longer period of time."
The company began investing in security issues at least a year ago, he said.
"So if it's going to be a three-year process, then I think we're about a year in already. And hopefully, by the end of this year, we'll have really started to turn the corner on some of these issues," Zuckerberg said.
He said there are about 14,000 employees working on security and community operations to tackle issues such as Russian interference in US elections.