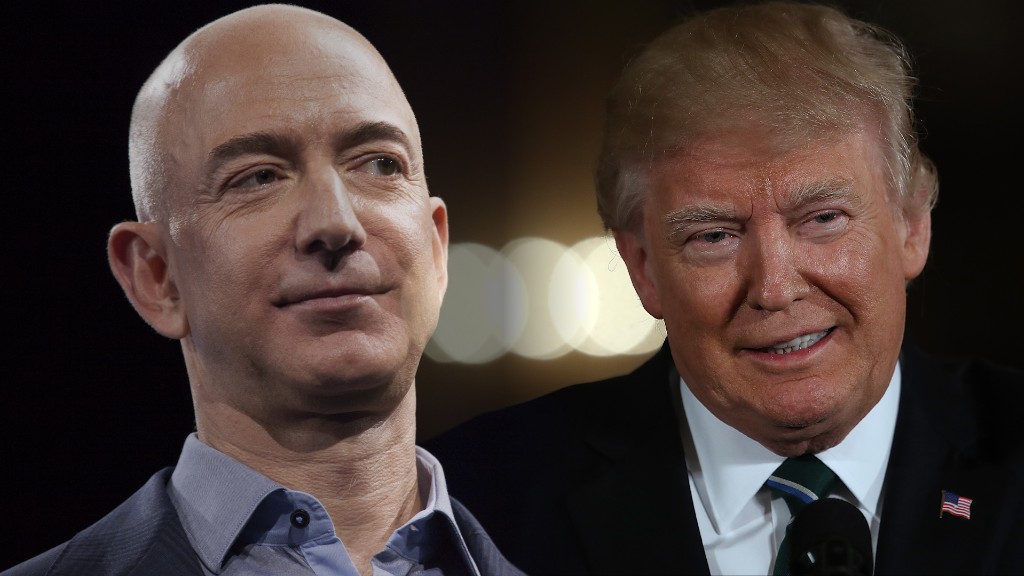 "Preposterous and disingenuous."
That's how the Washington Post is describing President Trump's insinuation that Jeff Bezos uses the newspaper to help Amazon.
Bezos is the CEO of Amazon and the owner of the Post. By all accounts he treats them as separate businesses -- but Trump seems to think otherwise.
The president has been blasting Amazon on Twitter, contributing to a sell-off of the company's stock. One of the president's tweets brought up the Post connection by saying the paper should register as an Amazon lobbyist.
Many observers have concluded that Trump's anti-Amazon statements are, at least in part, a form of punishment for the Post's aggressive coverage. The newsroom frequently breaks news about the administration and the opinion pages employ many Trump critics.
Related: Amazon does big business with Trump's government
"People close to the president have said critical articles in The Post often trigger his public musings about Amazon," The New York Times reported Monday.
Now the paper's publisher and CEO, Fred Ryan, is speaking out.
In a new statement to CNN on Tuesday, he said the Post "operates with complete independence in making all news and editorial decisions. We alone decide what to publish."
"It is preposterous and disingenuous to suggest that The Post is used to advance Jeff's other commercial interests," Ryan said.
Related: In Trumpworld, 'Roseanne' and Fox are good. 'SNL' and Washington Post are bad
Post editor Marty Baron said much the same thing in an interview with The Times. He called Trump's depiction of the Post as an Amazon lobbying arm "completely made up."
"We cover him the way that we feel any president should be covered," Baron said.
Baron also made this point: If Bezos was meddling in the Post's coverage, "you can be sure that you would have heard about it by now," because reporters would protest the action and leak information to outside news outlets.