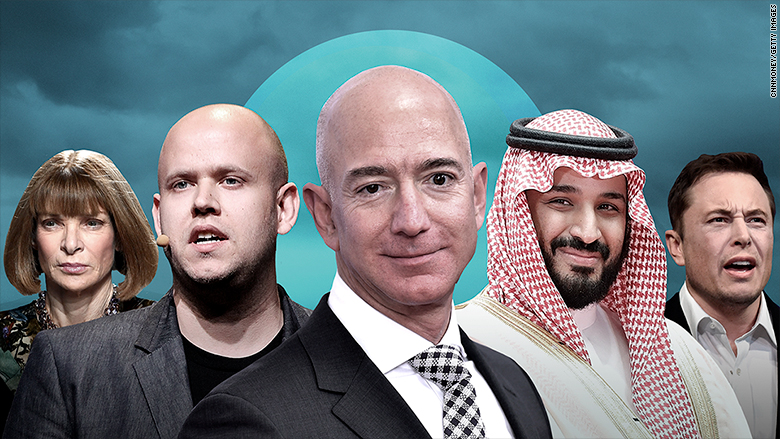 What's Next: President Trump's Twitter attacks on Amazon have two short-term impacts: They temporarily drive down stock prices -- Amazon closed down more than 5% yesterday -- and they fuel a media narrative that the President is at war with the richest man in the world (and the owner of the Washington Post).
Sign up for PACIFIC: The new CNNMoney newsletter about the center of change and innovation
That is likely all that the President will do to satisfy his personal vendetta with Jeff Bezos, my sources at Amazon believe. Real action against Amazon -- regulation, new taxes, increased shipping costs, etc. -- would require mobilizing Congress and his cabinet against one of the main drivers of the American economy, a move that would be counterintuitive for Republicans who champion economic growth.
Beyond that, Trump could move to terminate Amazon's cloud computing contracts with the CIA and the Pentagon. But Amazon sources believe such moves would be fiercely opposed by intelligence and defense officials who rely on those services.
The Amazon sources believe this ends one of two ways: Trump decides that a strong stock market is more important to him than screwing with Bezos, or he gets distracted and moves on to other targets. No one I spoke with believes this ends with substantive regulation that does long-term damage to Amazon.
The latest: "Wall Street to Trump... Lay off Amazon."
---
Today's PACIFIC
What Silicon Valley is talking about: Spotify's IPO and the future of music, Elon Musk's grind, Facebook's latest... What Hollywood is talking about: M&A, ESPN's new stream and Anna Wintour's last days at Conde...
Good morning. The Four Seasons Beverly Hills has been completely booked out by Saudi Crown Prince Mohammad bin Salman and his traveling entourage. But you can still go to the bar, which I did, and order from the special menu the hotel created for his visit.
Highlights: Ma'asoob, Masabeeb, Lamb Liver ... Kibbeh, Sumbosa, Tabuleh ... Jareesh, Qursan, Mathloothah, Musaqa'ah ... Kabil with Lamb, Sayadiyah with Fish, Mamoosh with Shrimp ... Balaleet, Muhalabiyah, Cream Caramel, Custard ... See the full menu, in English and in Arabic.
Scoop: Prince Mohammad has added one more event to his Los Angeles itinerary: A private dinner reception tonight at LACMA hosted by the Misk Art Institute. Dinner starts at 7, speeches at 8.
Tomorrow: MBS flies to Silicon Valley for meetings with Apple, Google, and others.
---
Mind Stream: The Future of Music
Spotify is public. Let's spitball about the future of music.
Key points:
• The best sources I have in the music streaming space believe a majority of Americans will own voice-activated home assistants within the next five years and will increasingly rely on voice assistant in their cars.
• Voice activation will change the way people select music they want to listen to. Instead of browsing a content library, people will either request exactly what they want to hear or rely on the assistant for intelligent selection and curation.
• What that means: Intelligent curation will be the coin of the realm. The streaming service that can best mimic the personal DJ and provide the listener with exactly what they want based off the simplest request will have an added advantage.
The good news for Spotify:
• People love its curated playlists.
The bad news for Spotify:
• It doesn't have its own home assistant, and its competitors do.
Spotify is threatened by economies of scale. Amazon, Apple and Google are increasingly central to consumers' lives. As more Amazon Echos, Google Homes and Apple HomePods enter American households, more people could be incentivized to leave Spotify for the built-in services provided on those devices -- especially as those services become more intelligent and responsive to your tastes.
Spotify has hinted that it may build its own home assistant, but it's hard to imagine a Spotify making a serious run on the tech giants in this space.
What's more: Apple and Amazon are catching up.
Spotify has 71 million subscribers.
Apple SVP Eddy Cue told me at SXSW that Apple Music has 38 million subscribers, plus another 8 million users in free-trial mode.
Amazon Music VP Steve Boom told me yesterday that Amazon Music Unlimited has doubled subscriptions in the last six months and has tens of millions of subscribers (though he wouldn't specify exactly how many).
Boom explains what's next for smart assistants:
"More understanding of you as a person, better personalization -- understanding whether its you in the room, or you and your family; understanding jazz music for dinner is different than jazz music for something else.... Expect to see more of that."
Sign up for PACIFIC: The new CNNMoney newsletter about the center of change and innovation
---
Promises, Promises: Musk gets serious
My colleague Jordan Valinsky emails:
Elon Musk is signaling a round-the-clock commitment to Model 3 production as investor concerns mount over Tesla's ability to hit production targets:
Musk has taken "direct control of the division producing the vehicles" and replaced his senior VP of engineering, per The Information.
Musk tweets: "I'm back to sleeping at factory. Car biz is hell ..."
New today, via Bloomberg's Dana Hull and Esha Dey:
Tesla "built 2,020 Model 3 cars in the last seven days [and] delivered 8,180 of the sedans in the first three months of the year, missing analysts' average estimate for about 8,800 units..."
"Despite the shortfall, Musk promised a speedy acceleration in the next three months."
Hot stat: "Tesla is burning through more than $6,500 of cash every minute..."
---
Facebook watch
• How to regulate Facebook (Axios)
• Facebook's response continues with Instagram (Recode)
• Facebook's PR chief walks political tightrope (The Information)
---
Talk of Tinseltown: Mergers & Acquisitions
The M&A in play right now:
• AT&T-Time Warner, which is still on trial
• CBS-Viacom, which is below market value
• Disney-21st Century Fox, with Sky in play
Axios' Sara Fischer, a brilliant mind on media M&A, breaks it down in her weekly Media Trends newsletter:
• "Why it matters: A wave of deals and negotiations over a two-to-three year window will change how news and information are produced, consumed, and disseminated across the world."
• "The linchpin: Billions in media deals are pending a district judge's decision this spring about whether to allow the Justice Department to block AT&T's $85 billion proposed merger with Time Warner."
Sign up for PACIFIC: The new CNNMoney newsletter about the center of change and innovation
---
Bob's Bet: All eyes on ESPN+
Disney has announced that it's $4.99-per-month ESPN+ service will launch April 12.
What it has, via CNNMoney's Jill Disis:
"Subscribers will be able to watch live events from sports like MLB, NHL, MLS, boxing, golf, tennis, rugby, cricket and several college teams."
"The number of events available to watch on the app will vary by sport. For example, ESPN+ will feature an MLB and NHL game each day during the regular season, totaling more than 180 games for each sport."
What it doesn't, via The Ringer's Riley McAtee:
"The list of ESPN+ live content reads like a group of castoffs: programming not valuable enough to appear on one of ESPN's eight cable networks."
"ESPN's press release makes no mention of the NFL or NBA at all. There will be no Monday Night Football, and neither of ESPN's two weekly NBA games will appear on the platform."
The Big Picture: ESPN+ is a trial run for Disney's ambitions in the streaming space, but some analysts believe the company would do better to go all-in and offer the entirety of its live programming on ESPN+.
What Bob Iger doesn't want you read:
• McAtee: "Who is clamoring for one random MLB game per day... Or one random hockey game? And why wouldn't those fans already have MLB.TV or NHL Center Ice? Who has been waiting for the complementary coverage ESPN promises for boxing, golf, and tennis?"
---
Twilight of the Idols: Anna Wintour out?
Page Six scuttlebutt from Emily Smith & Co:
• "It is almost beyond the fashion world's wildest imagination, but the chatter coming out of Condé Nast and the publishing industry has reached a deafening crescendo — Anna Wintour could be on her way out of Condé and Vogue as artistic director."
• "A host of stunned sources have told Page Six that Wintour — the grand high priestess of both the fashion and publishing industries since she became editor in chief of Vogue in 1988 — is to exit her all-powerful role at the publishing house this summer..."
• "But Condé Nast strongly denies Wintour is going. A Condé corporate spokesperson told Page Six on Monday, 'We emphatically deny these rumors,' but declined to comment more specifically on Wintour's plans."
The Big Picture: No one is safe. When Anna leaves, whenever that may be, the golden era of magazine publishing and celebrity editors like herself, Tina Brown and Graydon Carter will officially reach its end.
The Big Question: Who will set the agenda for fashion in a post-Anna Wintour world. Or, in the digital age, is it no longer for any one individual or brand to claim that influence?
---
What next?: Will Ferrell talks to Joaquin Phoenix for Interview Magazine...
See you tomorrow.
---
Want this in your inbox every morning? Sign up for PACIFIC: The new CNNMoney newsletter about the center of change and innovation