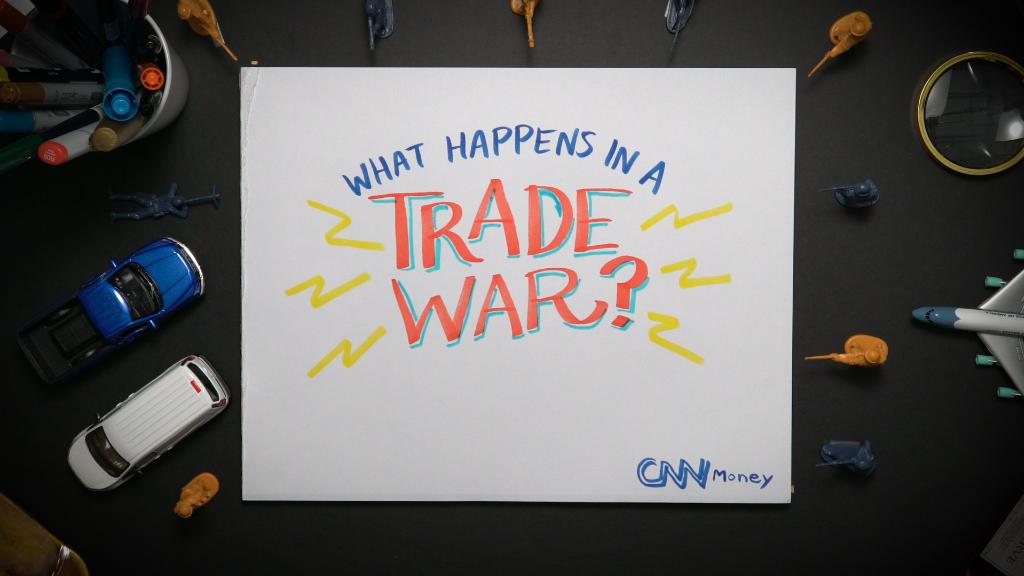 China and the United States appear to be on the brink of a full-blown trade war. And that is terrible news for many blue-chip American companies.
Stocks fell sharply Wednesday morning before stabilizing later in the day after China announced plans for a 25% tariff on more than 100 products that make up about $50 billion a year worth of US exports to the world's most populous nation.
That could be a major problem for Apple, Boeing, Caterpillar, Intel and other multinational companies in the Dow that sell a lot of their products to Chinese consumers and businesses.
Apple (AAPL) generated $18 billion in revenue — 20% of its total sales — by selling iPhones, iPads and Macs to Chinese consumers in just its most recent quarter. Apple's stock fell nearly 1.5% on Wednesday but was flat by midday.
Boeing (BA) sales from China amounted to nearly $12 billion last year, almost 13% of its overall revenue. And the company announced in November that it had inked an agreement to sell 300 planes to China, a deal worth $37 billion.
Boeing even noted at the time that the deal was signed in the presence of President Trump and China President Xi Jinping. Boeing's stock was down 3% on Wednesday.
Caterpillar (CAT) has been a big beneficiary of the construction boom in China. Companies there need Caterpillar's bulldozers, fork lifts, excavators and other heavy equipment to build things.
Caterpillar noted in its latest annual report that it expects sales in China to rise even more this year. The company doesn't break down its sales in China specifically, but Asia/Pacific revenue accounted for 21.5% of revenue last year. Shares of Caterpillar fell 2% Wednesday.
Intel (INTC) and its fellow semiconductor firms Texas Instruments (TXN), Nvidia (NVDA), Micron (MU) and Qualcomm (QCOM) also have a big presence in China.
These companies all have manufacturing plants there and sell processors to Chinese tech companies, which use them in phones, computers and other gadgets. Intel generated nearly a quarter of its sales from China last year. Intel's stock was down nearly 2% Wednesday, and other chip stocks were lower as well.
Related: China fires back, announces new tariffs
The growth of the middle class in China has helped other big American companies, expanding the potential harm of the tariffs.
GM (GM) said earlier this year that it sold more than 4 million vehicles in China in 2017, counting its joint venture partners — a record high fueled by strong demand for Cadillacs and Buicks.
Starbucks (SBUX) has made a big bet on China as well, and it appears to be paying off. The coffee king now gets about 14% of its sales from China, and sales there are growing faster than in the United States and other developed markets.
Related: US proposes tariffs on 1,300 Chinese goods
Dow component Nike (NKE) sold $1.3 billion of sneakers and athletic apparel in China in its last quarter. That's 15% of the House of Swoosh's total revenue.
3M (MMM), another Dow stock and the maker of Post-Its and Scotch tape, generated 10% of its sales from China last year. Sales there were up 16%, compared with just 1.5% in the United States.
Shares of GM, Starbucks and Nike opened lower Wednesday before rebounding. 3M's stock was down 1%.
Casino giants Las Vegas Sands (LVS) and Wynn Resorts (WYNN) fell like tumbling dice Wednesday. Each dropped by about 2%.
Even though Las Vegas Sands and Wynn are unlikely to be hurt directly by the tariffs, investors are concerned about other potential retaliation by China. Both companies generate more than half their revenue from the Chinese special administrative region of Macau — and not Sin City.