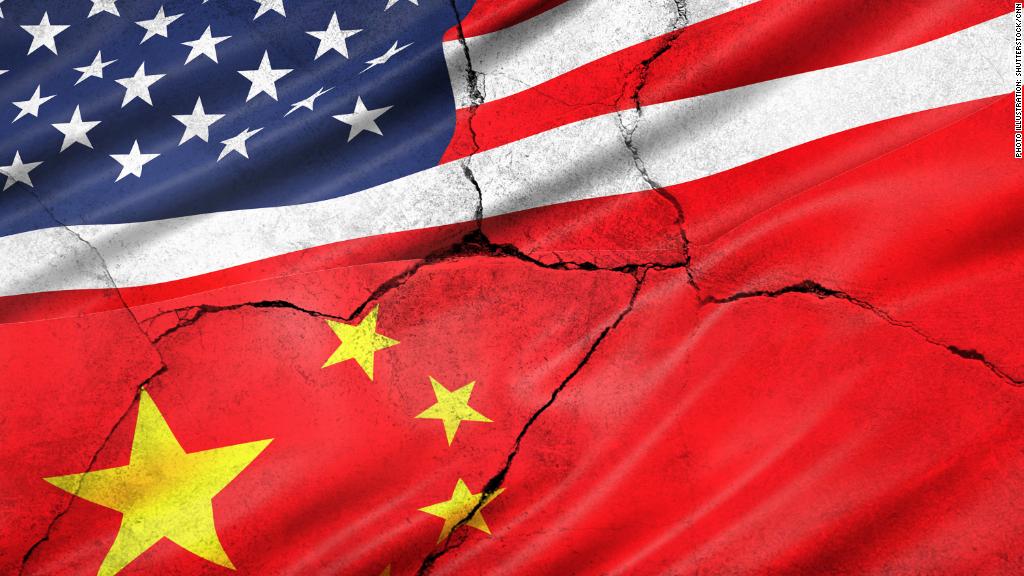 American business organizations have an urgent message for President Trump: Please don't do this.
Hours after both the United States and China detailed plans for sweeping tariffs, trade groups warned that a tit-for-tat trade war between the world's two largest economies will have no winners.
The Trump administration late Tuesday unveiled a list of 1,300 Chinese products, like flat-screen televisions, aircraft parts and batteries, that could be hit with 25% tariffs. Beijing responded with plans to target products made by American soybean farmers, car makers, chemical companies and other corporations.
"It should surprise no one that China immediately retaliated against our most important exports, including soybeans," John Heisdorffer, president of the American Soybean Association and an Iowa farmer, said in a statement Wednesday. "We have been warning the administration and members of Congress that this would happen since the prospect for tariffs was raised."
Related: US-China trade war fears: How bad could this get?
Trade groups representing some of the biggest companies in America — Walmart, Target, Facebook, Boeing and IBM — have been urging the Trump administration to refrain from imposing tariffs against China, warning of the calamity it could cause for the economy by raising the costs of consumer goods.
"Unilaterally imposing $50 billion of new tariffs without a long-term strategy that leads to economic reforms in China will only hurt America's businesses, workers, and families," the Business Roundtable, which represents top CEOs from companies like JPMorgan, 3M and Apple, tweeted Tuesday night.
A group of 46 US industry and trade associations made a final plea to Trump in a letter earlier this week, arguing that "the imposition of sweeping tariffs would trigger a chain reaction of negative consequences for the US economy."
"The ultimate fear is we don't know when it ends," said David French, a senior vice president of government relations for the National Retail Federation, a trade group that represents thousands of retailers, including Walmart and Target. "It's one more level of escalation."
Related: Stocks plunge, then power back, after China
And although many US companies agree that Beijing treats them unfairly, many are hoping the Trump administration will avert the trade war.
"The administration is rightly focused on restoring equity and fairness in our trade relationship with China," Myron Brilliant, executive vice president and head of international affairs at the US Chamber of Commerce, said Tuesday night. "However, imposing taxes on products used daily by American consumers and job creators is not the way to achieve those ends."
On Wednesday, President Trump's top economic adviser, Larry Kudlow, sought to downplay fears of a trade war, saying the threat of new tariffs is all part of the administration's negotiation strategy.
"I don't think people should overreact right now," Kudlow told reporters outside the White House. "This is a negotiation using all the tools."
Related: China's tariffs would hurt Apple and these other US companies
Kudlow also clarified that Tuesday night's move by the administration to impose tariffs was simply a proposal.
"There's no action here and you're going to go through a process of comments and resubmitting comments and discussions," Kudlow said. "You're not likely to see any definitive actions for a couple of months."
Business leaders will have the chance at a public hearing in May to express their concerns to the administration.
In the meantime, they embraced Kudlow's message as yet another opportunity to convince the Trump administration of the harmful effect tariffs could have on the nation's economy.
Boeing, the aerospace giant, said it was "confident that dialogue continues."
"While both governments have outlined positions that could do harm to the global aerospace industry, neither has yet imposed these drastic measures," the company said in a statement.
Top administration officials have signaled they could solve the trade dispute at the bargaining table. For now, proposed US tariffs won't take effect until after a 60-day comment period has ended.
"We're encouraged they've provided a comment period," said Josh Kallmer, senior vice president for the Information Technology Industry Council, whose members include Amazon, Dell and Google. "We now have the opportunity to change the path of tariffs and put it more on a trajectory of targeting China's policies without harming US workers."
The National Corn Growers Association, which represents the interests of more than 300,000 growers, said the United States needs to be "measured" in its approach to keep its trade doors open with China.
"We do have a window of opportunity to reach a mutually beneficial trade position with China until the time that tariffs are implemented," said Wesley Spurlock, chairman of the trade group and a Texas farmer.
— CNN's Abby Phillip contributed to this report.