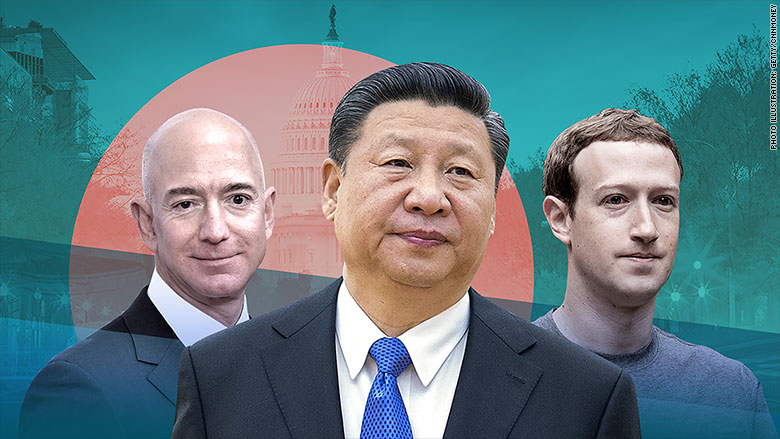 What's Next: Mark Zuckerberg will testify before the House Energy and Commerce Committee on Wednesday, April 11th, at 10 a.m. regarding Facebook's use and protection of user data.
Sign up for PACIFIC: The new CNNMoney newsletter about the center of change and innovation
The game plan, per a Facebook source:
• "Answer the questions put to him and help legislators understand how seriously Facebook takes this."
The pre-game:
• Zuckerberg will take questions from reporters today on a conference call.
• Sheryl Sandberg will give interviews to NBC, Bloomberg and PBS.
---
Today's PACIFIC
What everyone is talking about: The U.S. and China back on the brink ... What Seattle is talking about: Why Amazon isn't worried ... What Silicon Valley is talking about: Zuck's testimony, and the YouTube shooting ... What Hollywood is talking about: CBS-Viacom, and MLB deals...
Good morning. Saudi Crown Prince Mohammad bin Salman never showed up to the Misk Art Institute dinner at LACMA last night, and there's some confusion among our sources now as to whether he ever really intended to. The private event was billed in his honor, and he is the Institute's founder.
What's Next: The Crown Prince's entourage moves from Four Seasons Beverly Hills to Four Seasons Palo Alto.
---
Trade Wars: China strikes back
The latest, from CNNMoney's Daniel Shane:
• "The Chinese Ministry of Commerce on Wednesday said it plans to impose a 25% tariff on $50 billion worth of US exports."
• "China's announcement is a direct response to the Trump administration's publication Tuesday of a list of about 1,300 Chinese exports -- also worth about $50 billion annually -- that it intends to target with 25% tariffs."
What's on the list: Soybeans, cars and aircraft, the three biggest U.S. exports to China last year. ... What else is on the list: Corn, cotton, wheat, beef, tobacco, whiskey...
The Big Picture: "The quick-fire exchange of threats is intensifying fears of a full-blown trade war between the world's two largest economies."
But... "Experts said Beijing's latest announcement could be an effort to push the United States into negotiating a deal to defuse the trade spat."
How it's playing on Wall Street: "Dow plummets 500 points"
---
How it's playing in Napa...
... and Sonoma, and Walla Walla, and Willamette:
"China Finds California Wine Pairs Well With a Trade War," by NYT's Natalie Kitroeff:
• "Retaliatory tariffs are a blow to exporters increasingly catering to young, newly wealthy Chinese looking for bottles with cachet."
• "China's imports of American wine reached $82 million last year — not including bottles entering duty-free through Hong Kong — a sevenfold increase in the last decade."
• "The 15 percent tariff, announced Monday... is a gut punch to winemakers marketing their wares to the mushrooming legions of young, recently wealthy Chinese."
Bonus: Fun blog we didn't know about: "Grape Wall of China," a wine site "covering the world's biggest market." Recent item: "What did Xi Jinping and Kim Jong-Un drink together...?" It's right up our alley.
---
High Horse: Why Amazon isn't worried
What the White House isn't talking about: Action against Amazon.
Yesterday in PACIFIC: Amazon sources told me they don't believe President Trump will go any further than tweets that rattle the company's stock.
Today at Bloomberg: "Despite Trump's Tweets, White House Isn't Talking About Amazon Action" by Jennifer Jacobs and Spencer Soper:
• "Inside the White House, there are no active discussions about turning the power of the administration against the company, according to five people familiar with the matter..."
• "None of the five people was aware of any ongoing discussion about turning Trump's tweets into action against Amazon, not on the legal or regulatory fronts, or even regarding its reliance on the U.S. Postal Service, which has drawn the lion's share of Trump's wrath."
The Big Picture: Sources -- especially Trump White House sources -- sometimes tell reporters things in order to drive a media narrative, even when it doesn't reflect an actual strategic plan. Reporters sometimes play into that because, hell, it's a scoop.
One week after Axios published "Trump hates Amazon..." the company's stock has fallen 7% and lost close to $60 billion in market value.
But guess what? It'll get it back.
Sign up for PACIFIC: The new CNNMoney newsletter about the center of change and innovation
---
Travis Watch
New at Fortune: Former Uber CEO Travis Kalanick and Minted co-founder Melissa Kim have joined the board of StyleSeat, the online platform that manages scheduling, appointment reminders, and payments for the beauty industry.
---
Zuck Watch: Facebook's Russia accounts
The latest Facebook headache, one week out from Zuck's testimony:
"Facebook finds hundreds more accounts run by Kremlin-linked troll group," by CNN's Donie O'Sullivan:
• "Facebook said on Tuesday it had removed almost 300 more pages and accounts run by the [Internet Research Agency], the vast majority targeted at Russian speakers."
The Big Picture: What we know about Russian meddling on Facebook likely represents only a piece of the full scope of activity by bad actors. For Facebook, that means repeatedly having to acknowledge that the problem is bigger than they've previously said.
---
San Bruno Shooting: Tragedy at YouTube
NYT: "A woman opened fire with a handgun at YouTube's headquarters in California on Tuesday afternoon, shooting three people — one of whom was critically injured — before killing herself, the authorities said."
The Scene: "Two hours after the attack, YouTube employees, including Susan Wojcicki, the chief executive, continued to stream slowly down the hill, away from the office."
Wojcicki tweets:
• "There are no words to describe how horrible it was to have an active shooter @YouTube today. Our deepest gratitude to law enforcement & first responders for their rapid response. Our hearts go out to all those injured & impacted today. We will come together to heal as a family."
What we know, via Valinsky:
• The shooter has been identified as 39-year-old Nasim Najafi Aghdam, from San Diego.
• She ran multiple YouTube channels, often posting videos about animal rights, veganism and of herself dancing.
• She posted one video complaining about YouTube's monetization policy and said she was being "discriminated" against.
• Aghdam was also mad that her exercise videos were being blocked as "age-restricted" by what she called "close-minded" YouTube employees.
What we're wondering: Whether Wojcicki and Google CEO Sundar Pichai will speak out on gun control.
---
Talk of Tinseltown: The CBS-Viacom talks
The latest on the M&A front: "CBS Submits Viacom Bid, Signaling Start of Deal Talks" by Bloomberg's Lucas Shaw:
• "CBS Corp. submitted its bid to acquire Viacom Inc [on Tuesday]... opening negotiations that will decide the fate of the two media companies controlled by the Redstone family."
• The bid calls for CBS CEO Leslie Moonves to lead the company. It does not call for a number-two role for Viacom CEO Bob Bakish -- which could hold up negotiations.
Why the deal needs to move, per Bloomberg Gadfly's Tara Lachapelle:
• "CBS and Viacom don't have time for another round of ego-driven wrangling when TV ratings are falling and rivals are joining forces...."
Sign up for PACIFIC: The new CNNMoney newsletter about the center of change and innovation
---
What ad men are reading
"WPP Is Looking at CEO Martin Sorrell's Possible Misuse of Assets and Allegations of Improper Behavior" by WSJ's Suzanne Vranica and Nick Kostov: "Questions come as advertising giant is facing cost-cutting pressures from clients and stepped-up competition from Google, Facebook"
---
MLB signs Tencent deal
Major League Baseball has announced a deal with Tencent, China's biggest tech company, to stream 125 games this season.
My colleague Ahiza Garcia has the details:
• "Tencent will stream regular season games... the All-Star Game, postseason games, the World Series and a weekly highlight show."
• "Tencent boasts more than 1 billion active users on its social media networks."
• "Similar efforts and partnerships [have been] made by the NBA, NFL and NHL, which hope to tap into a potentially massive Chinese audience."
The deal kicks off today with Cleveland at Anaheim.
Bonus: Facebook's 25-game MLB partnership kicks off today with Mets-Phillies.
---
What. The. Hell.
"Clayton Kershaw takes his second loss as the Dodgers' bullpen fails miserably against Arizona" by LAT's Andy McCullough.
Today at lunch: Dodgers at D-Backs, 12:40 p.m. on SportsNet LA.
---
What Next: Eater's "17 Most Anticipated Spring Restaurant Openings in LA," from Bestia follow-ups to the city's best barbecue.
See you tomorrow.
---
Want this in your inbox every morning? Sign up for PACIFIC: The new CNNMoney newsletter about the center of change and innovation