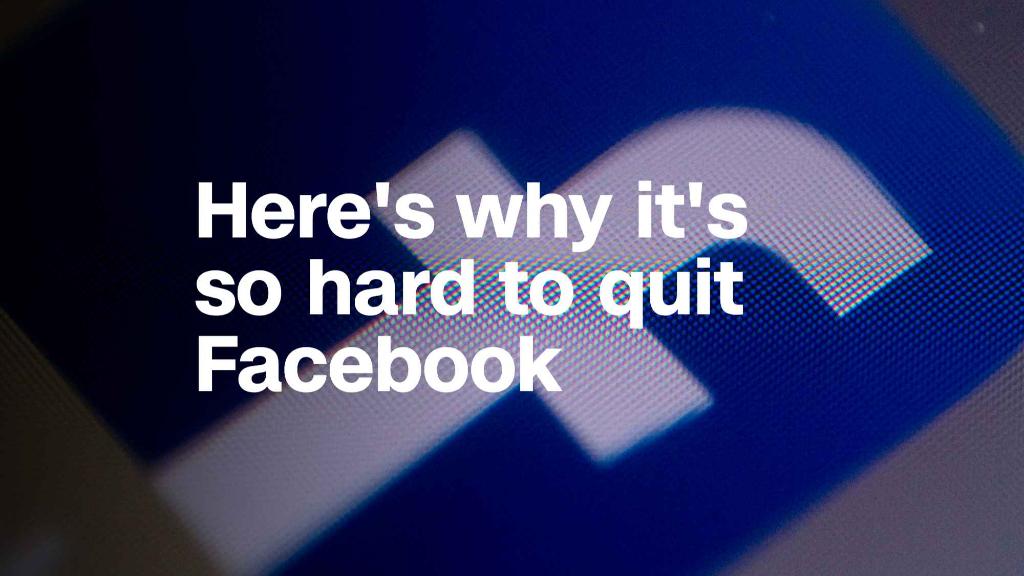 Australia has launched a formal investigation into Facebook after the company revealed information about hundreds of thousands of Australians was potentially exposed to data research firm Cambridge Analytica.
The investigation will examine whether the social media giant breached Australia's privacy laws, the Office of the Australian Information Commissioner (OAIC) said Thursday.
"Given the global nature of this matter, the OAIC will confer with regulatory authorities internationally," Angelene Falk, the country's acting information and privacy commissioner, said in a statement.
Related: Mark Zuckerberg to testify before Congress twice next week
Facebook (FB) revealed on Wednesday that data from 87 million of its users "may have been improperly shared with Cambridge Analytica," far higher than the 50 million estimated by initial reports.
A little over 300,000 of those users were in Australia, the company said in a blog post. The vast majority of the affected users -- around 70 million -- were in the United States.
Millions more users were potentially affected in other countries including the Philippines, Indonesia, the United Kingdom, Mexico, Canada, India, Brazil and Vietnam.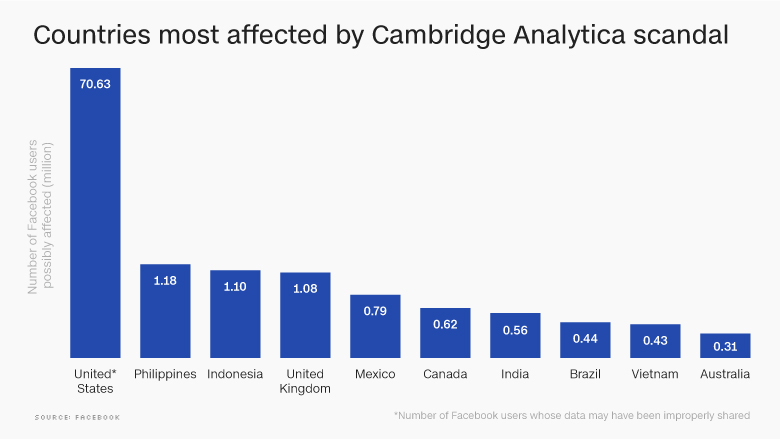 Indonesia's communications minister, Rudiantara, told CNNMoney that he had asked the country's national police to launch a criminal investigation into whether Facebook had violated local data privacy laws.
It's not clear whether such an investigation has been launched. Indonesian police did not immediately respond to a request for comment late Thursday.
Rudiantara said the government is now waiting for Facebook to share results of its ongoing third-party audit.
He added that he would "deeply consider" shutting down Facebook in Indonesia if the results of the audit were "not satisfactory."
Cambridge Analytica, which worked on President Donald Trump's 2016 campaign, disputed the numbers disclosed by Facebook, saying in a statement that it "licensed data for no more than 30 million people" from an independent scientist who collected it.
"We did not receive more data than this," the firm said.
Facebook said Thursday that it had not authorized Cambridge Analytica to access the user data, which was gathered by an app created by the independent scientist.
Facebook friends of users who downloaded the scientist's app may have been affected, according to the company. In India, for example, only 335 people installed the app, but the data of more than 560,000 people may have been exposed.
Related: Security on Facebook is 'never-ending battle,' Zuckerberg says
India's technology minister said last month that "any data theft of Indians ... shall not be tolerated." The Indian government didn't immediately respond to a request for comment Thursday.
Facebook also continues to face the fallout from the scandal in the United States. CEO Mark Zuckerberg is set to testify in front of two separate US congressional panels next week.
The company plans to notify individual users whose data may have been improperly shared with Cambridge Analytica by April 9.
-- Carly Walsh and Huizhong Wu contributed to this report