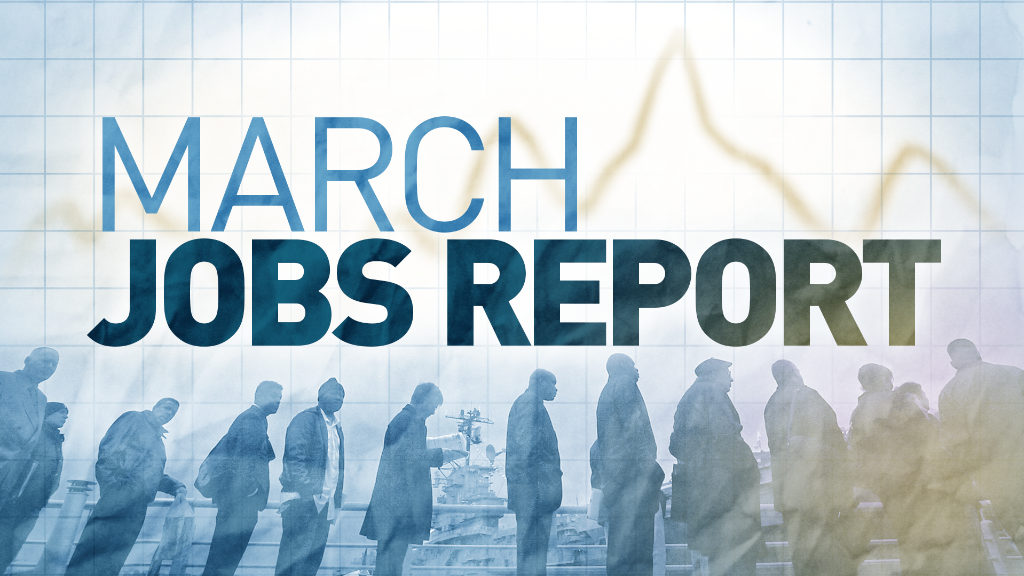 The March jobs report was slightly disappointing, but it shouldn't set off alarm bells about the economy.
Yes, only 103,000 jobs were added last month — fewer than expected. But this follows a month when employers added more than 300,000 jobs. A pullback shouldn't be that much of a surprise.
And even though some scoff when economists cite weather as an excuse for poor numbers, it does seem like the cold snap that took place in March had a legitimate impact on the labor market — particularly the construction sector, which lost 15,000 jobs.
It's hard to build things when it's freezing and snowing outside. "We've had crummy weather. Give spring a chance," said Steve Chiavarone, a portfolio manager with Federated Investors.
Related: US job growth slowed in March
The unemployment rate also remains at 4.1%, a 17-year low. Wages crept slightly higher, too, up 2.7% over the past 12 months.
That's good news for workers. And the increase isn't enough to spark major inflation fears for the Federal Reserve or financial markets either. Consumer prices are only up about 2.2% over the past year.
"The jobs numbers are fine. Inflation and interest rates are going higher but at a slow, grinding pace. It's steady as she goes," Chiavarone said.
After revisions to the jobs reports for the past two months, the average payroll gains totaled a solid 202,000 a month for the first quarter. And the latest weekly jobless claims figures remain near a 45-year low, a sign that companies are holding on to workers instead of laying them off.
Related: Why your next work meeting could be outside
Add it all up and the jobs market still looks pretty healthy.
"This is not a sign of the derailment of the strong jobs market," said Tony Bedikian, head of global markets with Citizens Bank.
"We still had a slight bump up in hourly earnings, but it shouldn't change the Fed's trajectory," he added. "Wage growth was not too hot and not too cold. It's not alarming."
But what's next? Should people be concerned about the escalating trade tensions between the United States and China? Will employers start to cut back on hiring as a result?
That's less certain. The manufacturing sector, which President Trump loves to focus on as a barometer of the economy, could be hit hard by tariffs, and even harder if there's a full-blown trade war.
Related: Trump threatens China with new $100 billion tariff plan
And that would be particularly bad news because manufacturing is one of the brightest spots of the job market right now. Manufacturers added 22,000 jobs in March alone and 232,000 jobs over the past year.
But Wasif Latif, head of global multi-assets at USAA, isn't worried that manufacturers — or other businesses, for that matter — will start to slow their hiring because of the trade rhetoric.
"This is still mostly talk. If additional tariffs actually get implemented, you could see some jobs lost," Latif said before quickly adding that there are still many unknowns about what tariffs will do to the US economy.
"There is going to be a long gestation period and the impact needs to work its way through," Latif said. "We need to see how consumers react and what happens to demand."
Latif added that many businesses are still optimistic because of lower corporate tax rates. And those tax cuts, which were just talk last year, are now a real thing that companies can count on and build into their budgets. A trade war? Not yet.
"Businesses need certainty to make hiring decisions," Latif said. "Companies may hesitate to make some new investments because of trade fears but CEO confidence is still very high due to the tax cuts."