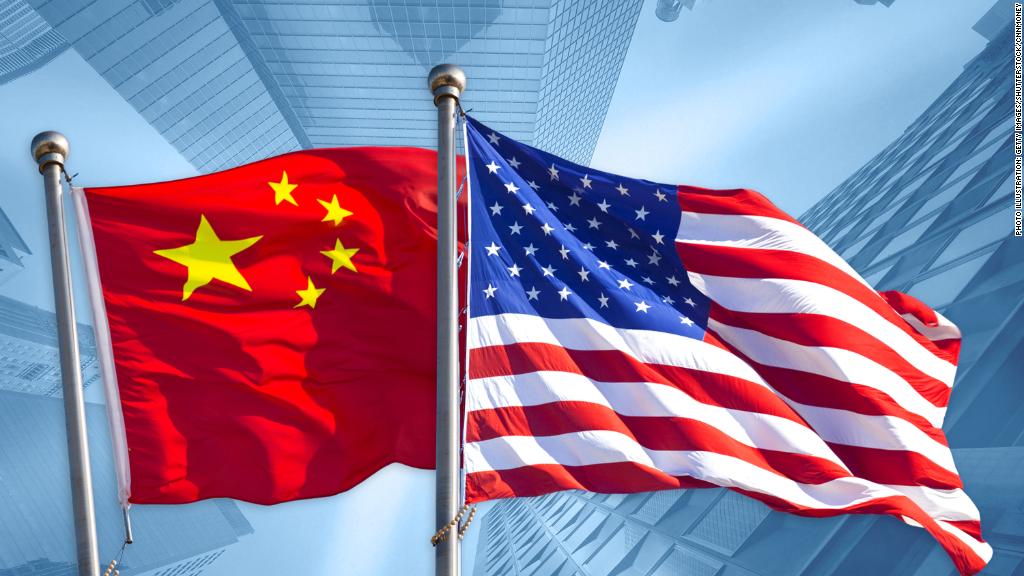 Treasury Secretary Steven Mnuchin said there's a "potential for a trade war" with China, but expressed hope that the world's two largest economies can work out their differences.
"There is a level of risk that we could get into a trade war," Mnuchin said in an interview with CNBC on Friday. "I'm cautiously optimistic we'll be able to work it out."
President Trump ratcheted up the rhetoric with China late Thursday evening, saying he was considering another wave of steep tariffs on the country's exports to the United States.
"In light of China's unfair retaliation, I have instructed the [United States Trade Representative] to consider whether $100 billion of additional tariffs would be appropriate," the president said in a statement.
The secretary tried to assure investors that Trump's willingness to fight for US interests would be a "long-term positive" for American companies. But those remarks failed to offer relief. The Dow was down 700 points late in the day.
Related: Dow drops 700 points as trade war fears return
"We want to sell more goods around the world," said Mnuchin, who repeatedly pointed to the disparity in the US-China trade relationship. "This is a terrific opportunity for US companies if they are treated fairly."
Earlier this week, the United States announced new tariffs on $50 billion worth of Chinese goods, claiming that China is stealing US intellectual property. China responded within hours by announcing $50 billion worth of tariffs on US goods. Those tariffs have yet to go into effect.
The moves follow US tariffs that were imposed earlier this year on Chinese steel and aluminum, which also prompted retaliatory measures from China.
In the CNBC interview, Mnuchin avoided directly answering whether the United States and China were in active negotiations to avert a trade war.
Instead, he said the Trump administration was still willing to negotiate with China, while sending a direct message it would defend US interests.
"We absolutely are willing to negotiate and not get into a trade war. On the other hand the president is perfectly willing to defend our interests," Mnuchin said. "Our strategy is very clear."
Questions over whether the world's two largest economies were engaged in discussions swirled on Friday after a spokesperson for China's Commerce Ministry told reporters that Beijing and Washington were not currently in talks.
That was backed up by Trump's chief economic adviser, Larry Kudlow, who said tariff negotiations with China had not started.
"They have not really begun yet," he told Bloomberg Television. "China's response to our complaints ... has been unsatisfactory."
Mnuchin declined to clarify the status of talks despite being asked repeatedly. "We're not going to do this and lay out out our negotiations in the public domain," Mnuchin said.