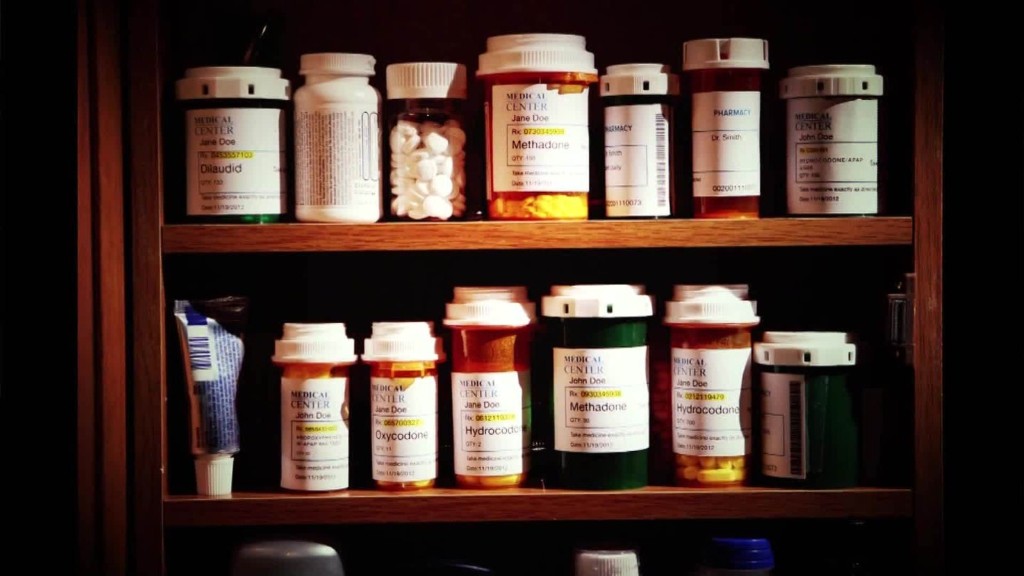 You may not see women's nipples on Instagram, but you could find Fentanyl.
A quick search can turn up plenty of accounts filled with pictures of various pills. They typically list contact details -- email addresses, phone numbers, and usernames for chat apps and encrypted messenger services like Kik and Wickr -- to connect off of Instagram. Put two and two together, and these are likely drug dealers, illicit online pharmacies, or scammers.
Earlier this week, Instagram, which is owned by Facebook, quietly took some action to crack down on drug-related posts. A search for #Oxycontin on the app on Friday morning turned up zero posts.
On Monday, it turned up more than 30,000 posts. The hashtags #Fentanyl, #ketamine, #opiates are now similarly sparse, with notes like "recent posts from #Fentanyl are currently hidden because the community has reported some content that may not meet Instagram's community guidelines."
In a statement, an Instagram spokesperson told CNN its community guidelines "make it clear that buying or selling prescription drugs isn't allowed on Instagram, and we have zero tolerance when it comes to content that puts the safety of our community at risk."
Related: Opioid addiction treatments are costing employers billions
Critics are wondering what took Instagram so long. After all, Facebook (FB) CEO Mark Zuckerberg said himself five months ago that the "biggest surprise" during his so-called "year of travel" around the US was seeing the "extent of opioid issues."
Overdose deaths from prescription and illicit opioids have doubled over the past six years alone -- from 21,089 deaths across the nation in 2010 to 42,249 in 2016.
The Instagram takedowns came after a tech entrepreneur flagged several accounts and common hashtags to a Facebook executive on Twitter.
Glassbreakers CEO Eileen Carey said she has been following the issue for years. Flagging posts within the app didn't seem to create any tangible change, she told CNN. "Instagram has allowed this to happen to a point where no one is hiding it," said Carey, who previously worked on pharmaceutical intellectual property abuse.
The Facebook executive told Carey that the company is working to make it easier to report these problems within the app. But in the meantime, various accounts and hashtags Carey flagged were taken down.
"In this case, we are grateful to those who reported the content. We took swift action to remove the content and put in place additional measures to ensure the safety of our platform," the spokesperson added.
This issue isn't new: A 2014 article from tech website Venture Beat highlighted the use of hashtags like #XanaxForSale to peddle drugs on Instagram. At the time, Facebook issued a generic statement which largely shirked its responsibility. "...If your photos or videos are promoting the sale of regulated goods or services, including firearms, alcohol, tobacco, prescription drugs, or adult products, we expect you to make sure you're following the law and to encourage others to do the same," the statement said.
Posts that appear to be from drug sellers have become a bigger issue on Instagram in the past year or two, according to Carmen Catizone, executive director at the National Association of Boards of Pharmacy. "I think the companies are struggling to decide what to do and what not to do ... [But] extra due diligence would save a life."
Related: Amid opioid crisis, some patients turn to tech alternatives
Internet companies can usually avoid liability for user-generated content thanks to Section 230 of the Communications Decency Act, which gives them a broad layer of immunity. But companies are supposed to act in good faith to protect users.
Critics have said that Instagram generally responds to flagged content rather than proactively cleaning house. It has, however, banned some hashtags and images, like, for instance, nipples.
Tech companies are tight-lipped about the content moderation process, which is usually a combination of technology and humans. During a call with media on Wednesday, Zuckerberg said the company has 15,000 people working on content review and security, a number that will grow to 20,000 by the end of the year.
Facebook has more than two billion users.
Takedowns can be a game of whack-a-mole: While #Xanax posts were removed, accounts tagging #Xanaxplease that appear to be selling pills are still viewable. #Oxy also turns up a number of pill posts.
Expect to see more pressure on internet companies. This week, FDA commissioner Scott Gottlieb called out specific tech outfits -- including Twitter, Facebook, Instagram, and Google (GOOG) -- for enabling opioid sales.
"We find offers to purchase opioids all over social media and the Internet," he said in a speech on Wednesday at the National Rx Drug Abuse and Heroin Summit in Atlanta. "Internet firms simply aren't taking practical steps to find and remove these illegal opioid listings."
Libby Baney, founder and executive director of Alliance for Safe Online Pharmacies, told CNN that while tech companies shouldn't be blamed for the opioid epidemic, they are essential to crackdown efforts. "This epidemic has not been caused by the Internet -- but it's the next wave," she said.
Baney said that tech companies haven't done enough to crack down on illicit posts the way that they did with advertisements for illegal drugs.
In 2011, Google agreed to pay $500 million to the Department of Justice for showing prescription drug ads from Canadian online pharmacies to U.S. consumers. It stopped the practice in 2009, once it became aware of the U.S. Attorney's Office's investigation.