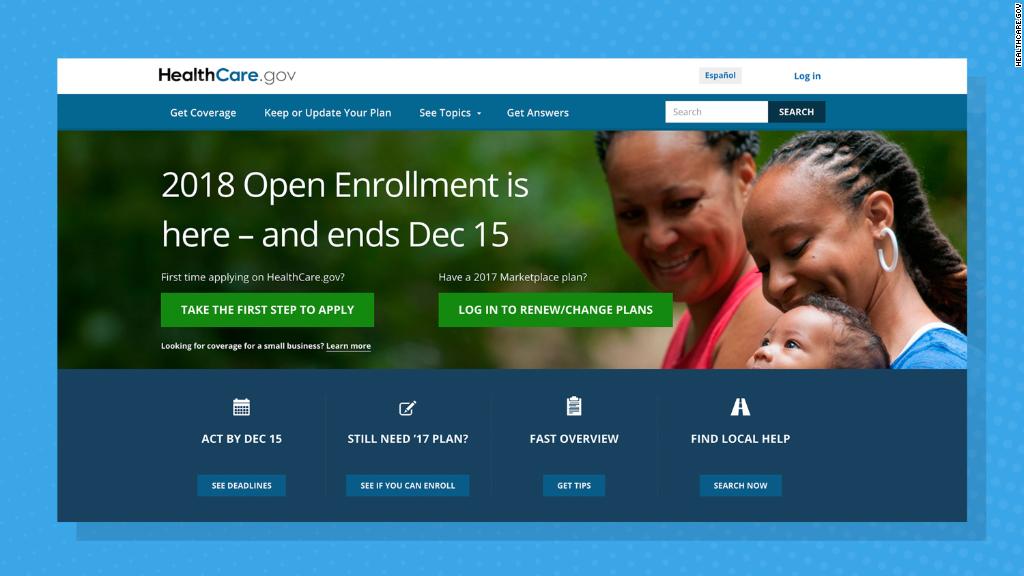 Americans now have two additional ways to get out of paying Obamacare's individual mandate penalty.
The Trump administration announced Monday that those who live in counties with no insurer or with only one choice will be able to apply for a hardship exemption from the mandate, which requires nearly all Americans to get health insurance or pay a penalty.
Every county currently has at least one insurer on its exchange, but about 26% of Obamacare enrollees -- living in slightly more than half of counties -- have only one option, according to the Kaiser Family Foundation.
Also, pro-life Americans who can only buy plans that cover abortion can receive an exemption.
The broadening of the exemptions won't matter after this year since Congress eliminated the individual mandate penalty starting in 2019. Until now, hardship exemptions were typically granted to those who were homeless, facing eviction, had filed for bankruptcy or were in other difficult situations. People could also apply for income-related exemptions if the only plans in their areas were too costly or they earned too little to file a tax return.
The Trump administration also took another step Monday to put its stamp on the Affordable Care Act by releasing new rules for 2019.
Since Congress failed to repeal and replace the health reform law, administration officials can only adjust Obamacare's regulations. Like its prior moves, the administration says the 2019 guidance focuses on lowering costs and increasing choices for consumers, states and insurers.
Obamacare supporters, however, argue that the changes will only further undermine the law and hurt the millions who depend on it.
"This rule reduces protections for people with pre-existing conditions, increases the cost of health coverage, and makes it harder for consumers to sign up for coverage," said Sam Berger, senior adviser at the Center for American Progress, a left-leaning group.
One of the more significant changes provides states with more flexibility in determining the essential health benefits that insurers must offer, starting in 2020. While carriers must still provide the 10 broad categories of essential health benefits mandated by Obamacare, states could give them more leeway in selecting which specific services to cover.
Consumer advocates, however, worry that this will allow insurers to trim services that sicker enrollees need, leaving them with fewer benefits and higher out-of-pocket costs. For instance, states could allow insurers to limit the number of physical therapy visits or tighten the variety of drugs covered under the plan.
Ultimately, it could lead to less generous coverage, said Elizabeth Carpenter, a senior vice president at Avalere Health, a consulting firm.
Also, consumers next year will face out-of-pocket spending caps of $7,900 for individuals and $15,800 for families, an increase of 7%. That's the biggest jump since 2014, according to Avalere.
Related: What Trump doesn't get about Obamacare and health insurers' profits
The rule also eliminates the standardized "simple choice" plans that the Obama administration had introduced in 2017 to make it easier for consumers to shop. These plans got preferential display on healthcare.gov. Trump officials said that insurers complained the better billing on the federal exchange limited enrollment in other plans and removed the incentive to offer a greater variety of coverage options.
Some enrollees who receive premium subsidies may also have to provide more documentation to prove their eligibility. Exchanges will have to implement "stronger checks" to verify consumers' earnings if other data sources, such as the Internal Revenue Service, show the enrollees' income is actually below the poverty line, rendering them ineligible. Also, those who fail to file taxes and reconcile any past overpayment of subsidies will lose their assistance, even if their exchange doesn't send them a notice first.
The rule also allows states to make it easier for insurers to spend less of the premiums they collect on policyholders and put more toward profits and administrative costs. And the administration raised the default threshold that trigger state reviews of insurers' proposed rate hikes to 15%, up from 10%.
Related: People with pre-existing conditions could face tough times ahead
The administration is also making more changes to the Navigator program, which helps enrollees sign up for coverage on the exchanges and for Medicaid. The rule removes the requirement that each exchange must have at least two navigators and that one must be a community nonprofit group. Also, navigators will no longer have to maintain a physical presence in the area.
The administration cut funding for the Navigator program by 41% during the 2018 open enrollment season.
The new rule is the latest effort by the administration to undermine the Affordable Care Act. Earlier this year, it proposed rules that would allow insurers to sell short-term insurance plans, which last just under a year but don't have to comply with Obamacare's regulations, and to make it easier for small businesses to band together to offer coverage that doesn't adhere to all of the health reform law's mandates. Both of these options could have lower premiums, but also cover fewer benefits.