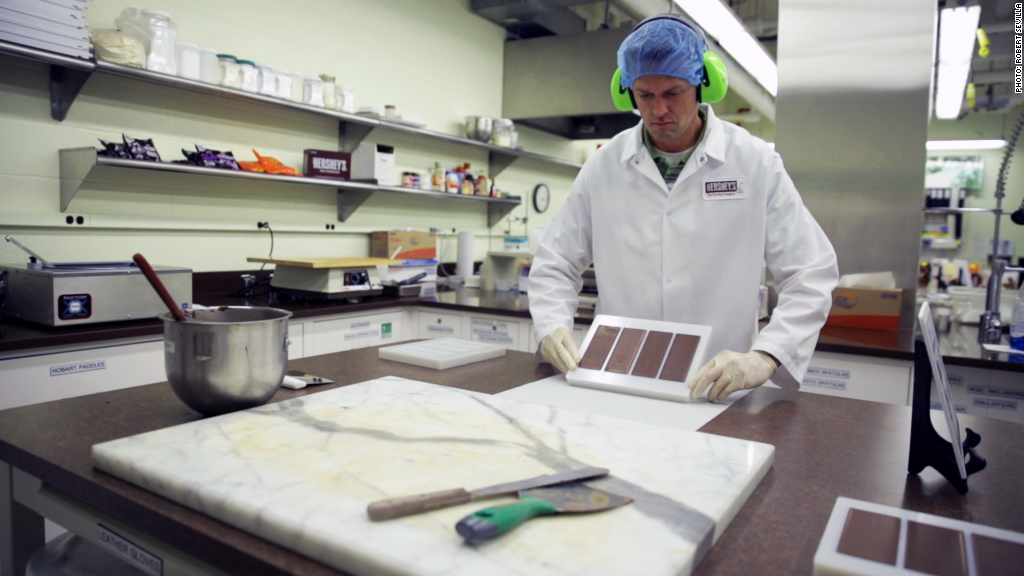 Investors no longer seem to have a sweet tooth for Hershey. The stock has plunged 15% already this year, and a Wall Street analyst just slapped a rare sell rating on the stock.
The problems for Hershey (HSY), as UBS analyst Steven Strycula sees it, are that surging cocoa prices are eating into its profit and many Americans are choosing healthier snacks.
Strycula notes that Hershey also faces tougher competition on the high end from the likes of Cadbury owner Mondelez (MDLZ), Lindt and Ferrero, which recently bought the US business of Nestle.
Those are the main reasons Strycula downgraded Hershey to a sell and put a new price target of $90 on the stock. That's 6% lower than where Hershey shares are trading.
To its credit, Hershey, known mainly for its trademark candy bar, Hershey Kisses and Reese's Peanut Butter Cups, has been trying to expand beyond chocolate.
Related: Nestle sells US candy brands to the owner of Nutella
The company unveiled Hershey Gold, a candy bar with no chocolate, last year. Hershey Gold is made with caramelized creme, pretzels and peanuts.
Hershey also bought Amplify Snack Brands, the maker of SkinnyPop, last year for $1.6 billion. That deal followed acquisitions of BarkThins owner Ripple Brand Collective in 2016 and the jerky company Krave Pure Foods in 2015.
But Strycula thinks these moves may be too little and too late.
He notes that Hershey still faces tough competition from Mondelez — which tried to buy Hershey in 2016 but dropped the bid after Hershey rejected it — and privately held Mars in its core candy business.
And Hershey isn't going to have an easy time with its newly acquired snacks, either. SkinnyPop is in a crowded field, and three other big food companies gobbled up popcorn companies last year too.
Campbell Soup (CPB) now owns Pop Secret following its purchase of Synder's-Lance for nearly $5 billion. Boomchickapop was bought by Conagra (CAG) while Popcorn, Indiana, was acquired by private equity firm Kelso & Co., the owner of Eagle Foods.
Add it all up and it looks like unless Hershey is able to generate more sales and profits from newer products, the company's future may not be so special. It could be dark instead.