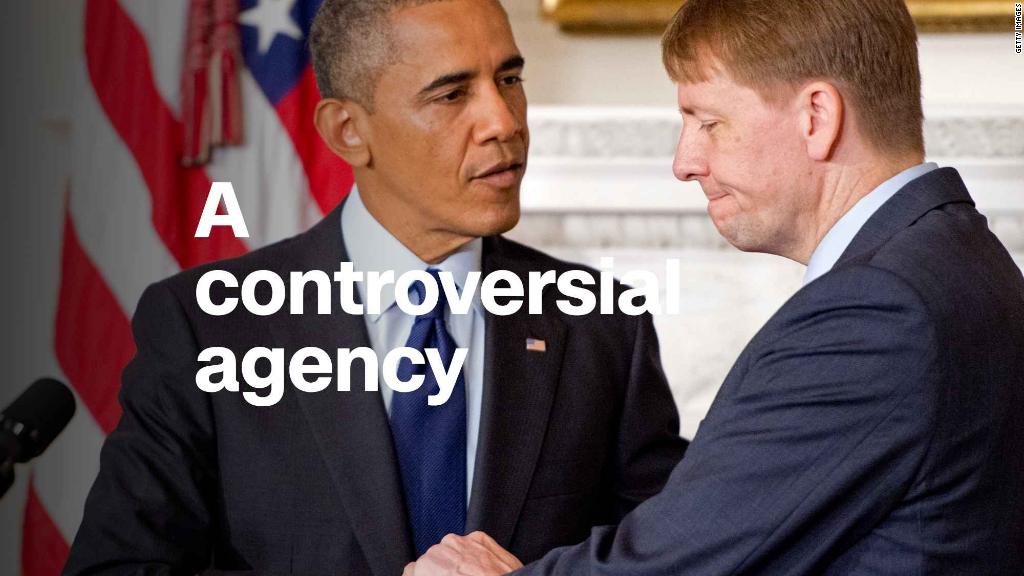 Mick Mulvaney says he's not trying to destroy the Consumer Financial Protection Bureau, which he once pushed to abolish and now leads.
"I have not burned the place down," Mulvaney, the acting director of the watchdog agency, told a House hearing on Wednesday.
Democrats disagreed, loudly. They repeatedly bashed Mulvaney for defanging the agency.
"You are clearly out to destroy the CFPB — and you really make no bones about it," said Representative David Scott, a Democrat from Georgia.
Representative Carolyn Maloney of New York said: "We have essentially taken the cop off the beat."
Maloney asked Mulvaney to explain how many enforcement actions the CFPB has launched since he took over, amid controversy, last fall.
"We have initiated none," said Mulvaney, who also serves as President Trump's budget director.
Related: 10 years after the crisis, have we learned anything?
He pointed to about 100 investigations under way at the CFPB, and 25 cases being litigated.
"Are you telling me that every single financial institution in America has suddenly snapped into full compliance?" Maloney asked.
Mulvaney insisted that the CFPB continues to supervise financial firms and conduct enforcement actions set in motion before he got there. However, he said "regulation by enforcement is done. We're not doing it anymore."
Republicans on the panel welcomed Mulvaney's efforts to dial back the CFPB and pushed for more to be done to rein in the power of the agency's director.
"I still maintain that the CFPB is the most powerful and unaccountable agency in the history of the republic," said Representative Jeb Hensarling of Texas, the Republican chairman of the House Financial Services Committee.
As a Republican lawmaker, Mulvaney called the CFPB a "joke." He even endorsed abolishing the CFPB, casting it as a renegade regulator that hurts Americans by crippling access to credit.
Related: Is the CFPB really crippling the economy?
The CFPB was created in 2010 by Congress and former President Obama to safeguard Americans from financial predators. The agency rolled out mortgage and payday-lender rules and cracked down on bad behavior by penalizing Citigroup (C), Wells Fargo (WFC) and many other lenders.
Under Mulvaney, the CFPB has reversed course. It has delayed the payday-loan rules, dropped lawsuits against payday lenders and stripped enforcement of fair-lending protections.
Yet there was little evidence that the CFPB's rules were crippling the economy. In reality, America's banks are notching record profits and household debt is at all-time highs. Since the CFPB opened, bank loans to businesses have also risen to all-time highs.
Representative Gregory Meeks, a Democrat from New York, accused Mulvaney of becoming acting director just to undermine the agency.
"The best way to get rid of the bureau would be to take it over and get rid of it," Meeks said.
Mulvaney explained that although he wants to reform the CFPB, "I haven't blown the place up."
He also denied rumors that he's eyeing House Speaker Paul Ryan's job when he retires next year.
"I've got two jobs. That's enough for me," Mulvaney said.