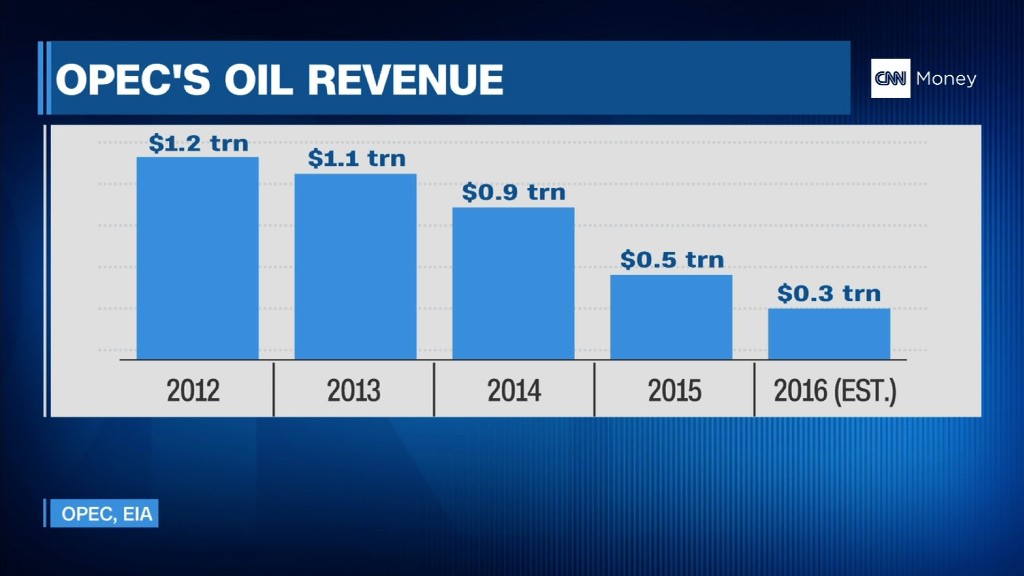 Oil prices jumped to their highest level since 2014 Wednesday, as worries about fighting in the Middle East spooked markets.
The day began with President Donald Trump tweeting to threaten a missile attack on Syria in response to reports of a chemical attack by government forces there earlier this week. Later, Saudi Arabia's air defense reported that it intercepted missiles heading towards its capital Riyadh. Saudi Arabia has been defending itself against missiles launched by Iranian-backed Houthi rebels in Yemen in recent weeks.
The price of oil futures rose more than 2% In midday trading, topping $67 a barrel for the first time since December 2014.
Related: You'll pay 14% more for gas this summer, according to forecast
Syria is not a major oil producer, especially after years of civil war there. But its allies Russia and Iran are both major global producers. Trump's tweet taunted Russia about its claims it would shoot down any US missile attack on Syria.
The uncertainty in the region is enough to send prices higher said Mike Walls, a crude oil analyst Genscape.
"Yes, it's the tweets, and all the recent geopolitical worries," Walls said. "There's so much uncertainty over there for oil traders. If that cools off, it could come back down rather sharply."
Oil has been relatively high for much of this year, which has lifted gasoline prices being paid by US drivers. The average price of a gallon of unleaded gas stands at $2.66 a gallon, according to AAA. That's up 13 cents in just the last month and up 11%, or 26 cents a gallon, from a year ago. Prices are expected to climb even higher this summer.
-- CNN's Matt Egan and Nic Robertson contributed to this report.