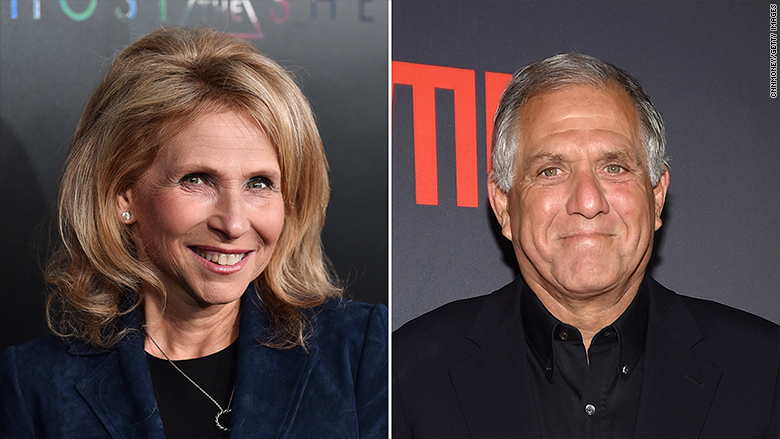 Merger negotiations between two corporate cousins, CBS and Viacom, have taken an ugly turn. Now there's some serious gamesmanship going on, with Chief Executive Leslie Moonves on one side and the vice chairwoman of CBS and Viacom, Shari Redstone, on the other.
The Redstone family ultimately controls both companies because they own 80 percent of the voting shares.
But Moonves also has significant power as one of the country's most successful and widely respected CEOs.
On Wednesday, the battle became even more dramatic.
CNBC's David Faber reported that Shari Redstone "is likely to replace CBS CEO Les Moonves if a deal isn't reached between the two companies."
"The main obstacle" is the "personnel fight between Redstone and Moonves," Faber said.
Suddenly the prospect of Redstone firing Moonves -- previously unthinkable -- was the talk of the media business, even if it was just a trial balloon.
So CBS took the unusual step of issuing a statement defending its CEO.
"The industry and the marketplace know Leslie Moonves' record and we think it speaks for itself," the company said Wednesday morning.
At midday Wednesday, Redstone's camp tried to take the temperature down a notch.
In a statement, the family's holding company National Amusements said it "has tremendous respect for Les Moonves and it has always been our intention that he run a combined company."
Negotiations are ongoing.
Here's how this became so heated. Redstone has decided to bring CBS and Viacom back together, twelve years after the two companies broke up.
The boards of both companies are now working on a merger plan. But there are disputes over the value of Viacom, which is widely seen as the weaker of the two companies. And there's a big disagreement over who should be in charge.
Moonves and his allies reportedly want him to run the combined company, with CBS chief operating officer Joseph Ianniello by his side. He views Ianniello as a potential successor.
But Redstone sees it differently. She wants Moonves to run the combined company with Viacom CEO Bob Bakish as his No. 2, putting Bakish in line to succeed him.
"Certainly the conflict has become poisonous," Kim Masters of The Hollywood Reporter wrote Wednesday.
Meanwhile, some on Wall Street are skeptical of the merger altogether. With CBS in a much stronger position than Viacom, Bernstein analyst Todd Juenger wrote Tuesday that CBS would "absolutely not" be trying to buy Viacom were it not for the Redstone family.
"The pre-deal posturing has begun in earnest," he pointed out.
Stock in both CBS and Viacom is trading down about 2%.