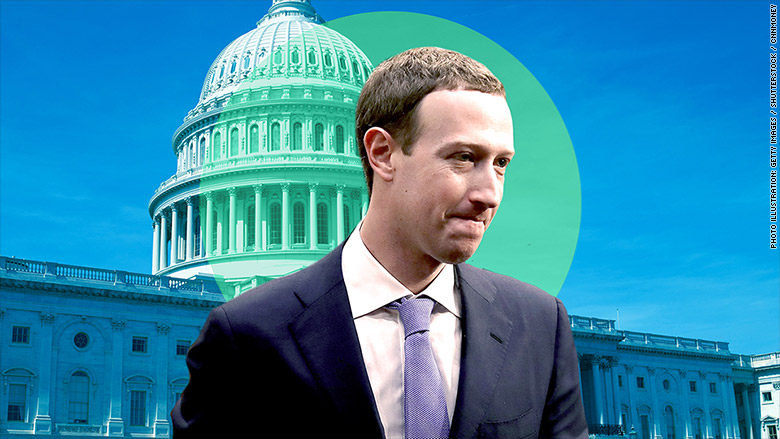 What's Next: Facebook sources believe Mark Zuckerberg's hearing before House Energy and Commerce, which is under way now, will be harder and more unpredictable than yesterday's Senate hearing -- and so far it's proving to be. The House is by nature more unwieldy than the Senate, they say, and lawmakers have used yesterday's hearing to come up with new angles.
Sign up for PACIFIC: The new CNNMoney newsletter about the center of change and innovation
Still, Facebook knows that Zuckerberg beat expectations yesterday and left senators looking out of touch with modern-day technology. Facebook is not celebrating yet, but if today's hearing goes as well as yesterday's, they will be.
Watch the House hearing live here.
---
Today's PACIFIC
Good morning from Washington.
The Facebook-Cambridge Analytica scandal is about one issue above all else: The extent of Facebook's data collection, which is more widespread than many people thought. Facebook tracks you even when you're on other sites and apps. They didn't exactly shout that from the rooftops in the user agreement.
The real story here is that we -- more than 2 billion of us -- signed up for a shiny new object before stopping to ask the tough questions about what that would mean for our privacy, our security and our society.
---
Analog Congress: Senate fails the Zuck test
The Big Picture: The United States Congress is largely illiterate when it comes to 21st-century technology and ill-prepared to deal with the major challenges of big tech.
The Senate hearing made that clear:
• Many senators seemed to have no clue how Facebook worked, what the solutions to its problems are, or even what they were trying to achieve by calling on its CEO to testify.
• Many displayed an ignorance about the very basics of Facebook's platform and its business model; some seemed to be asking Zuckerberg how Facebook worked.
• The questions also lacked focus, ranging from issues like Russian meddling in the 2016 campaign to hate speech to a lack of transparency in election advertising.
Why it matters: The Senators' lack of understanding allowed Zuckerberg to evade important, unanswered questions about the extent of Facebook's data monitoring and why the company hasn't been more transparent about its handling of user data.
At a time when the country is in desperate need of a smart conversation about privacy, Congress instead provided meandering questions and misfires.
Sign up for PACIFIC: The new CNNMoney newsletter about the center of change and innovation
---
Kamala Harris goes hard
Exception to the Rule: Sen. Kamala Harris pressed Zuckerberg on his failure to explain how extensively Facebook tracked user activity:
• "I'm concerned about how much Facebook values trust and transparency... During the course of this hearing... you've been asked several critical questions for which you don't have answers."
• "Those questions have included whether Facebook can track users' browsing activity even after the user has logged off of Facebook [and] whether Facebook can track your activity across devices even when you aren't logged into Facebook..."
Real Talk: Yes, Facebook tracks your browsing activity even when you're not on Facebook. They do this through third-party cookies and "like" buttons.
Sen. Harris also pressed Zuckerberg to explain why Facebook did not inform users in 2015 that their data had been shared with Cambridge Analytica:
• "Are you aware of anyone in the leadership at Facebook who was in a conversation where a decision was made not to inform your users? Or do you believe no such conversation ever took place?"
• Zuckerberg: "I am not sure whether there was a conversation about that."
Real Talk: Zuckerberg is Facebook's CEO. If he really wasn't involved in or aware of a conversation about such a major decision, it raises serious questions about Facebook's priorities.
---
Zuck's Notes: What Facebook really thinks
Zuckerberg (accidentally?) left his notes open on the table during a break. Many reporters concluded that the notes were more revealing than the hearing.
Highlights:
• "Don't say we already do what GDPR requires," which suggests Facebook is aware it most certainly does not already do what GDPR requires.
• The section on combatting criticism from Apple, which highlights how much Apple CEO Tim Cook has gotten under Facebook's skin. One line: "Lots of stories about apps misusing Apple data, never seen Apple notify people."
• The line stating that Facebook only has a "small part of the ad market" and that "advertisers have choices too," which highlights a concern about lawmakers characterizing Facebook as a monopoly.
---
Big Picture: What happens next
The pressure on Facebook is not over. But Congress has sent a signal to Wall Street and the public that it is limited in its ability to grapple with big tech, much less regulate it. The only existing regulatory proposal on the table -- the Honest Ads Act -- is narrowly focused on political advertising and, frankly, toothless. Real substantive regulation that gives users greater control over its data, like Europe's GDPR, is a long way off.
Top reads:
• "Zuckerberg's boring testimony is a big win for Facebook: This 5-hour nothingburger made the scandal seem over" by TechCrunch's Josh Constine.
• "Mark Zuckerberg got a win today in Congress, but the threat of more regulation looms" by Recode's Kurt Wagner.
• "What was missing from Mark Zuckerberg's first day of congressional testimony" by The New Yorker's Adrien Chen.
Sign up for PACIFIC: The new CNNMoney newsletter about the center of change and innovation
---
Talk of Tinseltown: Moonves, Redstone at war
"Moonves vs. Redstone: Inside the Poisonous War for Control of CBS and Viacom" by The Hollywood Reporter's Kim Masters:
• "Leslie Moonves is open to merging CBS and Viacom -- on his terms -- but Shari Redstone, eager for power, may be ready to sacrifice Hollywood's most celebrated exec to chart her own path."
• "Shari, daughter of ailing 94-year-old empire builder Sumner Redstone, insists that Viacom and CBS must merge, an idea that once would have held great appeal for Moonves — assuming he would be in charge."
• "[N]ot only is Redstone pressing for a merger, she also is widely seen as intent on taking a hand in the running of the combined companies. For Moonves, long accustomed to being absolute monarch at CBS, that looks like a deal-breaker."
How it's playing: CNBC: "Redstone likely to replace Moonves as head of CBS if no deal with Viacom, sources say"
What our sources think: This is a negotiating tactic. It's not clear how pushing out Moonves is a smart business play. He's one of the most revered execs in the game.
---
The Stream: ESPN+ test run
ESPN's subscription streaming service launches today with "The Last Days of Knight," a documentary about basketball coach Bob Knight.
My colleague Brian Lowry calls the doc "first rate," but notes that it "merely adds to the debate of what qualifies as the kind of must-have content" that justifies paying for ESPN+:
• "ESPN... provides an interesting test case for over-the-top services, given the unique hold that sports has on its fans."
• "The question is, what kind of content -- amid such abundance -- merits paying for it?"
What we're still wondering: How long til Bob Iger goes all-in on streaming?
---
What Next: Pop-Up Magazine -- which brings the magazine storytelling experience to the stage -- has just announced its national Spring Issue tour, with stops in Seattle (April 30 at Benaroya Hall), Oakland (May 10 at the Paramount) and Los Angeles (May 12 at the Theatre at Ace Hotel). Tickets here.
See you tomorrow.
Want this in your inbox every morning? Sign up for PACIFIC: The new CNNMoney newsletter about the center of change and innovation