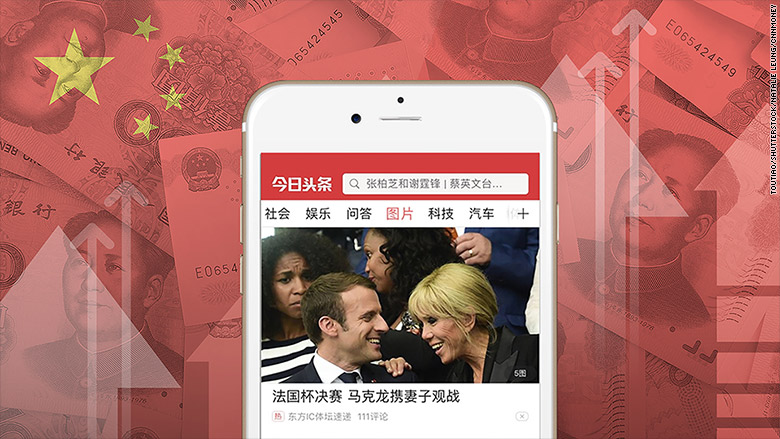 In China, when officials are unhappy with a social media network, they don't spend time grilling the CEO in public. They come down hard, and fast.
Bytedance, the parent company of several popular social media apps in China and the United States, has just learned that lesson after running afoul of Beijing.
The crackdown on the startup, reportedly worth over $20 billion, unfolded this week.
On Monday, local media reported that regulators had pulled Bytedance's most popular product, news app Toutiao, from Apple (AAPL) and Android app stores. Three similar apps from other companies were also yanked.
The next day, authorities ordered Bytedance to shut down Neihan Duanzi, a social media platform where people often shared jokes, videos and GIFs. By Wednesday, Bytedance's chief executive was issuing a public apology and signaling the company would fall in line.
Related: In sync: China's hottest news app buys Musical.ly
"Our product took the wrong path, and content appeared that was incommensurate with socialist core values," Bytedance CEO and founder Zhang Yiming wrote on his official WeChat account.
"I am personally responsible for the punishments we have received," he added.
The moves highlight China's heavy handed approach to regulating news and social media. US platforms including Facebook (FB), Twitter (TWTR) and Instagram are blocked in the country.
Zhang said his company will increase the number of employees that review content from 6,000 to 10,000. Toutiao will reportedly be banned from app stores for three weeks.
Toutiao, which means "headlines," uses artificial intelligence to create customized news feeds for its users. It launched in 2012 and has more than 120 million daily active users, according to an investor in the app.
Bytedance's video and photo sharing platforms and live streaming apps have also grown in popularity, thanks in part to suggestive or off-color content.
Related: Beijing has a new propaganda weapon: Voice of China
On Neihan Duanzi, users often shared crude content. Regulators said the posts were vulgar and guilty of displaying "improper public opinion." China's State Administration of Radio and Television ordered Bytedance to shut it permanently and advised the startup to "learn a lesson from this and weed out similar video content."
Beijing had been prodding Bytedance to clean up its act, requiring it to stop updating popular sections on Toutiao and scrub pornographic and vulgar content from news feeds late last year.
In January, it ordered Toutiao and other similar platforms to regulate user accounts and ensure they "promote the core values of socialism."
Unlike many big Chinese tech startups, Bytedance isn't backed by one of the country's three giant internet companies: Alibaba (BABA), Baidu (BIDU) and Tencent (TCEHY).
The Beijing-based firm recently bought US-based video platform Flipagram and also owns news app TopBuzz.
-- Serenitie Wang contributed to this report.