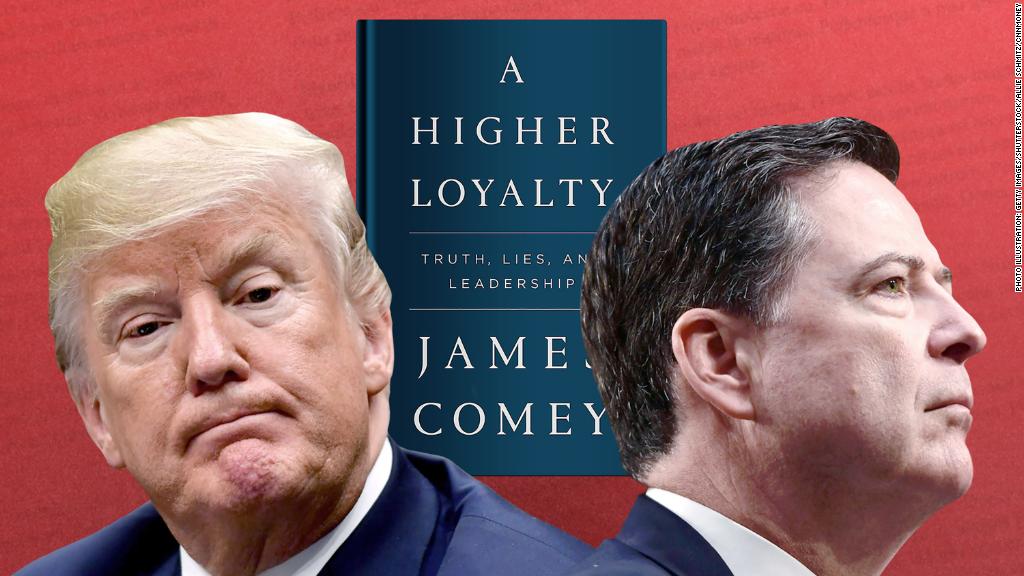 Since January, each book at the top of The New York Times best-seller list has had one thing in common: President Trump.
James Comey's book "A Higher Loyalty" will surely keep the streak alive. Comey's high-profile launch is also highlighting Trump's broader effects on book sales.
The No. 1 spot on The Times' hardcover nonfiction list is incredibly coveted real estate in the publishing industry. Michael Wolff's "Fire and Fury" landed there in mid-January thanks to explosive allegations and a full-throated presidential attack.
"Fury" held onto the No. 1 spot until Michael Isikoff and David Corn's "Russian Roulette" came along in March. The book -- subtitled "The Inside Story of Putin's War on America and the Election of Donald Trump" -- was on top for three weeks.
It was dethroned by "Dear Madam President: An Open Letter to the Women Who Will Run the World," a book by Jennifer Palmieri, the former communications director for Hillary Clinton's campaign.
The Trump connection is obvious here, too: Palmieri's book is a reflection on Clinton's loss and a motivational message for future female candidates.
She anticipates that Comey's book, to be released on Tuesday, will replace her at the top of the Times list.
"I'm just grateful that I got my week before he comes in to crush my dreams again," Palmieri half-joked on CNN's "Reliable Sources."
Palmieri's "again" remark was a reference to Comey's controversial announcement about re-opening a Clinton email investigation just 11 days before the election. Clinton and many of her allies say Comey swung the election in Trump's favor.
Until "Fire and Fury" came along, the No. 1 book was Walter Isaacson's acclaimed biography about Leonardo da Vinci.
A non-Trump book will surely have a turn at No. 1 again -- but not yet. "A Higher Loyalty" is all but guaranteed to rank in the top spot later this month.
Related: Publisher printing 850,000 copies of James Comey book
The publishing house, Macmillan, has printed 850,000 copies in anticipation of intense interest from the public.
Trump's impact on book sales is multidimensional. While he is drawing extra attention to certain books, agents and publishing executives worry that he is also hurting sales of non-political titles.
This has also been a recurring concern among authors: Constant news coverage of all things Trump is taking away attention from other topics and thus other books.
Three books by conservative authors are on the Times list right now: Peter Schweizer's "Secret Empires," Jerome R. Corsi's "Killing The Deep State," and Tim Scott and Trey Gowdy's "Unified."
Former White House photographer Pete Souza's book, "Obama," has also been on the list in recent weeks.
There is a caveat about The Times list: Psychologist Jordan Peterson's book "12 Rules For Life" has been a hot seller for months, and might have ranked No. 1, but because it is published by a Canadian company, it is not counted by the U.S. newspaper.
Related: George Stephanopoulos: I tried to ask Comey 'the most critical questions'
The Times publishes its best-sellers lists each Wednesday, and there's some lag time before a book's launch and its ranking on the list.
Amazon tracks best-sellers differently. It has a constantly-updated list of the day's sales -- Comey is firmly in first place there -- and a list of the best sellers of the year.
So far this year, "Fire and Fury" is No. 1 by that measurement, while a parody book by the HBO show "Last Week Tonight" is No. 2.
Even the parody book relates back to the president -- because it was a response to Vice President Mike Pence's family publishing a children's book about the family's pet bunny.
"Last Week Tonight" host John Oliver helped create the book to troll the Pences and raise money for charities.
The Times places children's books on a separate list.
On the hardcover nonfiction list, "Fire and Fury" is still holding on -- it is No. 15 right now -- reflecting continued popularity of the title.
The publisher said last week that two million copies have been sold so far.
When asked last week if he thought Comey would outsell him, Wolff's infamous ego shone through in his answer: "He can't possibly sell more books than me."