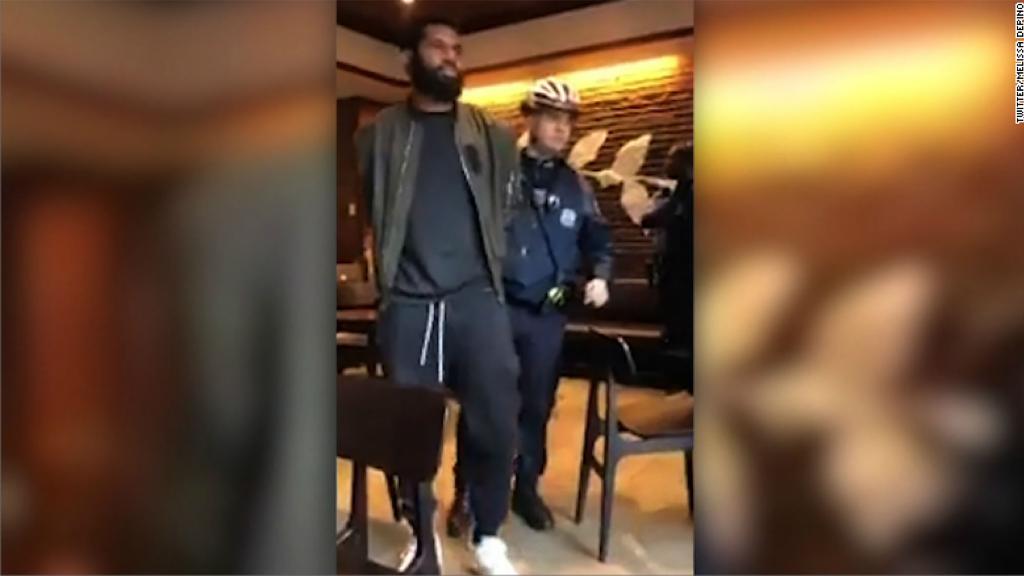 The two black men arrested at a Philadelphia Starbucks last week have agreed to meet with Starbucks CEO Kevin Johnson.
The timing of the meeting has not been set, according to a Starbucks spokesperson. The company said it hopes the meeting will occur this week while Johnson is in Philadelphia addressing the controversy over their arrests.
A store manager called the police because the two men were sitting in the store without placing an order. They were arrested for trespassing. The customers said they were waiting for another man to arrive. That person arrived at the store as they were being arrested.
In an interview Monday on ABC's "Good Morning America," Johnson said he hoped to meet with the two men in person to apologize face to face.
Related: Cafe shut down after protesters enter, chanting, 'Starbucks coffee is anti-black!'
"I'd like to have a dialogue with them so that I can ensure that we have opportunity to really understand the situation and show some compassion and empathy for the experience they went through," he said. "Finally as we're working to solve this, I'd like to invite them to join me in finding a constructive way to solve this issue."
He called the arrests "reprehensible" and promised to take action so that it doesn't happen again.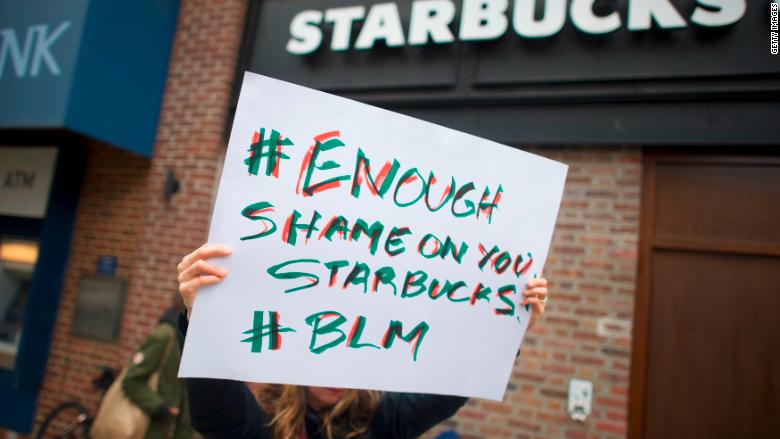 Johnson has apologized repeatedly since news of the arrests went viral last week, but he declined during Monday's interview to say whether the manager would face discipline, declining to "point blame."
"My responsibility is to look not only at that individual but to look more broadly at the circumstances that set that up, to ensure that this never happens again," he said on "Good Morning America."
But the manager in the store who called police is no longer working in that store, said Starbucks spokesperson Jaime Riley, although she would not comment if she is working at another location.
Johnson said staff would get more training on "unconscious bias."
"I've been very focused on understanding what guidelines and what training ever let this happen," he said. "What happened was wrong, and we will fix it."
Johnson had already posted apologies on the company's website. He said the company wanted to "express our deepest apologies to the two men who were arrested with a goal of doing whatever we can to make things right." He was in Philadelphia on Monday when he conducted the interview on "Good Morning America."
"Starbucks stands firmly against discrimination or racial profiling," he said in the blog post.
Related: Starbucks achieves pay equity in the United States
The problems started when the men asked for the code needed to use the bathroom and were told it was only available for paying customers. There is no companywide policy on bathroom use at Starbucks stores, but many stores in high traffic areas require a code that is printed on receipts in order to use the bathroom.
Philadelphia Mayor Jim Kenney issued his own statement saying the incident "appears to exemplify what racial discrimination looks like in 2018." He added that the apology from Starbucks "is not enough" and that he would ask the Philadelphia Commission on Human Relations to examine the firm's policies and procedures and whether there should be bias training for its employees.
Related: A video of black men being arrested at Starbucks. Three very different reactions.
Some Philadelphia residents want Starbucks to close the store involved in the incident. Protesters were in front of the store Monday, and some of the protestors went inside the store when heavy rains started. They were allowed into the store without being required to buy anything, said Riley.
"We're welcoming people to share their point of view in the store," said Riley.
Prosecutors in Philadelphia have announced they will not pursue charges against the men. Police Commissioner Richard Ross defended his officers' actions in a statement on Facebook, saying that the officers were called to respond to a trespassing complaint and that they behaved properly and followed procedure.
Related: Starbucks is giving baristas paid sick leave and stock bonuses
Starbucks has a history of advocating racial equality. In 2015 in the face of protests nationwide about police shootings of black men, Starbucks launched what it called the "race together" effort, having employees write that term on coffee cups to try to engage customers to think and talk about racial issues.