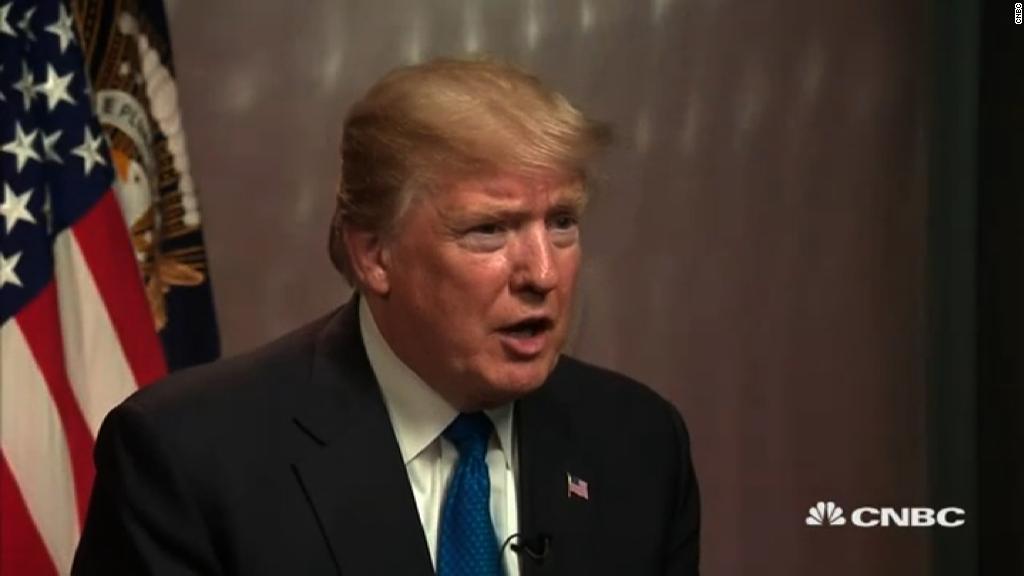 Maybe President Trump needs to look in the Oval Office mirror.
Trump tweeted Monday that China was playing the currency devaluation game. But it's the US dollar that's losing value this year -- and that's actually great news for Corporate America.
The US Dollar Index, which measures the value of the greenback versus the euro, yen and several other global currencies, is down 2.7% so far in 2018. The Chinese yuan is not part of the index, but the dollar is down more than 3% against it as well.
Here's the thing, though: Trump has often rooted for the dollar to go down. He said in an interview with the Wall Street Journal just days before his inauguration last year that he thought the dollar was "too strong."
Trump reiterated that in another interview with the Journal last April. He added that his administration was not going to label China a currency manipulator. The Treasury Department failed to call out China for currency manipulation in its latest report last week too.
This actually makes perfect sense, especially since Trump likes to consider himself a pro-business president -- despite the occasional angry, vitriolic tweet calling out a major company for some grievance, real or imagined.
Related: Trump contradicts Treasury Department with China tweet
The weaker dollar boosts profits for large multinational US firms since it makes their goods and services less expensive to buy in foreign markets -- China, for example.
Apple (AAPL), Boeing (BA) and Caterpillar (CAT) all generate a decent chunk of their revenue from China and stand to gain from the dollar's fall against the yuan.
There's also the accounting benefit. Companies can report higher sales from overseas markets when they translate sales made abroad back into dollars when they do their quarterly earnings releases.
In fact, 60% of the companies in the S&P 500 that have reported results in the past few weeks have said in their latest earnings reports that the weaker dollar has given them a boost, according to data from FactSet.
The companies are in a wide array of industries and are all well-known blue chips -- Costco (COST), Oracle (ORCL), FedEx (FDX), General Mills (GIS), Nike (NKE) and Delta (DAL) ... just to name a few.
Will dollar weakness continue? The big risk right now is that the Federal Reserve is expected to boost interest rates several more times this year as well as in 2019.
Even though the dollar has continued to fall this year, more rate hikes should eventually boost the dollar's value since a currency tends to strengthen when a nation's central bank is raising rates. Trump acknowledged as much in his tweet Tuesday.
Related: China's tariffs would hurt Apple and these other US companies
But he's also flip-flopped a bit about the dollar since he became president -- and has even contradicted members of his own cabinet.
Trump said on CNBC in January that the dollar will get "stronger and stronger" after Treasury Secretary Steven Mnuchin said a weaker dollar is "good for trade." Both made the comments at the World Economic Forum in Davos.
Mnuchin and Trump seem to be on the same page now though. Mnuchin told CNBC Tuesday that Trump's tweet is "a warning shot to make sure China doesn't devalue the currency as they have in the past."
That's all well and good. But the Trump team has to be careful what they wish for. If the greenback suddenly starts to surge, Corporate America may complain about the almighty dollar hurting their sales and profits later this year.
CNNMoney's Donna Borak contributed to this report.