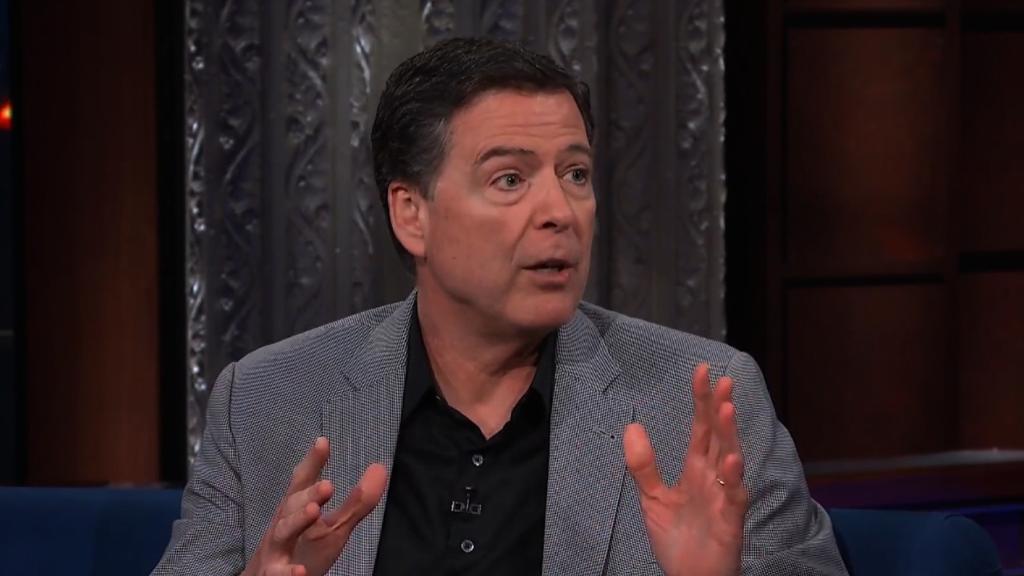 Who would play James Comey in the movie?
When the week began that wasn't an unreasonable question, and it came up again on "The View" on Wednesday. Yet as the former FBI director's publicity tour unfolded for his book, "A Higher Loyalty," the reaction has underscored how our movie-informed vision of an institution like the FBI can clash with the messier prism of reality.
From afar, Comey looks like a choice out of central casting -- a tall, stately fellow who devoted his career to law enforcement with a "boy scout" reputation.
Still, it's hard to completely square that image with some of the baggage he brings to his current task, starting with the notion of a "media tour" itself.
In the New York Times review of the book, Michiko Kakutani characterized passages as "near-cinematic accounts" of Comey's thinking in key situations. She referenced "The Untouchables," casting Comey in the role of the "diligent G-man;" and likened him to the "stoic, duty-driven marshal" in the 1952 western classic "High Noon."
The Hollywood Reporter picked up a similar thread, asking whether the book will make a good movie or miniseries, before concluding that it probably wouldn't.
The most marketable material in "A Higher Loyalty" hinges on Comey's interactions with and eventual firing by President Trump. The week, in many respects, boils down to a credibility contest between the two, with the president doing his part to help book sales by unleashing tweets against Comey.
Still, as ups and downs of this week's coverage have indicated, Comey's much-debated role in the 2016 campaign alone complicates the conversation.
Comey's media blitz -- starting with a primetime interview with ABC's George Stephanopoulos -- has underscored that the nuances and concerns surrounding Comey's tenure don't always readily comport with a simple Eliot Ness comparison.
Related: George Stephanopoulos: I tried to ask Comey 'the most critical questions'
Americans have been weaned on a romanticized view of the FBI that has hewed largely toward the dogged pursuit of justice. John Wayne or Gary Cooper shot it out with the bad guys directly, not through intermediated volleys on talk-show couches.
That might explain why Stormy Daniels -- the porn actress who maintains she was paid for her silence after an alleged affair with Trump -- is so much easier for the public to follow.
As the week progressed, Comey became smoother in delivering his message, in part by clarifying aspects of the original Stephanopoulos interview.
Related: Stephen Colbert and James Comey talk Trump and Russia over Pinot Noir
On "Good Morning America," Stephanopoulos devoted part of the discussion to personal matters, which allowed Comey to speak in a humanizing way about his wife and family. On NPR's "Fresh Air," he expanded upon the no-win situation he faced in handling the investigation into Hillary Clinton's emails.
Comey even exhibited a lighter side on "Late Show With Stephen Colbert," sipping wine with the host -- who was at his best, mixing astute questions with comedic touches -- out of paper cups. His message, however -- that Trump's behavior threatens American norms, and people need to stand up to that -- came through more clearly than in any other venue thus far.
Wednesday's stop on ABC's "The View" yielded contentious questioning from Meghan McCain, who suggested that J. Edgar Hoover "didn't write a tell-all when he left." "Even if you leave the book still thinking I'm an idiot, you realize I'm actually kind of an honest idiot," Comey said, to applause from the audience.
McCain's Hoover reference might have glossed over some uncomfortable aspects of the FBI's past, but it does speak to the black-and-white image many still harbor of the bureau.
Viewed that way, the Hollywood Reporter got it wrong by suggesting a Comey movie would be boring because he's "a straight arrow, an overgrown boy scout, an earnest no-drama kind of guy."
Watching him this week, those are Comey's greatest assets. The more pressing issue involves gradations to his story that blunt, or blur, the clear edges and stark choices to which consumers of drama have grown accustomed. After all, in movies and TV, the feds solve crimes in an hour, minus commercials, hunt down Hannibal Lecter and investigate "The X-Files."
As for the answer to the opening question, Comey said his kids' choice to play him would be "Friday Night Lights'" Kyle Chandler. Should Hollywood come calling, though, the best candidate would probably be Liam Neeson, the only drawback is he just played another G-man -- Mark Felt, a.k.a. Deep Throat -- in the recent movie "Mark Felt: The Man Who Brought Down the White House."
That independent film came and went with scant notice, but the casting fits the persona that Comey has sought to project. Besides, John Wayne and Gary Cooper are long gone, Armie Hammer is too young, and just about everybody else is too short.