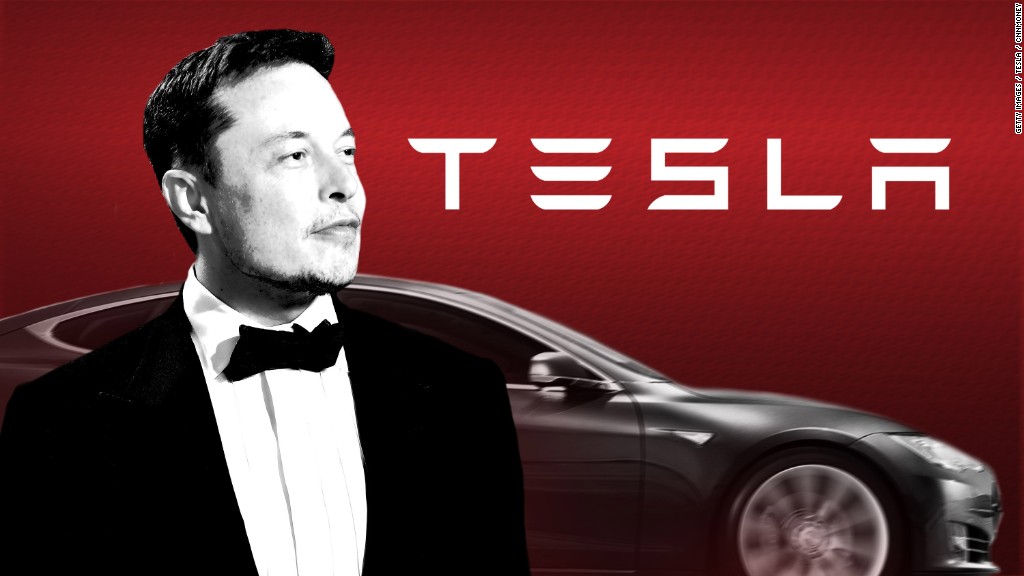 Tesla CEO Elon Musk vowed to manufacture Model 3 cars around the clock to finally meet the company's production target.
The 24/7 production pledge, which Musk emailed to employees Tuesday, came a day after Tesla temporarily suspended production of the mass-market sedan to work out kinks in its assembly line.
Musk set an ambitious weekly production target of 6,000 Model 3s by the end of June. That's 20% more vehicles per week than he promised investors earlier this year.
Tesla has been under pressure to prove to critics and investors that it can increase production of the electric mass market car with a $35,000 starting price. It's also on the hook with about 500,000 customers who put down $1,000 deposits to buy the car. Some have been waiting a year to get their Model 3s.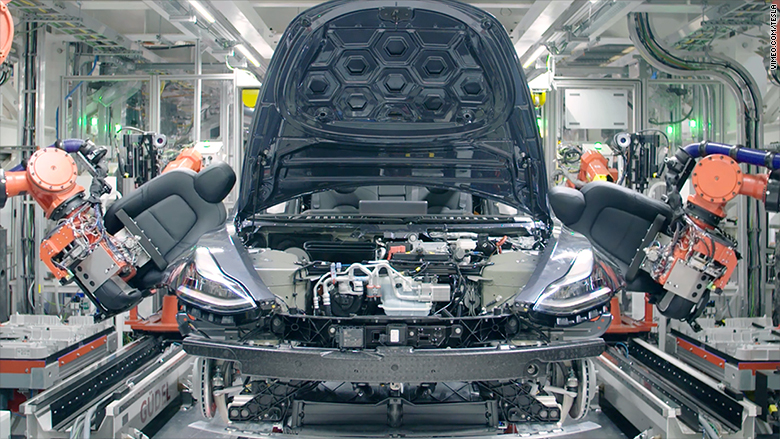 But so far the automaker has fallen short of just about all of its production targets. It said when it started production of the Model 3 last summer that it would build 5,000 of the cars a week by the end 2017. But it ended the year building only 800 a week.
Tesla reset its production target again but it fell short of that goal as well. Through the end of March it has only built 12,500 Model 3s.
Tesla has a problem. Maybe a big problem
The automotive blog Jalopnik first published Musk's email on Tuesday and a person familiar with the email confirmed its authenticity to CNNMoney.
The email says the company is shutting the assembly line for three to five days as it prepares to go to three shifts, seven days a week.
Related: Elon Musk's brash promise - Tesla will soon make money
Most US auto plants at established automakers only operate with two eight-hour shifts despite the large cost of robots and other equipment at auto assembly lines.
Supplying a plant with parts and keeping the equipment in peak operation is difficult when running the plant around the clock.
"There's diminishing returns when running 24/7," said Rebecca Lindland, executive analyst with Cox Automotive. "Best practice is two eight-hour shifts."
To add the extra shifts, Tesla is looking to hire about 400 workers a week for several weeks. The company had about 37,500 employees as of the end of last year.
Related: Analysis - Tesla should be held to a higher standard
Musk also vowed to rein in spending and give more scrutiny to supplier contracts. Outside experts, such as credit rating agency Moody's and Wall Street firm Jefferies, have said the company could face a cash crunch later this year if Tesla continues to miss its Model 3 production target. But Musk has insisted that the increased production of Model 3s will provide it with the cash it needs. He has denied the company will need to raise more cash, and promised profitability in the latter half of this year. His email said the company is on the verge of turning a profit.
"A fair criticism leveled at Tesla by outside critics is that you're not a real company unless you generate a profit, meaning simply that revenue exceeds costs," Musk wrote. "It didn't make sense to do that until reaching economies of scale, but now we are there."