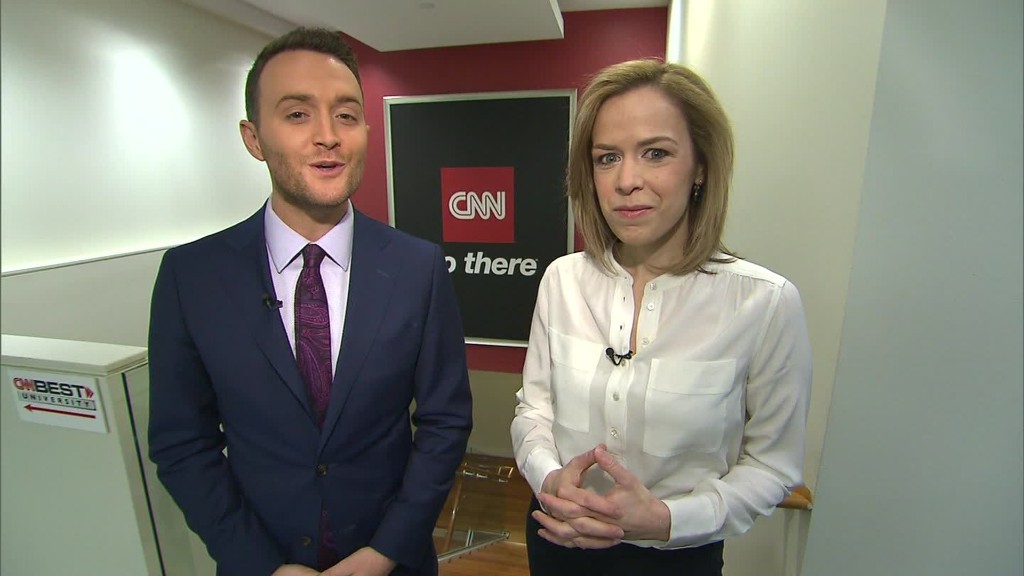 There were just two words I uttered after job offers early in my career: "Thank you."
I never negotiated for more money. If I did think about it, I quickly worried that I would anger my future employer if I even asked.
To prevent women from making that mistake and to help narrow the gender pay gap (women still make around 80 cents for every dollar a man makes), the American Association of University Women (AAUW) is providing free salary negotiation workshops. Over 30,000 women have completed them since 2015, according to the AAUW.
Now the goal is to train as many as 10 million women by 2022, by bringing workshops to more cities and states, and releasing a free online training tool, which will be available this summer. Currently, workshops are available in Boston, Washington, DC; Tempe, Arizona; Long Beach, California; San Francisco and various cities in Massachusetts.
"I think too many women unfortunately just don't talk about this enough," said Kimberly Churches, chief executive officer of AAUW. "It's a muscle and it takes practice to learn negotiation skills and if you're not already in a sales job, that becomes even more trying."
Based on a study conducted in Boston, where AAUW first started doing the workshops in collaboration with the Boston mayor's office, the extra training helps. Nearly half of the women who completed workshops in the first year either negotiated a pay raise at their existing job or a competitive starting salary at a new position, according to the report by the Center for Women in Politics and Public Policy.
Related: #MeToo and #TimesUp have pushed 48% of companies to review pay policies
Hourly workers are negotiating and receiving $2 to $3 more per hour and salaried workers are getting 20% to 30% higher salaries after the workshops, said Churches.
Sabrina Antoine, 29, attended a free workshop in her Boston neighborhood. During the two hours, she learned how to define the values she brings to a company, conduct research to understand her value in the marketplace and practice asking for more in role play sessions.
"The biggest piece about negotiating your salary for women particularly is that there is a sense of 'I am not enough' and so ... a lot of the training was around feeling comfortable taking the extra mile," said Antoine, who is an account manager in a nonprofit working with banks.
Shortly after the training, Antoine entered into negotiations for a new position in her organization. But first, she practiced by looking in the mirror, and doing a role play with a trusted colleague. She pushed for 40% more than she was currently making and then ended her pitch.
"That's what they teach you in the training is 'say your piece and stop talking.' You don't have to fill the silence," said Antoine, who ended up getting the 40% increase she asked for.
Related: Equality at work sounds great but how do we get there?
A new survey shows how critical this training can be. Forty percent of women have received salary increases of 5% or less in the past five years, which is below the cost of living increases during the same time frame, according to the SheKnows Media survey of nearly 1,500 working women in the US. Nearly half of the women surveyed said women are less likely to ask for raises and promotions than men.
To help women overcome their fears about negotiating, Ashley Pare, founder and chief executive officer of Own Your Worth, which helps women grow and manage their careers, turns the tables and has them focus on what they are giving up.
"I flip it and I ask 'well what are the consequences if you don't ask? How much money are you leaving on the table? Will you be able to pay your bills? Will you have the life that you desire?' " said Pare, who attended one of the workshops in 2015.
Pare said she sometimes asked for more during her career in corporate human resources but that the workshop convinced her "to stay in the game longer" as she negotiated a new position.
"In the past, I would ask but I didn't persist, so after that first workshop I went to, it definitely gave me the confidence to ask for everything that I wanted and go back and forth a couple of times to land at a happy medium."
She now volunteers as a facilitator at AAUW workshops in Boston.
"Employers expect you to negotiate so it's ... knowing that you can and it's OK and you should because it's one way that we can help make a difference," said Pare.