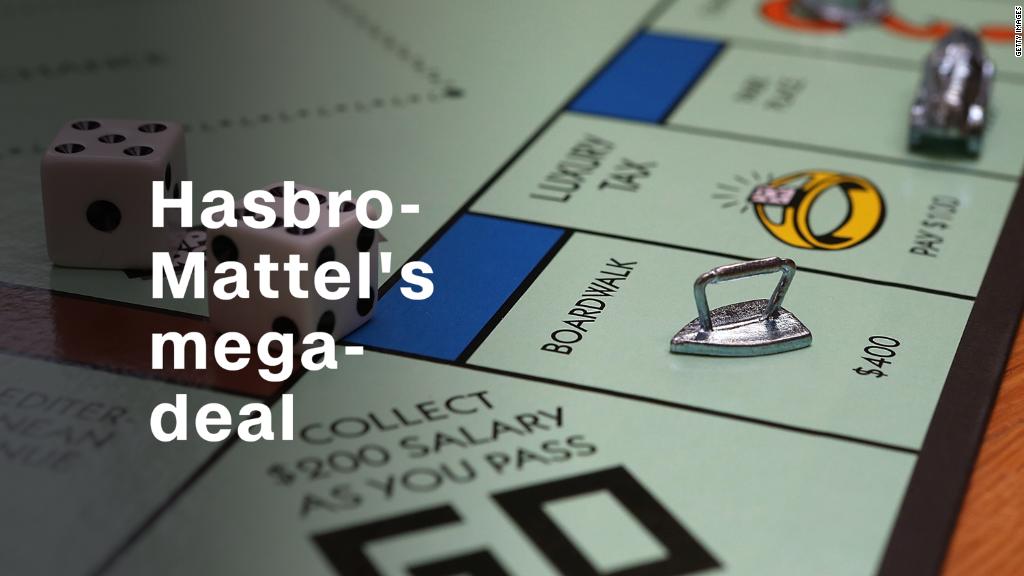 It may be time to draw a tear on the detachable eyes of Hasbro's Mr. Potato Head.
Hasbro reported a 16% drop in sales for the first quarter. The toymaker's earnings missed forecasts mostly because Toys "R" Us is closing.
Solid sales for Hasbro's iconic Monopoly board game and licensed toys tied to Disney's (DIS) Marvel franchise of superheroes were not enough to offset the pending demise of Toys "R" Us -- which accounted for nearly 10% of the company's sales last year
Hasbro executives did their best to dismiss the weak results as a temporary blip due mainly to the challenges associated with Toys "R" Us.
Chairman and CEO Brian Goldner said in the company's earnings release that the company was looking to "put the near-term disruption from Toys 'R' Us behind us" and that other retailers "view this as an opportunity in a key consumer category."
That's a likely reference to Walmart (WMT) and Target (TGT), which accounted for about 30% of Hasbro's sales in 2017. Amazon (AMZN) is also becoming a bigger player in toys. Goldner alluded to that by noting "the rapid shift to a converged retail environment."
Deborah Thomas, Hasbro's chief financial officer, added in the release that the company's poor first quarter numbers "do not reflect the health of our underlying business" and promised that the company will post growth in 2019 and beyond.
Wall Street begs to differ. Although shares of Hasbro (HAS) were up Monday, the stock is still down more than 10% over the past year.
Hasbro and rival Mattel (MAT) are struggling as kids play more games on smartphones and tablets and with other high-tech toys. The turmoil in toy land has also led to speculation that Hasbro and Mattel might merge.
Related: Mattel CEO steps down
Those rumors may return now that Mattel, which will report its latest earnings on Thursday, has a new CEO.
Margo Georgiadis, who just left Google (GOOGL) a little more than a year ago to become the CEO of Mattel, announced last Thursday that she is abandoning Mattel to go back to Silicon Valley as CEO of the venture capital-backed genealogy company Ancestry.
Georgiadis is being replaced by Ynon Kreiz, a Mattel director who was previously the head of Fox Kids Europe, CEO and chairman of media company Endemol and CEO of Maker Studios, a production company bought by Disney in 2014
Hasbro, which also owns Nerf, Transformers, Play-Doh and My Little Pony, could be a dream fit with Mattel -- the parent company of Barbie, Hot Wheels. American Girl and Fisher-Price toys.
Mattel is in even worse shape than Hasbro. Its stock has fallen 15% this year alone and has plunged more than 40% in the past 12 months. Analysts are forecasting that Mattel will report a quarterly loss on Thursday that's bigger than a year ago.