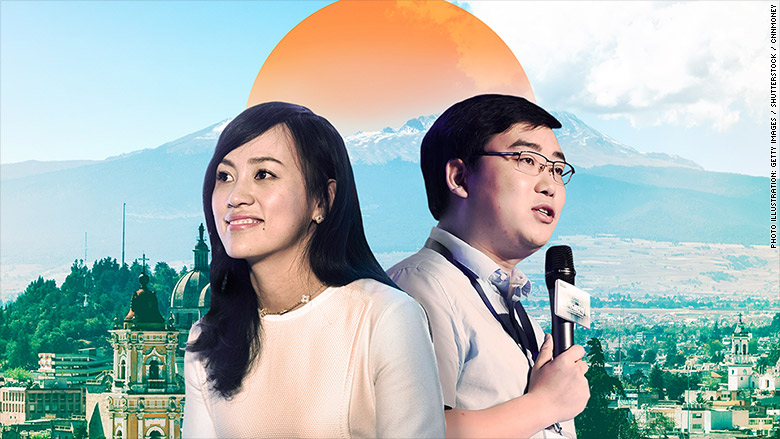 What's Next: The Global Ride-Share War: China's Didi Chuxing has launched its first service outside China in the Mexican city of Toluca -- the first offensive maneuver in its bid against Uber for global domination of the transportation market.
Sign up for PACIFIC: The new CNNMoney newsletter about the center of change and innovation
State of play:
• Didi forced Uber out of China in 2016. Uber then retreated from Southeast Asia this year, refocusing on the U.S., Europe and Latin America.
• Didi pursued Uber across the Pacific, buying Brazilian ride-share startup 99 in January and launching in Mexico, one of Uber's largest markets.
• Didi plans to launch in other cities in Mexico, where Uber has an 87% share of the country's ride-hailing market, per my colleague Sherisse Pham.
What's More: Didi is in talks for a multibillion-dollar IPO as early as this year that could value the company at $70 to $80 billion, per WSJ's Julie Steinberg.
The Big Picture: China's tech titans are going global. Tencent and Alibaba are now the fifth and seventh biggest market cap companies in the world, ahead of Facebook. Names like Jack Ma, Pony Ma, Cheng Wei and Jean Liu may soon be as familiar to Americans as Jeff Bezos, Tim Cook and Travis Kalanick.
---
Today's PACIFIC
Good morning. Tip your driver.
The ride- and flight-share calendar:
• May 2, New Orleans: I'll be talking with Lyft president John Zimmer about the future of technology and transportation at Collision. If you're in the Big Easy, come join us.
• May 8 & 9, Los Angeles: I'll be at the Uber Elevate summit, where Dara Khosrowshahi and other Uber execs will discuss the company's plans for on-demand aviation.
News you can use, via PACIFIC's Jordan Valinsky: "JetBlue is planning to sell seats on semi-private JetSuiteX flights along the West Coast, per CNBC. Daily service from Burbank to San Jose, Oakland and Las Vegas."
---
Ethics in Ride-Sharing: Dara talks diversity
New at CNN: Uber CEO Dara Khosrowshahi talks to my colleague Sara Ashley O'Brien about Uber's newly released diversity report:
"Frankly, I don't think we know what 'good' is yet," Khosrowshahi says. "We know what 'better' is and we want to get better.'"
Findings from the report:
• Uber's leadership is 79.1% male, its workforce is 62% male.
• Uber's leadership is 65.1% white and 29.4% Asian; its workforce is 48.6% white and 32.3% Asian.
• Uber added nearly 3,500 U.S. employees last year.
Khosrowshahi: "While we've made some good steps as it relates to diversity at the company, we want that to be reflected in the senior leadership as well."
The Big Picture: Nearly a year after Travis Kalanick's resignation, Khosrowshahi is still trying to get Uber past its reputation as a Silicon Valley frat house. His efforts are a reminder that almost all big tech companies are vulnerable to scrutiny over workplace diversity.
Sign up for PACIFIC: The new CNNMoney newsletter about the center of change and innovation
---
How Amazon Sees Cars
"Amazon now delivers to the trunk of your car" by CNNMoney's Matt McFarland: "The tech giant has launched a new service in 37 US cities that delivers packages to the trunks of cars for free [for Prime members]. I spent a week testing the service and became convinced this is the future of urban deliveries -- for those with the right cars."
---
Life After Ads: Alphabet diversifies
What's Next: Alphabet, one of two dominant players in the digital ad business, is radically diversifying its investments to prepare for life after advertising.
Startups, via Bloomberg's Mark Bergen and Sarah McBride:
• "Alphabet is sitting on about $11 billion in startup investments ... embarking on a new spending binge to chase its biggest rivals."
• "Alphabet's largest stake on paper is likely Uber. ... The company's venture capital arm led a $258 million investment in the ride-hailing startup in 2013 when it was valued at less than $4 billion." Uber is now valued at $72 billion.
• Alphabet also has stakes in Airbnb and Stripe.
Infrastructure, via NYT's Daisuke Wakabayashi:
• "Alphabet's capital expenditures were $7.7 billion, more than triple the same period last year."
• Alphabet spent in "areas like self-driving cars and online computer services ... [as well as] undersea cables and the construction of new data centers."
Overall earnings, via CNNMoney's Seth Fiegerman:
• Alphabet profits hit $9.4 billion in Q1 2018, up from $5.4 billion in Q1 2017.
• Google's sales jumped 26% to $31.1 billion, mostly on its ads business.
Alphabet is also on a hiring spree, per Recode's Dan Frommer. It added almost 5,000 employees last quarter, and now has more than 85,000.
Sign up for PACIFIC: The new CNNMoney newsletter about the center of change and innovation
---
Google in the home
Bonus, via Valinsky: Alphabet's earnings revealed that Google's Nest generated $726 million in revenue last year, but operated at a $621 million loss.
• The Verge's Nick Statt says Google is bleeding money on assistants like Home and Nest in an effort to take on Amazon, "the clear market leader."
---
Regulation Capitulation: Does GDPR help or hurt?
What's Next: The European effort to regulate Google and Facebook by limiting their control of user data may be reinforcing the Google and Facebook ad duopoly, per WSJ's Sam Schechner and Nick Kostov:
• "Google and Facebook ... are leveraging their vast scale and sophistication as they seek consent from the hundreds of millions of European users who visit their services each day. They are applying a relatively strict interpretation of the new law, competitors say—setting an industry standard that is hard for smaller firms to meet."
• Smaller ad tech firms "have no direct relationship with consumers. They say Google's and Facebook's response pressures publishers to seek consent on behalf of dozens of ad tech firms that people have never heard of."
The Big Picture: Regulation can have unintended consequences.
---
Talk of Tinseltown: Netflix ups its debt
"Netflix Raises $1.9 Billion in Debt Financing, Its Biggest Round Ever" by Variety's Todd Spangler:
• "Netflix priced a junk-bond offering of $1.9 billion — the streamer's biggest round of debt financing to date — as it looks to fuel its continued content binge-spending."
• "Netflix has been routinely turning to debt for financing its massive content spending instead of raising that through equity markets."
The Big Picture: By my math, Netflix now has more than $25 billion in long-term debt and content payment obligations, which is absolutely enormous. Something to remember every time they boast about spending up to $8 billion a year on original and licensed content.
Bonus: NPR's Sonari Glinton on the billboards of Hollywood's Sunset Strip, a brick-and-mortar reminder that we're living in a golden age of content.
Sign up for PACIFIC: The new CNNMoney newsletter about the center of change and innovation
---
Culver City Curry: Sony signs Steph Curry
"Sony Pictures Entertainment has won the Stephen Curry sweepstakes," via THR's Marisa Guthrie:
• "Sony Pictures ... has closed a wide-ranging, multiyear development deal with Curry's newly formed production company Unanimous Media."
• "The first-look film and TV deal also will extend to opportunities in partnerships, electronics, gaming and virtual reality."
• "Curry's production headquarters will be located on the Sony Pictures studio lot in Culver City," [near Apple's L.A. HQ and Amazon's Culver Studios.]
Who you need to know at Unanimous:
• Jeron Smith, CEO; Erick Peyton, CCO
• Bryan Smiley, Columbia Pictures Production VP
• Jeffrey Godsick, Sony Branding VP
---
What Next: Game 5. Spurs at Warriors. 7:30 on TNT.
See you tomorrow.
Want this in your inbox every morning? Sign up for PACIFIC: The new CNNMoney newsletter about the center of change and innovation