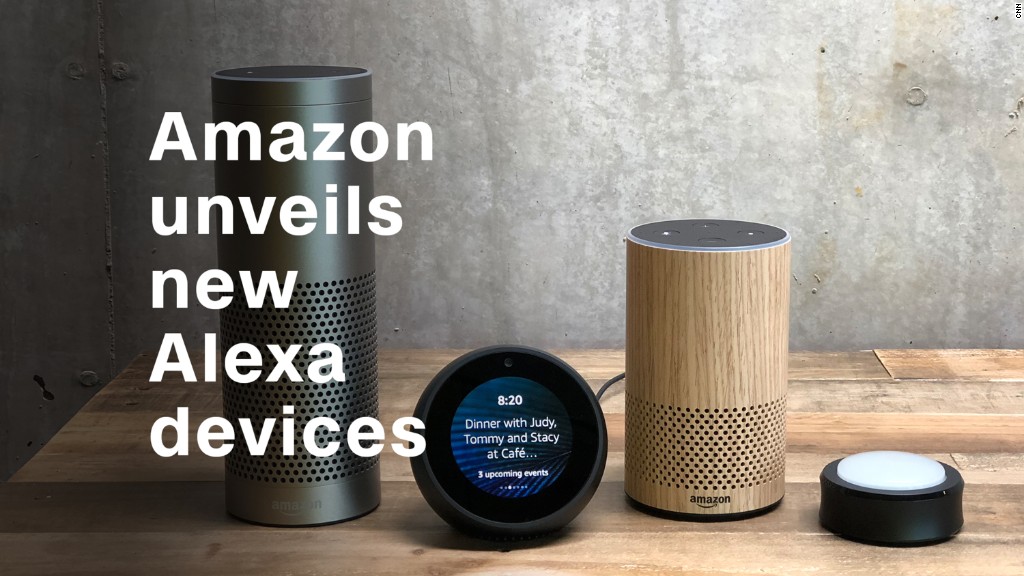 Alexa is headed to the kids' room.
On Wednesday, Amazon (AMZN) unveiled a kid-friendly version of its popular smart speaker featuring its voice assistant Alexa.
The Echo Dot Kids Edition plays music, answers questions and comes with a one-year subscription to Amazon's FreeTime Unlimited, which offers access to kid-friendly books and ad-free radio stations. It's aimed at kids ages 5 to 12.
The colorful gadgets -- which come in protective cases of either blue, red or green -- are loaded with parental controls. Parents can set time limits for use and pre-select which services kids can access. Songs with inappropriate lyrics are automatically blocked, and the ability to purchase items from the internet is disabled.
Related: Amazon now delivers to the trunk of your car
Similar to the grownup version of the Amazon Echo Dot, Alexa will answer your questions, but the responses on the newer device are tailored to a younger audience. Ask Alexa if Santa is real on the new device, and it'll respond: "I haven't met him, but if I do, I want to ask about Rudolph's nose."
For sensitive topics, such as where babies come from, Alexa defers to an adult: "People make people, but how they're made would be a better question for a grownup."
Alexa has a similar response if a child says they're being bullied by encouraging them to tell someone who can help.
"We strive to be factual and age appropriate," Josh Sherman, who leads Amazon's FreeTime service, told CNN in New York. "[But] it's not meant to replace humans."
Amazon is also partnering with companies such as Disney and Nickelodeon to offer games, themed alarm clocks and stories.
But these features don't come cheap. At $79.99, The Echo Dot Kids Edition is $30 more than the adult version.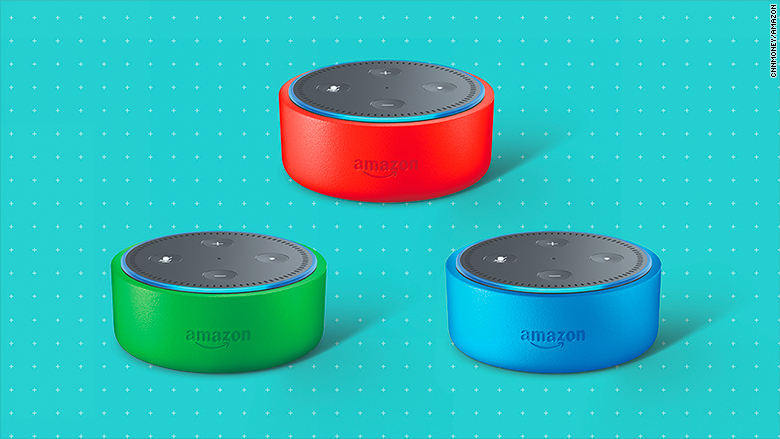 Related: Groups claim YouTube illegally collects data from kids
Although Amazon has put some measures in place like parental controls, the always-listening device for kids is sure to raise privacy concerns.
"Amazon has created some kid-specific benefits, but does anyone need or want Amazon developers to have access to all the sounds your children make?" said Sucharita Kodali, a vice president at research firm Forrester. "These devices are very troubling, and consumers have no idea what is being captured about them, where it's stored, who has access to the information, and how it is or could be used."
An Amazon spokesperson told CNN the company doesn't share kids' data with third parties like advertisers, and like other Echo speakers, only listens for the wake word "Alexa." Parents can also listen to archives of their child's voice requests via Alexa app and delete them individually or all at once. It's possible to disconnect the microphones by pressing the mute button.
Meanwhile, some experts argue the Amazon Echo Kids Edition gadget raises child development concerns.
"AI devices interfere with the face-to-face interactions and kid-driven play that children need to grow and thrive," said Josh Golin, executive director for the Campaign for a Commercial-Free Childhood.
But the new product from Amazon doesn't come as too much of a surprise. The company offers a Fire tablet for kids, and some parents already use smart speakers to play podcasts for a screen-free alternative for kids.
Amazon isn't the only company courting young users. Earlier this year, Facebook received backlash from child development advocates over its new Messenger Kids app. The standalone messaging app, targeted at children ages six to 12, allows kids to chat with friends and make video calls. Facebook (FB) said it has put safeguards in place to keep the platform safe and private.
E-Commerce Guide by CNN Underscored: 10 cool devices you can hook up with Amazon Alexa
The Echo Dot Kids Edition is now available for pre-order and starts shipping on May 9.
For parents who already own an Echo device and don't want to buy another, parental controls will be available for free on Amazon's existing smart speakers starting May 9.