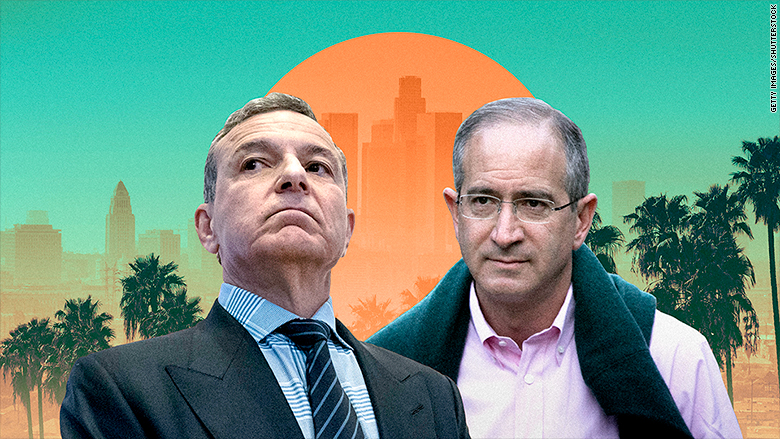 What's Next: The Disney-Comcast war gets personal. Disney CEO Bob Iger and Comcast CEO Brian Roberts have a deep animus toward one another that is fueling their battle over 21st Century Fox, sources familiar with their relationship tell me. Their intense dislike of one another, dating back to Comcast's hostile takeover attempt of Disney in 2004, means the battle for Fox will be unpredictable and possibly irrational.
Sign up for PACIFIC: The new CNNMoney newsletter about the center of change and innovation
Roberts now appears set on stopping Disney from acquiring Fox. His $31 billion counter-offer for Sky -- a "crown jewel" of the Fox assets, as Iger put it -- may just be the penny ante in a gamble that ends with Comcast trying to acquire Fox, our sources said. Today the Wall Street Journal reports that Comcast "is gaming out the possibility of making a public case to Fox's shareholders that they should ... opt for a Comcast tie-up instead."
The Big Picture: Fox and Sky are now pawns in Disney and Comcast's efforts to scale up in a new world where technology, media and telecom have collided and content is the coin of the realm.
---
Today's PACIFIC
Good morning from Georgetown.
What Washington is talking about: Kanye West. Benjamin Haddad, a fellow at the Hudson Institute who is traveling with the French delegation, says some members of President Macron's party "have expressed puzzlement" at all the Kanye coverage. We here at PACIFIC think a national debate about a provocative artist espousing "freedom of thought" is actually quite French.
The best Kanye tweet, by far: "we need to Aman Giri the world."
---
What Trust Crisis? Facebook soars
Facebook is apparently immune to its scandals:
• Profit increased 63%, revenue increased 49% in Q1 2018.
• Advertising revenue hit $11.8 billion, 91% of it from mobile.
• Monthly active users increased by 70 million, to 2.2. billion.
The Big Picture: The trust crisis probably isn't a crisis. We'll have to wait for the Q2 report to be sure, but it appears people don't mistrust Facebook enough to stop using it.
Facebook stock rose 7% in after-hours trading.
What's Next: Europe. The General Data Protection Regulation lands on May 25 and could restrict Facebook's ability to gather data on users. Axios' Sara Fischer notes that Europe is Facebook's fastest-growing sector for ad revenue.
Bonus: NYT's Jack Nicas found 205 Facebook and Instagram accounts "impersonating Mark Zuckerberg and Sheryl Sandberg. ... At least 51 of the impostor accounts, including 43 on Instagram, were scams."
Sign up for PACIFIC: The new CNNMoney newsletter about the center of change and innovation
---
Software Hardwear: Snap eyes future
My colleague Jordan Valinsky emails:
Snap still believes Spectacles are the future. The company has started selling an updated version of the glasses on its website for $150.
The Big Picture: Software companies see hardware as a smart long-term investment, whether that's home assistants or VR headsets. With Spectacles, Snap is diversifying beyond social media and holding firm to its belief that wearable AR technology will be the future norm.
The Specs, via WSJ's Georgia Wells:
• "The new models are intended to be easier to use and more appealing for an audience beyond devoted techies."
• "The new Spectacles are waterproof and shoot photos as well as videos of higher quality. The videos can be uploaded to users' smartphones in a fraction of the time it took with the first version."
---
Valleyspeak: Valinsky's top links
Amazon Expected to Report Sharp Rise in Sales (WSJ)
YouTube Plans to Clean Up its Mess (Bloomberg)
Uber Signals End to Its International Retreat (CNBC)
Didi Replaces CEO of Brazil's 99 With It Own Executive (Recode)
Sonos Prepares for IPO as Soon as June (WSJ)
---
The Big Slowdown: Smartphone sales decline
The smartphone market is slowing down due to sluggish demand, suggesting that the current iteration of mobile technology has hit a saturation point. In other words, most people already have the phone they want.
The Latest:
"Chinese smartphone sales suffer biggest decline ever" by CNN's Sherisse Pham:
• "Smartphone shipments in China have suffered their biggest decline ever, plummeting more than 21% in the first quarter of 2018 ..."
• "Chinese consumers bought just 91 million phones in the first three months of this year. The last time the number was that low was in the fourth quarter of 2013."
"Samsung warns of weaker phone demand," by Bloomberg's Sam Kim:
• "Samsung Electronics Co. beat analysts' profit estimates on booming exports of memory chips, but warned of challenges in smartphone demand in the coming months."
• "The Korean company said its own mobile division will see declining profitability amid weak demand and warned of softer demand for the screens used in Apple Inc.'s flagship iPhone X smartphone."
Sign up for PACIFIC: The new CNNMoney newsletter about the center of change and innovation
---
Going Vertical: AT&T eyes finish line
New at Vanity Fair: Joe Pompeo's sources are reading the judicial tea leaves and believe AT&T is likely to win Time Warner:
• "With closing arguments expected to conclude on April 30, AT&T CEO Randall Stephenson and Time Warner CEO Jeff Bewkes appear likely to get what they want after all."
• "Sources inside both companies are feeling good, if still cautious, about the course the trial has taken over the past two weeks. 'I think AT&T is killing them,' one executive ... told me. 'If you're AT&T, all signs seem to be pointing in the direction of: you're winning.'"
• "In the end, AT&T may have to make minimal concessions surrounding Turner. ... [Judge] Leon could green-light the merger if Turner agrees to make the arbitration agreement even more favorable for distributors."
Bonus: Time Warner earnings, via THR: "Time Warner reported higher-than-expected first-quarter earnings despite profit declines at all its units ..."
---
Talk of Tinseltown: What's driving CBS-Viacom
Shari Redstone is still trying to merge CBS and Viacom.
"The argument for the deal seems to be beside the point," Vanity Fair's William D. Cohan reports. "What seems to be driving Shari Redstone is familial score-settling, a quest for victory over her father."
Today's lesson: Sometimes business is personal.
---
What Next: The Ringer podcast on LeBron James' epic buzzer-beater, and other NBA playoff storylines.
See you tomorrow.
Want this in your inbox every morning? Sign up for PACIFIC: The new CNNMoney newsletter about the center of change and innovation