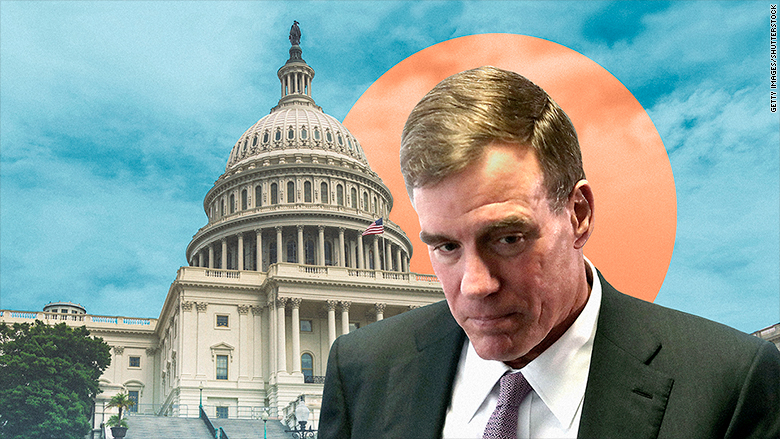 What's Next: Sen. Mark Warner tells PACIFIC that China's technological rise has been fueled by US tech companies that "prostituted themselves" to gain access to the Chinese market.
Sign up for PACIFIC: The new CNNMoney newsletter about the center of change and innovation
In an interview in his Capitol hideaway, Warner offered his strongest criticism to date of American tech giants and their accession to Chinese demands.
"A lot of Americans don't understand what's happening in China and how good their tech companies have become," Warner, the top Democrat on the Senate Intelligence Committee, told me. "Partially that's because American companies have bastardized themselves so much to get into the Chinese market that they've given away a lot of the intellectual capital."
Apple, Amazon, Microsoft and other big tech companies have all stored users' encryption keys in China in exchange for access to the Chinese market. Any hand-over of data is a top concern for lawmakers and data privacy experts.
Warner believes China's rising technological prowess should be a top priority for lawmakers and the intelligence community. "The theft of intellectual property ... Chinese investment in early-stage companies in America, the fact that China has taken all the American companies who basically sacrificed their source code to get into that market," he said. "They prostituted themselves to get into that market."
More from Warner on Facebook and regulation below.
---
Today's PACIFIC
Good morning from Georgetown.
Tonight: The United Talent Agency's annual White House Correspondents' Dinner party at Fiola Mare. Tomorrow: Tammy Haddad's brunch.
---
The Trust Crisis: Warner: Regulation too slow
Warner told me he is "absolutely concerned" that the government is not moving fast enough to keep up with the pace of technological change. It is therefore ill-positioned to regulate the tech industry, enforce data privacy laws and ensure that foreign actors don't meddle in future US elections, he said.
Warner's top concerns
• Another Cambridge Analytica-type event will rattle American tech. "The chance of another incident is going up immensely," he said.
• Corporate espionage. "We have some evidence that there were corporate espionage folks who saw how effective misinformation was in the 2016 campaign," he said. "This doesn't just have to be Democrats vs. Republicans. It can be Coke vs. Pepsi."
• Regulating the past, not the future. "The U.S. government is still trying to understand 2016 technology," he told me. "The next wave will be deep fake, it will be voice, it will be facial -- and we're not really ready."
• Misplaced priorities. "We have a $700 billion defense budget we just passed, but I wonder if we're buying 20th Century stuff," he said. "Russia has a $68 billion defense budget and they are much heavier on misinformation, disinformation and cyber."
• Government bureaucracy. "We're still trying to figure out where inside US government this fits. You've this task force set up and that task force set up. Are they really working together?"
Warner's ideas for regulation
• 1. Forcing tech companies to assume responsibility for content. "You could go as far as saying you've got the same responsibility that a newspaper or radio or television station has. You've got to do full content creation," he said.
• 2. Forcing tech companies to warn users about foreign actors. "Could you at least have a flag that comes up and says a person is marketing themselves as an American, but really the post is coming from abroad?"
• 3. Giving users easy ownership of data. "At this point Facebook says they will allow you to move all of your information, but it's a real pain in the ass."
• 4. Compensating users for data. "Platform companies could still use their same advertising model [but would pay you] each time they used your data."
The Big Picture
Warner: "If we don't put some framework around this, bad stuff is going to happen." But ... Warner also said: "I've got no interest in not seeing Facebook continue to succeed. ... The worst thing in the world would be to knee-cap innovation in American tech companies and open the field to the exact Chinese equivalents."
Sign up for PACIFIC: The new CNNMoney newsletter about the center of change and innovation
---
The Takeaway
Warner thinks deeply about data privacy and cybersecurity and has done more homework than most Senators. He sees Russia's meddling in US politics as part of a larger story about a decline of validation in American media and society, wherein foreign entities and cybercriminals can "splinter our country or undermine our institutions." But he is also acutely aware of the Sisyphean task of moving Congress forward on regulation and longs for a president who acknowledges and prioritizes this issue. "There's not anybody in charge in the White House that's trying to make sure our election security is safe in 2018," he said. "You've got to start with a White House that acknowledges the problem."
---
Across the Pond: What Warner is reading
"Facebook Faces Tough Questions in Britain That It Avoided in the U.S." by NYT's Adam Satariano:
• "Mark Zuckerberg escaped tough questioning during congressional testimony this month in part because American lawmakers weren't well versed about how the social network functions. On Thursday, one of his deputies faced a decidedly sharper inquisition from a panel in Britain."
• "Facebook's chief technology officer, Mike Schroepfer, faced more than four hours of questions from a British parliamentary committee ..."
• "If American politicians have been lampooned for being Luddites, the British Parliament's Digital, Culture, Media and Sport Committee has built a reputation for thoroughness and detailed questioning."
The Big Picture, via Satariano: "The dueling experiences highlight the different approaches taken on both sides of the Atlantic toward oversight of personal data and the social media giants who hold it. While the United States has largely eschewed regulating companies like Facebook, Britain and other countries in Europe have taken more aggressive stances, seeking to make tighter rules to better protect consumer privacy."
Bonus: The one question I asked Warner that he didn't want to answer: "Why didn't his Senate Intelligence Committee call on Zuckerberg to testify?"
Sign up for PACIFIC: The new CNNMoney newsletter about the center of change and innovation
---
Valleyspeak
Facebook is Being Unfriended by Big Tech (Axios)
Microsoft's Cloud Has Business Booming Again (NYT)
Sequoia Capital's Growth Fund Tops $6 Billion (WSJ)
T-Mobile and Sprint Aim for Deal Next Week (Reuters)
Grab Is Just Getting Started in Southeast Asia (CNNMoney)
---
Amazon East: Jeff Bezos' D.C. Life
The Washingtonian's Ben Wofford goes long on Jeff Bezos' D.C. takeover, complete with blueprints of his Kalorama mansion renovations, a map of his Washington social network and a sidebar on why D.C., Montgomery County, Md., or Northern Virginia might win rights to Amazon HQ2.
Highlights:
• Bezos views Washington "as an everything city -- a delta of diplomats and techies, military engineers and journalists, powerbrokers and problem solvers, a mélange perfectly suited to the tinkerer's heterodox taste," Wofford writes.
• Jean Case says Bezos is going to "revive the legacy of Kay Graham," the late Washington Post publisher, "and her great socializing -- bringing smart, interesting people together in a social context."
• Bezos' trips to Washington "typically last one or two days; he stays in fashionable hotels -- the Jefferson, the St. Regis, the Four Seasons -- and holds court at the most popular Washington canteens: Cafe Milano, Le Diplomate, Minibar, Fiola Mare."
The Kalorama home:
• "The $12-million project encompasses 191 doors ... 25 bathrooms, 11 bedrooms, five living rooms or lounges, five staircases, three kitchens, two library/studies, two exercise rooms, two elevators—and one very large ballroom."
• "The estate is split into two -- the 'Pope' house and the 'Wood' ... The Pope will serve as the Bezos family quarters ... Plans call for a large kitchen and pantry, a wine room and a whiskey cellar (complete with drying racks), a lounge ... a south-facing dining room ... two dressing rooms ... bedrooms dubbed 'Ottoman,' 'Garden,' and 'Bunk,' and many—many—more rooms."
• "The Wood ... opens onto a magnificent staircase of slab marble. It's flanked on the left by a 36-foot-long gallery and on the right by a nearly 1,500-square-foot ballroom with floor-to-ceiling, ionic fluted columns and a new limestone fireplace. Glance up and you'll find partygoers smiling down through the iron guardrails of the balconied promenade."
"Jeff Bezos's Washington solar system":
Or, who you need to know: Steve and Jean Case ... Amazon board member Patty Stonesifer ... Amazon DC chief Jay Carney ... Wizards and Caps owner Ted Leonsis ... Carlyle's David Rubenstein ... Business Council's Marlene Colucci ... former Post owner Don Graham ... former Post publisher Katharine Weymouth ... current Post publisher Fred Ryan ... Post editor-in-chief Marty Baron, Post editorial page editor Fred Hiatt and chief information office Shailesh Prakash ... architect Ankie Barnes ...
---
Prime Time: Amazon doubles profit
The Earnings Report: Amazon made $1.6 billion in profit during Q1 2018, more than doubling what it made in Q1 2017.
My colleague Seth Fiegerman breaks it down:
• "The surprise surge in profit was driven by Amazon's cloud computing business, Amazon Web Services, and a fast-growing advertising division that is now a multi-billion dollar business."
• "Amazon's sales for the quarter hit $51 billion, up 43% year over year, fueled in part by the cloud. Amazon Web Services saw sales jump nearly 50%, reaching $5.4 billion."
What's Next: $119 for Prime:
• "Amazon CFO Brian Olsavsky announced plans to help offset the rising costs of investments like original programming by raising the price of Amazon Prime ... from $99 to $119 per year starting next month."
Speaking of investments: Amazon has paid the NFL $130 million for streaming rights to Thursday Night Football for through the 2019 season.
Bloomberg's Shira Ovide: "It is awesome to be Jeff Bezos."
Sign up for PACIFIC: The new CNNMoney newsletter about the center of change and innovation
---
The Big Short: What Jeffrey Katzenberg is reading
"Why Netflix and Amazon are experimenting with short-form programming" by Digiday's Sahil Patel:
• "After a recent downswing in the video market for TV-quality short-form video series, there is renewed optimism among video makers as the top streaming giants experiment with this type of content."
• "Netflix ... announced this week that it will air a new documentary series from BuzzFeed News ... Amazon [has] commissioned three original digital shorts from Funny Or Die through its Prime Video Direct program."
• "Katzenberg's new venture WndrCo ... is looking to build a mobile video streaming platform anchored by expensive original series ..."
But, but, but ...
• "That doesn't mean Netflix, Amazon and Hulu will start buying high-end short-form video programming left and right, and some producers caution to treat these experiments as just that: experiments."
The Big Picture: Hollywood's brightest minds believe the entertainment industry needs to adjust to a mobile world where people watch content in 2-, 5- or 10-minute increments. But "short form" is a misnomer. The content is actually long form, its just broken up into shorter chunks.
Bonus: David Letterman will interview Jerry Seinfeld for Netflix's Emmy event, per Variety.
Sign up for PACIFIC: The new CNNMoney newsletter about the center of change and innovation
---
Pay It Forward: Europe's other regulation
The European Union has reached a deal that will force Netflix, Amazon and other content streamers to fund European films and television shows.
The Latest, from Reuters:
• "The new law extends the European Union's broadcasting rules to online video services and includes a quota of 30 percent for European works on video-on-demand platforms."
• "Video-sharing platforms like Google's YouTube and Facebook will also have to take measures against content "inciting violence, hatred and terrorism."
---
Dub Shot: The Pelican brief
What's Next: New Orleans at Golden State, Game 1. Saturday at 7:30. TNT.
Do not buy any pregame hype about the Pelicans actually beating the Warriors, even if Steph Curry is questionable for Game 1.
• "It's still a little audacious to take New Orleans over the defending champs. But this Pelicans team, now running faster and leaner without DeMarcus Cousins, scarcely resembles the one that lost 3 of 4 games against the Warriors in the regular season."
• "The annoying and immutable fact, of course, is that you have to anticipate that the Warriors win this and every other round, with or without their crown jewel."
Bleacher Report's Adam Fromal:
• "New Orleans has earned respect. It should be counted on to pull off at least one upset during the second round ... But the Warriors are still the heavy favorites."
---
What Next: The San Francisco Chronicle's Top 100 Bay Area Restaurants, from A16 to Zuni Cafe (h/t Valinsky).
See you Monday.
Want this in your inbox every morning? Sign up for PACIFIC: The new CNNMoney newsletter about the center of change and innovation