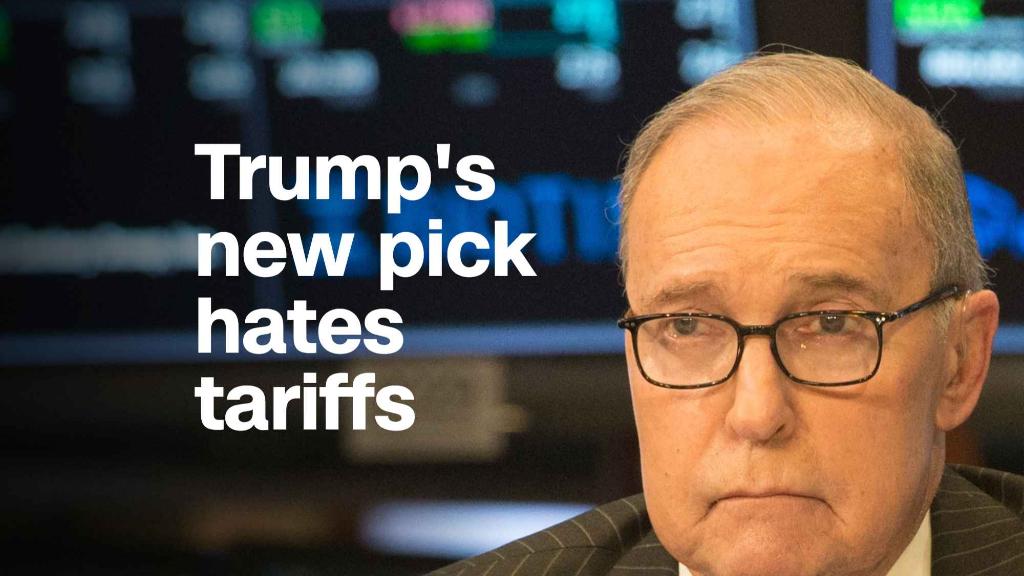 1. Trump team heads to Asia: A trade war with China was once unthinkable. Now, that nightmare scenario is sitting atop Wall Street's worry list.
The fear is that confrontation between the world's two biggest economies derails trade, destabilizing the global economy.
That's why it's an unmistakable positive that President Donald Trump is sending top economic officials to China this week for trade negotiations. Talks are certainly better than tariffs.
The hope is that Team Trump will leave Beijing with the framework for a trade agreement that both sides can live with. Not only would that avoid the escalation that investors fear, but it could put a stop to the unfair trade practices that cost American businesses billions.
"I think we've got a very good chance of making a deal," Trump said last week.
One potential problem: Trump's team must present a united front. That could be a challenge because the delegation is expected to include a mix of trade hawks and staunch advocates of free trade.
Trump's aggressive stance on trade will be embodied by Robert Lighthizer, the US Trade Representative. He led the investigation into China's alleged theft of intellectual property such as software and patents.
On the other hand, Larry Kudlow, Trump's top economic adviser, is a vocal defender of free trade. Before joining the White House, Kudlow co-wrote a CNBC editorial knocking Trump's steel and aluminum tariffs as "tax hikes" that risk millions of American jobs. Treasury Secretary Steven Mnuchin is also an advocate for free trade, although he has sharply criticized China's trade practices.
"This sets up a bizarre situation where the US team may spend most of the talks negotiating among themselves," Chris Krueger, managing director of the Cowen Washington Research Group, wrote to clients. He added that it's "hard to picture" more "unique" Trump officials.
Related: China's biggest tech companies have reason to worry
Trump officials have downplayed their differences -- and noted the positives of their diverse backgrounds.
"Tariffs are not my favorite tool, but I think they are a necessary tool as we move towards fair and freer trade," Kudlow told his former network CNBC last week.
Kevin Hassett, chairman of the White House Council of Economic Advisors, told reporters on Friday that Trump "really values diversity of opinions." While key members of the economic team have differed on various policies in the past, Hassett noted that there was unanimous support for the investigation into China's trade practices.
The stakes for the trip to Beijing are massive. The talks may represent the best chance to avoid a trade war between China and the United States.
"An escalation of the trade dispute," Ameriprise senior economist Russell Price wrote to clients, "could be the greatest singular threat to the near-term economic outlook."
2. A better jobs report? The Labor Department is scheduled to release the April jobs report on Friday. Last month's report was underwhelming.
In March, the US economy added just 103,000 jobs — less than it had in previous months, and well below economists' expectations. And wages grew a modest 2.7% compared to a year ago, in line with expectations.
There was some good news, too. The unemployment rate stayed at 4.1%, the lowest since 2000. The rate has come down steadily from a peak of 10% in 2009.
And experts said the jobs report still reflected a healthy economy overall. March marked the 90th consecutive month for job gains, the longest streak on record.
Related: US job growth slowed in March
3. Apple earnings: Investors are worried that Apple (AAPL) had a hard time selling iPhones in the beginning of the year.
The new $999 iPhone helped Apple set a new record during the holiday sales season at the end of 2017. But in February, Apple said it expects sales for the upcoming quarter to be between $60 and $62 billion -— well below Wall Street's estimates. The forecast raised concerns about how iPhones sold last quarter.
Analysts think sales are slumping right now. A Morgan Stanley report recently slashed iPhone shipment projections for the quarter ending in June, citing weakness in China. And the chief financial officer of a key Apple chip supplier, Taiwan Semiconductor, warned of "mobile softness" and "continued weak demand" when it reported earnings this month.
The company will share its second quarter results on Tuesday.
Related: Apple sinks on fears of slowing iPhone sales
4. Fed meeting: We may get some insight into the Federal Reserve's thinking when members share a statement with the public following its two-day meeting on Tuesday and Wednesday.
When the Fed raised interest rates by a quarter of a percentage point in March, it was sticking to a plan: Three gradual interest rate hikes this year. But the central bank may start changing its tactics.
Minutes from the March meeting revealed that rate hikes over the next few years could be "slightly steeper" than previously thought, thanks to the strengthening economy and confidence that the Fed will soon reach its inflation target.
Related: The Federal Reserve plans to hike interest rates even faster
5. Warren Buffett's big weekend: Berkshire Hathaway's (BRKA) annual shareholder meeting is next weekend.
Shareholders who attend the event will be treated to a weekend of fun, including a shopping day, steak dinner and 5k run. Non-shareholders can watch a livestream of CEO Warren Buffett and Vice Chairman Charlie Munger's remarks. It's an opportunity for Buffett and Munger to comment on the company's many investments. They'll praise — or criticize — the companies they care about.
Related: Warren Buffett talks IBM, airlines, Apple at annual meeting
6. Coming this week:
Monday — McDonald's (MCD) earnings
Tuesday — Aetna (AET), Apple (AAPL), Merck (MRK), Pfizer (PFE), Snap (SNAP) earnings; Fed meeting
Wednesday — CVS (CVS), Humana (HUM), Kraft Heinz (KHC), Metlife (MET), Molson Coors (TAP), Spotify (SPOT), Tesla (TSLA), Yum (YUMC); Fed meeting
Thursday — Cigna (CI), DowDuPont (DWDP), Kellogg (K), Weight Watchers (WTW) earnings
Friday — Alibaba (BABA), Newell Brands (NWL) earnings; Berkshire Hathaway annual shareholder weekend kicks off; Jobs report
--CNNMoney's Donna Borak contributed to this report.