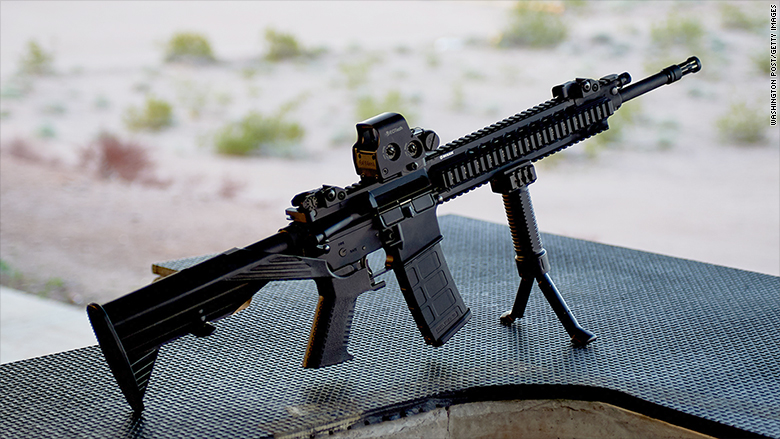 Vista Outdoor, a manufacturer of guns and ammunition, said on Tuesday that it could divest from its gun brands, prompting a steep decline in stock price.
Vista said that it's "potentially" selling its Savage brand of shotguns and rifles, including AR-15-style rifles, and also its Stevens brand of shotguns.
"Vista Outdoor is exploring strategic alternatives, which include potentially divesting the remaining Sports Protection brands, Savage/Stevens firearms, and Jimmy Styks [paddle boards,]" said the company, in a statement provided to CNNMoney. "We will begin the process immediately, but will take the time necessary to make prudent decisions."
Vista (VSTO)'s stock price fell 15% after the company released a separate statement online, where Chief Executive Officer Chris Metz said Vista "plans to explore strategic options" for Savage and Stevens firearms, as well as some non-gun brands, like Bell helmets.
Vista Outdoor said that it intends to "focus on achieving growth" through its other "market-leading brands," including ammunition, hunting and shooting accessories, water bottles and packs like Camelbak, and outdoor cooking products.
Vista Outdoor has 50 brands, ranging from ammo reloading kits to Bushnell scopes and golf range finders to Bollé safety glasses. It's also one the nation's largest ammunition makers, with eight ammunition brands.
"They dominate the shelf" when it comes to ammo, said Brian Rafn, gun industry analyst for Morgan Dempsey. "I think that's their legacy."
Related: Bump stock maker Slide Fire will stop taking orders
But guns make up only a minority of their sales, said Rafn, unlike leading gun manufacturers Sturm Ruger (RGR) and American Outdoor Brands (AOBC). He said it's "not worth the headache" for Vista to continue making guns, including AR-15-style rifles, in a politically charged environment following a series of mass shootings that have renewed the debate over gun control.
The gun industry has been struggling since the 2016 election of President Trump, who was endorsed by the National Rifle Association, because gun buyers became less concerned about gun control with a Republican in the White House.
Rommel Dionisio, gun industry analyst for Aegis Capital, said that Vista executives discussed the possibility of putting their gun brands up for sale during an earnings call on Tuesday.
"With the regulatory environment for modern sporting rifles currently uncertain in the wake of the recent Parkland tragedy, this may also be a factor in their decision to exit the firearms market," said Dionisio, referring to a deadly mass shooting at a high school in Florida in February.
Modern sporting rifle is the industry term for military-style semiautomatic rifles, which gun control advocates refer to as assault rifles.
Vista is the latest company to move away from guns. Dick's Sporting Goods (DKS) announced earlier this year, after the shooting in Parkland, that it would to stop selling guns. Walmart stopped selling military-style semiautomatic rifles in 2015.
After Dick's announced its decision, Walmart (WMT), L.L. Bean and the grocery chain Kroger (KR), which sells guns through its Fred Meyer stores, all raised their minimum gun buying age to 21.
Wall Street has also gotten involved. BlackRock, the largest shareholder in Ruger and American Outdoor Brands and the second-largest shareholder in Vista, said last month that it's launching gun-free funds for retirement plans.