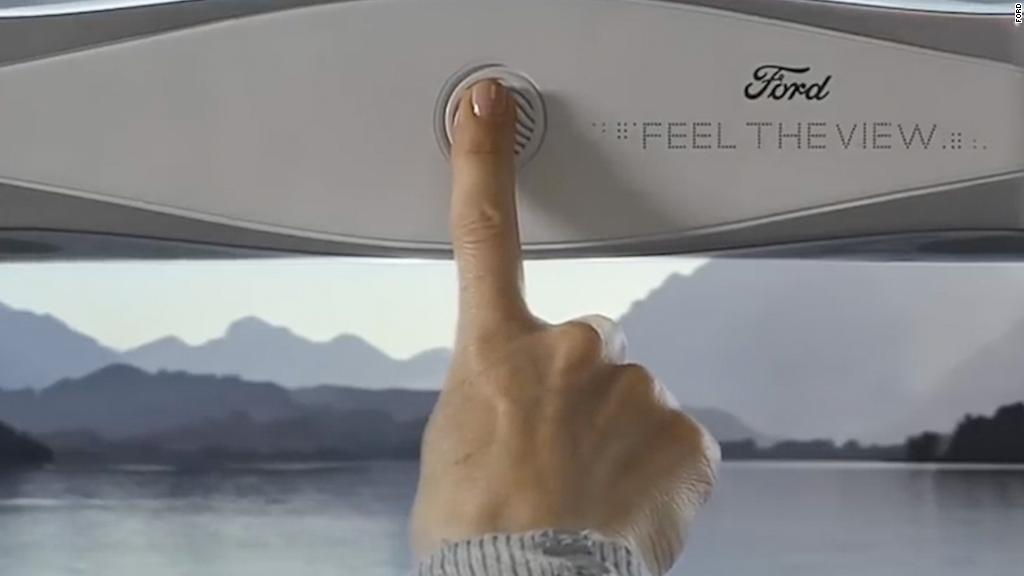 Ford thinks it has its hands on an idea to help the visually impaired see the view outside.
Ford revealed a prototype technology, called Feel the View, that allows the blind passengers to "feel" what they can't see outside a car's window. The automaker released a video this week touting the technology.
Here's how it works: A camera attaches to the car's window and takes photographs of the view outside.
Those images are then reproduced as a grayscale rendering in the window glass using special LED lights. When touched, the different shades of gray vibrate at up to 255 different frequencies. By feeling the image, a visually impaired person can mentally recreate the view outside.
Ford dropping cars to focus on SUVs and trucks
The concept incorporates an image recognition system that says aloud what is outside the car through its built-in speakers. For instance, it'll tell passengers when they're passing a mountain, a forest or an open field.
Ford (F) developed it in collaboration with Aedo, an Italian company specializing in technology to assist the visually impaired.
A Ford spokesman said the company has no plans to offer the device for sale.
The idea seemed compelling to Alan Morse, CEO of the Lighthouse Guild, an organization that provides support for the visually impaired. It resembles a number of other technologies that translate optical information into either audible descriptions or tactile experiences. For instance, there are glasses that can "read" text for a blind person and printers that produce textured relief versions of images.
Ford's "Feel the View" technology might be put to its best use as a tablet a person could walk with. He imagined a blind individual walking down the street while fingering a tablet.
"In New York, you'd look right in place," he said.
Unfortunately, the technology simply wouldn't work in something as small as a smartphone or tablet, said Marco Alù Saffi, a spokesman for Ford of Italy.
Still, Morse said he commends Ford for thinking of it.
Updated: This article has been updated with more background information about the project.