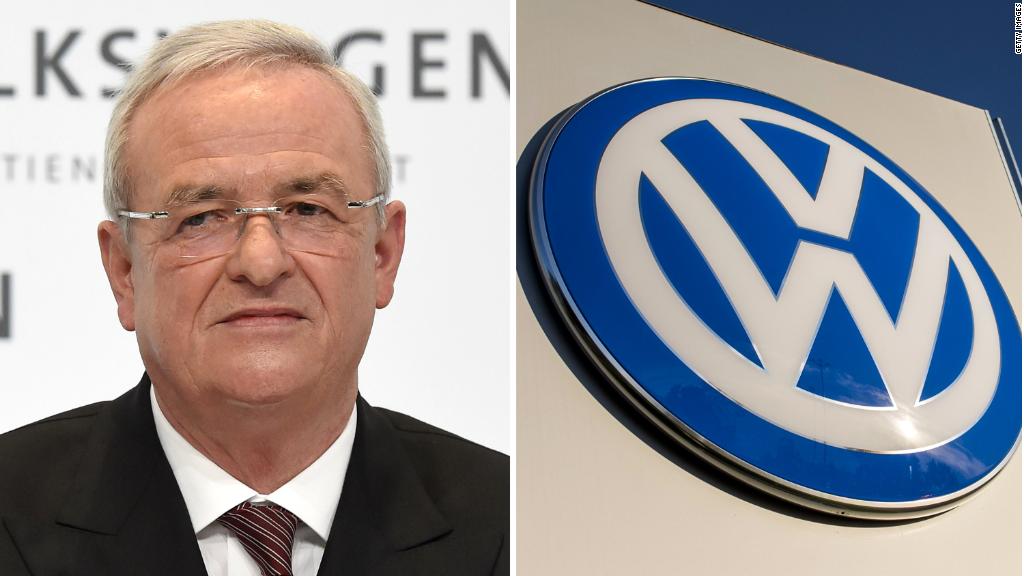 The US government has charged Martin Winterkorn, the former chief executive officer of Volkswagen, with fraud in the company's diesel emissions-cheating scandal.
The indictment was unsealed in Detroit on Thursday, revealing that Winterkorn had been charged on March 14 with wire fraud and conspiracy to defraud Volkswagen's American customers and violate the Clean Air Act.
Federal prosecutors say the charges stem from Volkswagen's diesel emissions scandal, which was unearthed by the Environmental Protection Agency and other organizations in 2015.
Related: Volkswagen's new CEO is a 'cost killer'
Diesel cars from Volkswagen (VLKAF) and Audi, which is owned by VW, were rigged to cheat on clean air rules with software that made emissions look cleaner than they actually were, according to federal and California regulators.
Volkswagen admitted in late 2015 that it fitted as many as 11 million diesel vehicles worldwide with software that could cheat emissions tests.
In a statement, Volkswagen said it "continues to cooperate with investigations by the Department of Justice into the conduct of individuals. It would not be appropriate to comment on individual cases."
The indictment alleges that Winterkorn was made aware of emissions cheating in May 2014 and July 2015, and that he agreed with other senior executives to continue the practice.
In the aftermath of the scandal, Winterkorn apologized but denied that he had early knowledge of wrongdoing. He resigned from Volkswagen in September 2015.
Related: Carmakers struggle to keep batteries free from child labor
The charges were unsealed on the same day as Volkswagen's annual shareholders' meeting.
Winterkorn, 70, is believed to be a resident of Germany. He is the ninth person charged by the US government over emissions cheating. Two former engineers have pleaded guilty.
The scandal has cost Volkswagen dearly.
The company agreed to a $14.7 billion settlement with the United States in 2016, which requires Volkswagen to repurchase the dirty diesel cars it sold, or give cash payouts to owners who decide to keep the cars and get them fixed.