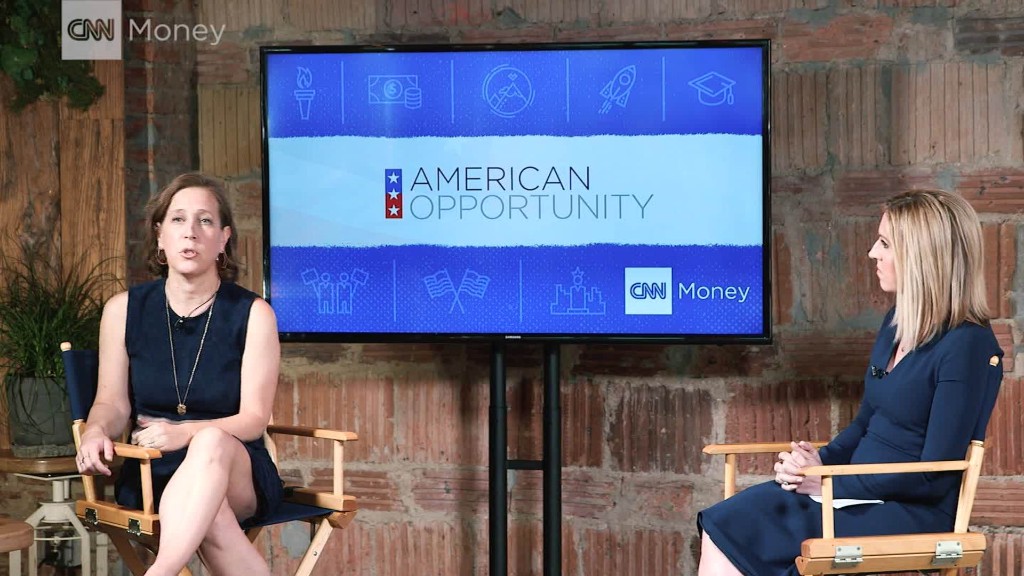 YouTube CEO Susan Wojcicki says it's "critical" that the company is "on the right side of history" as it addresses the controversy over inflammatory and extremist videos on its platform.
"Some have tried to take advantage of our services," Wojcicki said Thursday evening at the company's Brandcast event in New York. "It's incredibly important to me and to everyone at YouTube that we grow responsibly. There isn't a playbook for how open platforms operate at our scale."
The promise was part of YouTube's annual pitch to advertisers, who are hearing from major media companies all month about where they should spend their marketing dollars in 2018.
YouTube's appeal lies with its audience. Wojcicki said Thursday that the service now has more than 1.8 billion monthly login users, not counting those who watch YouTube without an account.
But its relationship with advertisers has still come under scrutiny.
On several occasions, the company's automated system has run ads alongside controversial or extremist videos, even though it has settings meant to protect advertisers. Last month, a CNN investigation found that ads from more than 300 companies and organizations ran on YouTube channels that promoted white nationalists, Nazis pedophilia, conspiracy theories and North Korean propaganda.
Related: YouTube ran ads from hundreds of brands on extremist channels
Wojcicki attempted to dissuade concerns by touting several changes it has made or announced, including a pledge to have over 10,000 people across Google (GOOG), which operates YouTube, address "violative content" by the end of the year.
She also said ads running through Google Preferred, a special program for premium ads, are reviewed by humans and have been "verified to meet advertiser-friendly guidelines."
"This is YouTube's focus in 2018," Wojcicki said, adding that the company will innovate "while delivering on our responsibility to viewers, creators and advertisers."
The controversies have sometimes led to high-profile rebukes by major brands, including Proctor and Gamble, which boycotted YouTube last September.
But it hasn't appeared to hurt YouTube's bottom line. P&G told Bloomberg last month that it would return to the platform, though its ads would only appear on videos it was able to review first.
Companies didn't exactly shy away from the service on Thursday, either. Kellogg's (K) president of US snacks, Deanie Elsner, delivered a lengthy plaudit for YouTube, which it has worked with on campaigns for products like Pringles potato chips. Wendy's (WEN) was also announced as the sponsor for an original YouTube show called "Training Days."
One marketing intelligence firm, MediaRadar, also reported last month that there hasn't been a change in national ad buys.
"This may signal that major brands believe that YouTube's significant efforts and investment to curb content violators are working," MediaRadar said last month after CNN's investigation published.
The appeal isn't a surprise, said John Wirtz, an assistant professor of advertising at the University of Illinois at Urbana-Champaign.
"They can show traffic. They can show eyeballs," he added.
Wirtz said that as artificial intelligence improves, he expects YouTube's algorithm will get better at figuring out where ads should run. In the short term, he said, the message is simple: "Trust us."
— CNNMoney's Kaya Yurieff contributed to this report.