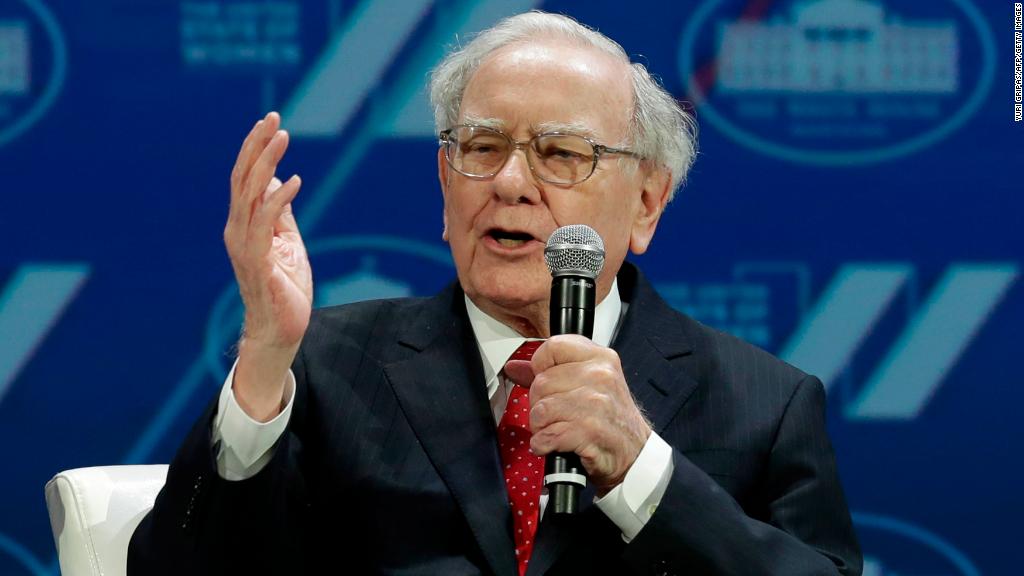 Warren Buffett said on Saturday that Wells Fargo committed a "cardinal sin" by turning a blind eye to the bad behavior caused by its horrible incentive system.
But, the billionaire Wells Fargo (WFC) shareholder defended the scandal-ridden lender, arguing its misdeeds aren't much worse than what other big banks have done.
Buffett said at the Berkshire Hathaway (BRKA) annual meeting in Omaha, Nebraska, that Wells Fargo had the "wrong incentives."
Wells Fargo's wildly unrealistic sales goals led workers to create millions of fake accounts and the bank has admitted to charging customers for auto insurance they didn't need and mortgage fees they didn't deserve.
"That was bad," Buffett said. "But then they committed the much greater error" by "ignoring the fact that they had a faulty incentive system." He said unrealistic sales goals encouraged workers to do "crazy" things, like opening millions of fake accounts.
"That is the cardinal sin at Berkshire," he said.
Despite Wells Fargo's 20-month nightmare, Berkshire Hathaway has largely stood by the bank. Buffett's holding company still owns more than 458 million shares, a 9% stake.
Buffett reiterated his support for Wells Fargo and its embattled management team even though the bank's legal troubles have persisted.
"I see no reason why Wells Fargo as a company — from both an investor standpoint and a moral standpoint going forward — is in any way inferior to the other big banks with which it competes," Buffett said.
He pointed to the legal problems that plagued American Express (AXP) in the 1960s, noting that the company emerged stronger.
Yet a Berkshire Hathaway shareholder noted that Buffett has famously said that if you find yourself in a "chronically leaking boat," it would be more productive to devote energy to "changing vessels" than "patching leaks."
"At what magnitude of leakage would Berkshire consider changing boats?" the shareholder asked Buffett about Wells Fargo.
Related: Wells Fargo will pay $480 million to settle securities fraud lawsuit
While Wells Fargo made a "big mistake," Buffett said "all the big banks have had troubles of one sort or another."
"I like Tim Sloan as a manager," Buffett said of Well Fargo's CEO, who has had to fight off calls for his resignation. "He is correcting mistakes made by other people."
Just a day earlier, Wells Fargo agreed to pay $480 million to settle claims it misled shareholders about its fake-account scandal. Wells Fargo denied the allegations in the securities fraud class action, but said it agreed to pay to "avoid the cost and disruption of further litigation."
Wells Fargo's troubles aren't limited to the fake-account scandal. Last month, federal regulators fined Wells Fargo $1 billion for auto insurance and mortgage abuses.
And in February, the Federal Reserve slapped Wells Fargo with unprecedented sanctions for "widespread consumer abuses." The penalties prevent the bank from growing any bigger until it cleans up its act.
Wells Fargo remains under investigation from the Department of Justice, Department of Labor and the Securities and Exchange Commission. Federal regulators also recently urged Wells Fargo's board to probe whether the bank made inappropriate recommendations to customers about their 401(k) plans.
Charlie Munger, Berkshire's vice chairman, argued that it's precisely because of all of these legal problems that Wells Fargo will be stronger in the future.
"I think Wells Fargo is going to be better going forward than it would have been if these leaks had never been discovered," Munger said.
"If I had to say which bank is more likely to behave the best in the future," Munger said, "it might be Wells Fargo."