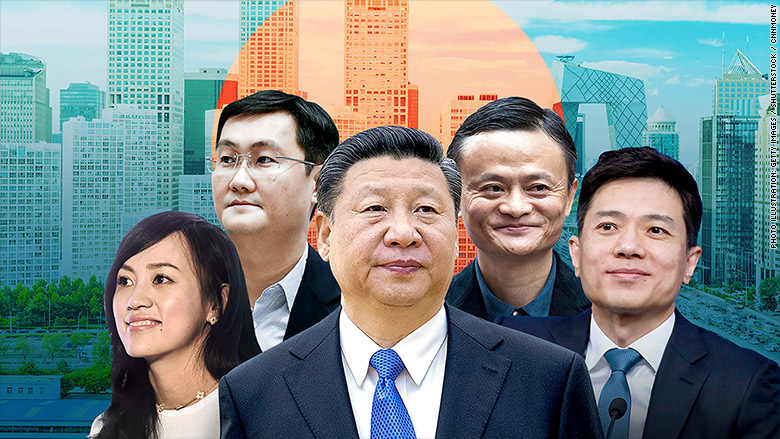 What's Next: The Chinese Global Standard. The coming battle between US and Chinese tech firms for global conquest, which we wrote about Friday, is inching closer to reality amid signs that China intends to export its own industrial standards.
Sign up for PACIFIC: The new CNNMoney newsletter about the center of change and innovation
Bloomberg's Andrew Polk explains: "As China boosts overseas investment through its Belt and Road infrastructure program, it is increasingly dictating not just the terms of financing but also a broader set of technological applications. In doing so, it is altering the global competitive landscape by defining and exporting technical standards for everything from artificial intelligence to hydropower."
The Big Picture: "To the extent that China's standards supplant Western ones, it will represent a direct threat to the profitability of non-Chinese companies. ... [and] it will undoubtedly challenge their ability to commercialize technology in other markets."
Meanwhile ... China is insisting that international airlines stop saying Taiwan, Hong Kong or Macau are not part of China. The White House calls it "Orwellian nonsense," but some airlines are moving to comply. My colleagues Daniel Shane and Julia Horowitz explain.
---
Today's PACIFIC
Good Morning. Welcome to the week.
Today:
• Microsoft's Build developer conference starts in Seattle.
Tomorrow:
• Google's I/O developer conference kicks off in Mountain View.
• Uber's Elevate summit on urban air transport begins in L.A.
---
The Win Column: Buffett, Gates boost Apple
Apple (AAPL) opened at a record-high $185.18-a-share today.
The boost comes after Warren Buffett said over the weekend that Berkshire Hathaway bought 75 million shares, an investment of more than $11 billion in the company. Berkshire is now Apple's third largest holder, behind Vanguard and BlackRock.
Buffett and Bill Gates also praised Apple this morning on CNBC:
• Buffett: "We bought about 5 percent of the company. I'd love to own 100 percent of it. ... We like very much the economics of their activities. We like very much the management and the way they think."
• Gates: "Apple's an amazing company, and the multiple's not gigantic. ... The top tech companies do have a very strong profit position right now but Apple has the most of all."
Tim Cook is "thrilled": "On a personal level, I've always greatly admired Warren and have always been grateful for his insight and advice," the Apple CEO said in a statement.
The Big Picture: The votes of confidence from Buffett and Gates are an immense boon to Apple, which has endured weeks of scrutiny over a slowdown in iPhone sales. The statements will boost long-term confidence in the world's largest market cap company.
What else Buffett said:
• Apple's iPhone is one of several products protected by a competitive "moat." Others include Elmer's Glue, Snickers, Costco and Amazon Prime.
• Bitcoin is "probably rat poison squared."
Sign up for PACIFIC: The new CNNMoney newsletter about the center of change and innovation
---
What we're listening to
The Berkshire Hathaway 2018 Annual Meeting, which is now available as a podcast, via Yahoo Finance.
---
Microsoft Build: A new disabilities AI initiative
Microsoft will today announce "AI for Accessibility," a new $25 million, 5-year grant program to finance the development of AI solutions for the more than one-billion people living with disabilities around the world:
• Areas for innovation: "Real-time speech-to-text transcription, visual recognition services and predictive text functionality," all areas Microsoft is already working in.
• Why it matters, per Microsoft: "AI advances like these offer enormous potential by enabling people with vision, hearing, cognitive, learning, mobility disabilities and mental health conditions do more in three specific scenarios: employment, modern life and human connection."
• Who you need to know: Jenny Lay-Flurrie, Microsoft's chief accessibility officer, who will be leading the effort and awarding grants.
What else Microsoft will announce:
• New Cloud products, including open source Azure IoT Edge Runtime and a new partnership with Qualcomm to create a vision AI developer kit.
• New AI tools, including Project Kinect for Azure, a Speech Devices SDK and updates to Azure Cosmos DB.
• A preview of Project Brainwave, an architecture for deep neural net processing that is now available on Azure and on the edge.
• New Azure Cognitive Services updates, including a unified Speech service with improved speech recognition and text-to-speech.
• Microsoft Remote Assist, which allows people to collaborate remotely with heads-up, hands-free video calling, image sharing, and mixed-reality annotations.
The Big Picture, via The Verge's Dieter Bohn, who has an exclusive interview with Microsoft CEO Satya Nadella:
"After talking to Nadella, I did get the sense that Windows is no longer as central to the company's future plans as it once was. Instead of trying to make everything run on Windows (as his predecessor Steve Ballmer was trying to do), Nadella wants to ensure that everything can work with Windows."
Sign up for PACIFIC: The new CNNMoney newsletter about the center of change and innovation
---
Google I/O: What Google will announce
What to watch for at Google I/O, which kicks off tomorrow:
• The new Android P.
• The new Wear OS.
• New AI innovations.
• New Google Home and Google Assistant tools.
• New game streaming services.
More on all that in tomorrow's PACIFIC.
---
Valleyspeak: Jordan Valinsky's top links
Most people wouldn't pay for Facebook (Axios)
Christopher Wylie explains Cambridge Analytica (Guardian)
Firefox says it will add advertisements (The Verge)
YouTube strikes new Vevo deal (Recode)
Elon Musk might start a candy company (Engadget)
---
Selling Out: Warner sells Spotify shares
Valinsky emails:
Warner Music Group has sold 75% of its Spotify shares for $400 million, per Recode's Peter Kafka.
Warner Music CEO Stephen Cooper:
• "We're a music company and not, by our nature, long-term holders of publicly traded equity. This sale has nothing to do with our view of Spotify's future."
• "We're hugely optimistic about the growth of subscription streaming. We know it has only just begun to fulfill its potential for global scale. We fully expect Spotify to continue to play a major role in that growth."
Warner's moves follow that of Sony, which sold half of its Spotify shares last week for $750 million.
Sign up for PACIFIC: The new CNNMoney newsletter about the center of change and innovation
---
Talk of Tinseltown: Why Ryan Murphy went Netflix
The New Yorker's Emily Nussbaum profiles Ryan Murphy, the star showrunner who recently signed a $300 million, five-year contract with Netflix:
• "When the news broke that Shonda Rhimes ... had signed a hundred-million-dollar, four-year deal with Netflix ... [Murphy's] agent wrote and said, 'It is now the wild, wild West, and you have the biggest gun in town.'"
• "Various corporate suitors, including Netflix and Amazon, began offering him creative freedom and riches unheard of in TV."
• "He chose Netflix, in part, because he was impressed by the company's vision for the medium: data-driven, global, immediate, funded by subscriptions, not ads."
The Big Picture: Netflix, Amazon and Apple have redefined the terms of business in Hollywood and radically driven up the cost of rights, showrunners and talent, making it harder for traditional players to compete.
---
Go West, Young Industry: IAB's NewFronts go Hollywood
"The Digital Content NewFronts are headed west," per THR's Natalie Jarvey:
• "The Interactive Advertising Bureau is unveiling new details about its plans to bring the advertiser pitchfest to Los Angeles this fall."
• "Dubbed NewFronts West, the event will take place Oct. 9-10 at NeueHouse Hollywood. Time slots are available for as many as 16 digital video companies that want to showcase their programming for brands and media buyers."
---
What Next: "How Frightened Should We Be of A.I.?" by The New Yorker's Tad Friend, who says "thinking about artificial intelligence can help clarify what makes us human—for better and for worse."
See you tomorrow.
Want this in your inbox every morning? Sign up for PACIFIC: The new CNNMoney newsletter about the center of change and innovation