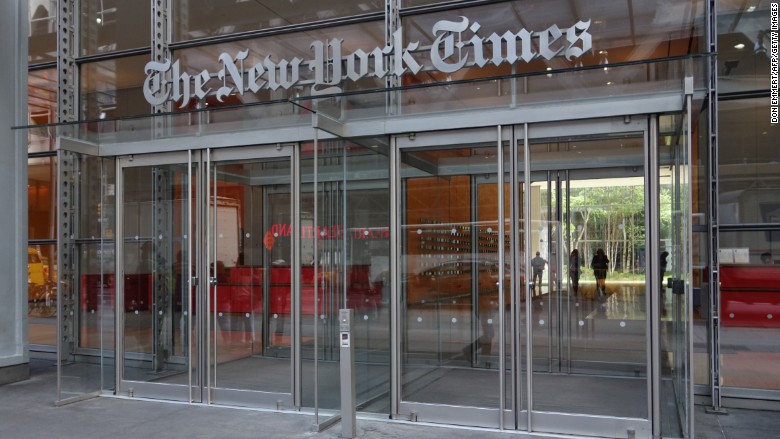 FX and Hulu will air a weekly television series by The New York Times.
The show's name, "The Weekly," links it to the Times' popular podcast "The Daily." With this new move into TV, The Times is hoping to replicate its success in audio.
The distribution deals were announced on Wednesday.
FX and the Times said the show "will be a narrative documentary news program that includes one or two of The Times's biggest and most important visual stories each week. Viewers will be with those stories and the reporters as the show brings them to life."
FX has licensed the show for TV -- marking what it calls the channel's "first entry in the ongoing weekly news genre."
Hulu, which is partly owned by FX's parent company 21st Century Fox, has also licensed the series. Episodes will stream on Hulu one day after they premiere on TV.
FX, which has been aggressively promoting its streaming and video on demand platforms, said "The Weekly" will be available there as well.
The Times has been working on "The Weekly" and shopping it to networks for the last few months.
"We're hoping" the series "becomes a showcase for the most ambitious visual journalism of The Times," Sam Dolnick, the assistant managing editor who is overseeing the Times' new digital initiatives, told CNNMoney earlier this year.
Related: The New York Times makes plans for weekly TV program
For the Times, a TV series licensing pact also provides a new source of revenue, although the exact terms of the deal are not known.
The series will premiere sometime later this year, with no specific launch date yet.
FX said Wednesday that it has "committed to a minimum of 30 episodes."
"The New York Times is synonymous with excellence and FX is honored to be chosen as their partner on what will be the first entry for both organizations into the weekly TV news business," FX Networks CEO John Landgraf said in a statement. "A free press is vital to the health of our American democracy. The Weekly will give viewers compelling stories about the courage and commitment New York Times journalists bring to seeking out and reporting the truth."