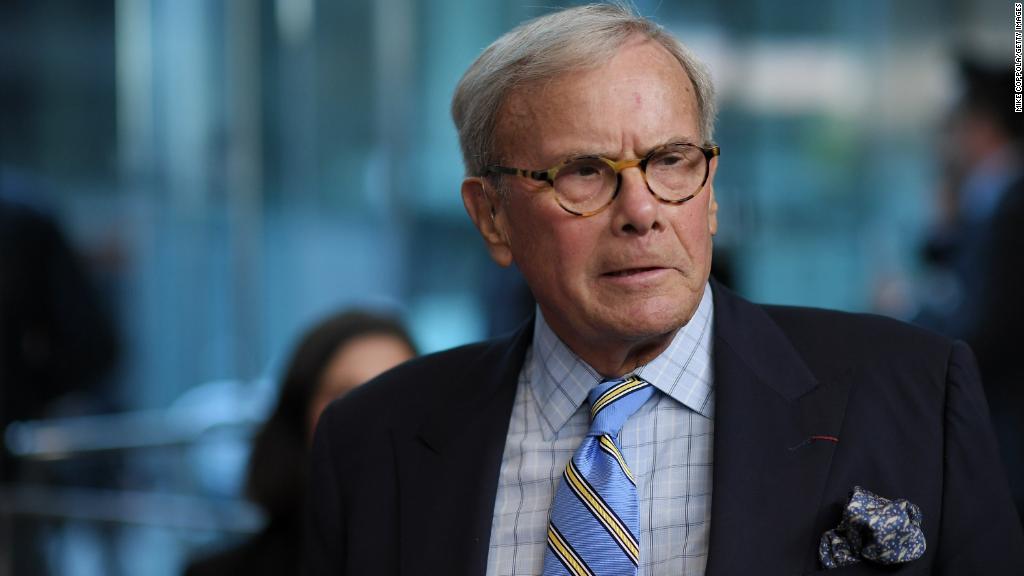 NBC News says no one in its leadership ranks knew about former star anchor Matt Lauer's allegedly inappropriate behavior, according to an internal investigation the network released Wednesday .
"We found no evidence indicating that any NBC News or Today Show leadership, News HR or others in positions of authority in the News Division received any complaints about Lauer's workplace behavior prior to November 27, 2017," when a woman came forward to NBC Human Resources with allegations of Lauer's inappropriate sexual behavior in the workplace, the report states.
Within two days of that complaint, Lauer was fired.
"All four women who came forward confirmed that they did not tell their direct manager or anyone else in a position of authority about their sexual encounters with Lauer," the report continues. "Current and former members of NBC News and Today Show leadership, as well as News HR, stated that they had never received a complaint about inappropriate workplace behavior by Lauer, and we did not find any contrary evidence."
NBC leadership were also unaware that Lauer "had engaged in sexual activity with other employees," the report says.
"There are no words to express my sorrow and regret for the pain I have caused others by words and actions," Lauer said in a statement provided to CNN at the time of his firing. "To the people I have hurt, I am truly sorry. As I am writing this I realize the depth of the damage and disappointment I have left behind at home and at NBC."
"Some of what is being said about me is untrue or mischaracterized, but there is enough truth in these stories to make me feel embarrassed and ashamed. I regret that my shame is now shared by the people I cherish dearly," Lauer said.
The internal investigation included nearly 70 interviews with current and former employees as well as more than 30 focus groups with 262 current employees, NBC News chairman Andy Lack said in an email to staff. The email accounts belonging to Lauer, NBC News and "Today" show leadership were searched, as were text messages on Lauer's work-issued phones, according to the report. Two outside law firms worked with NBC to verify the investigation was appropriately conducted, NBC said.
"NBCUniversal's investigation was thorough, objective and conducted at the corporate level, outside the News division," an NBCUniversal corporate spokesperson said in a statement. "Kim Harris, the company's General Counsel, led this process with a team of legal and HR professionals who are independent of News. In addition, we consulted with two prominent outside law firms -- Proskauer Rose and Davis Polk -- both of whom validated the investigation's methodology, findings, conclusions and recommended next steps."
In a note to staff on Wednesday, Lack wrote, "The last few months have been extraordinarily difficult, with our dedicated journalists doing some of our best work ever while we endured a painful period in the spotlight including a thorough and deserved examination." He added, "This has been felt by everyone in the organization, most importantly several of our colleagues who were deeply affected. I admire their bravery and am profoundly grateful for their candor."
Though the report says the investigation found credible evidence that leadership were not made aware of Lauer's behavior, a footnote noted that one of the four complainants did tell her manager about an interaction with Lauer "in or around 1996... where he placed his hand on her thigh and made a sexually suggestive comment." The manager agreed that the complainant would not be assigned to projects that required her to travel with Lauer, and the manager did not recall reporting the interaction to anyone else.
Two of the four complainants said that they believed NBC News or Today Show leadership "must have known about Lauer's alleged inappropriate sexual behavior in the workplace," but the former leaders "denied any such knowledge" and the investigation team said "were unable to otherwise substantiate it."
Related: Are you obligated to report sexual harassment at work?
Another footnote states that former "Today" show anchor Ann Curry had previously stated publicly that a woman complained to her about Lauer's behavior and that Curry then told management that they should be concerned about his behavior. But Curry told the investigation's team that "she did not disclose to anyone in management that she had received a specific complaint."
When Lauer was fired, several outlets reported that Lauer had a special button at his desk that could close the door to his office without his needing to get up. The report states that the button "is a commonly available feature in executive offices in multiple NBCUniversal facilities" and "does not lock the door from the inside."
Though employees were aware of official company channels through which to raise workplace issues, a number of them said they feared retaliation and that their complaints would not be kept confidential -- partly because the HR division sat in "glass-walled offices among other News division employees."
Ultimately, the members of the team that conducted the investigation said they did not believe that there "is a current widespread or systemic pattern of behavior that violates Company policy or a current culture of harassment in the News Division, based on our interviews, the cultural assessment and our review of the nature and number of workplace complaints in the News Division."
The report contained a number of recommendations for NBC, including improving training, improving communication from management and improving the use of reporting channels.
In his note to staff, Lack said that employees can now also go to an outside law firm, Seyfarth Shaw, to lodge complaints about workplace behavior. Lack said that he will "inject more immediacy and measurable transparency" into the process of how the company reacts to concerns, and will institute a "training surge" for managers. Every employee is in the midst of ongoing in-person training, which Lack said will continue.
"We cannot change the past. What we can do is learn from it, and try to make it right. We have already begun to turn the page to establish a safer and more respectful environment," Lack wrote.