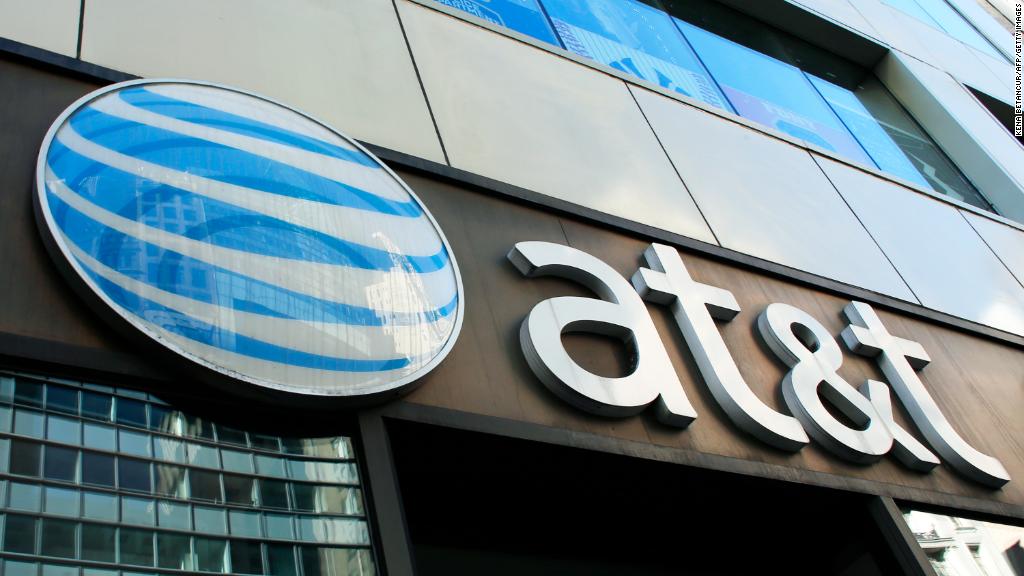 The public is just now learning about AT&T's payments to President Trump's personal lawyer Michael Cohen.
But special counsel Robert Mueller knew about the payments six months ago.
The wireless provider -- which is seeking to buy CNN's parent company Time Warner -- confirmed on Wednesday that it was contacted by Mueller's office late last year.
"We cooperated fully, providing all information requested in November and December of 2017," AT&T said in a statement. "A few weeks later, our consulting contract with Cohen expired at the end of the year. Since then, we have received no additional questions from the Special Counsel's office and consider the matter closed."
Democratic lawmakers disagree. Two key senators, Richard Blumenthal and Ed Markey, say they want the Senate Judiciary Committee to investigate the payments.
The Senators made the comments during a Wednesday press conference about net neutrality, an issue that's been a key focus of AT&T public policy advocacy.
"I think it ought to be a topic for the judiciary committee in connection with its continuing investigation, which I hope will review not only those payments, but also those payments that may well have been used to influence the president of the United States," Blumenthal said.
The AT&T-Cohen arrangement was made public on Tuesday by Stormy Daniels' lawyer Michael Avenatti.
He alleged that AT&T made payments totaling $200,000 -- $50,000 a month for four months -- to Essential Consultants, a shell company set up by Cohen shortly before the 2016 election.
Cohen used Essential Consultants to pay Daniels $130,000 to keep her from speaking publicly about an alleged affair with Trump years prior. The White House says Trump denies the affair.
Several other companies also paid Cohen's firm. CNN reported on Wednesday that Cohen aggressively pitched himself to companies as a unique source of access to the president.
The payments are now under scrutiny because Cohen -- often described as Trump's "fixer" -- is under federal investigation.
In an initial statement on Tuesday, AT&T said in a statement that Essential Consultants "was one of several firms we engaged in early 2017 to provide insights into understanding the new administration."
Trump's latest shot at the press corps: 'Take away credentials?'
Cohen's firm "did no legal or lobbying work for us, and the contract ended in December 2017," AT&T said.
The timing of the payments is noteworthy in part because AT&T had several key issues in front of the administration, including net neutrality regulations and a $85 billion acquisition of Time Warner, CNN's parent company.
AT&T is generally supportive of the Trump administration's moves to change net neutrality rules, though the company has publicly called on Congress to settle the internet freedom debate by passing a federal net neutrality law.
AT&T declined to answer questions on Wednesday about how it became aware of Cohen's firm or who approved the contract. The payments have the appearance of a secretive attempt to buy access to the president or perhaps even attempt to sway his opinion on the issues AT&T has pending in front of the government.
But a source with knowledge of the matter said it was logical to seek "insights" about the new administration from one of Trump's longtime confidants.
"You didn't have to hire a search firm to know who was close to the president. All you had to do was watch CNN during the campaign," the source said, referring to Cohen's frequent appearances.
AT&T confirms it paid Trump lawyer Michael Cohen's company
In a message to employees on Wednesday, AT&T elaborated on its initial explanation of the contract.
The statement began: "In early 2017, as President Trump was taking office, we hired several consultants to help us understand how the President and his administration might approach a wide range of policy issues important to the company, including regulatory reform at the FCC, corporate tax reform and antitrust enforcement."
AT&T pointed out that "companies often hire consultants for these purposes, especially at the beginning of a new Presidential Administration, and we have done so in previous Administrations, as well. Cohen was one of those consultants."
The message also pointed out that the "current controversy surrounding Cohen" did not erupt until January 2018, one month after the AT&T contract ended.
During the transition, AT&T CEO Randall Stephenson and Cohen both visited Trump Tower on the morning of January 12, 2017. The two men arrived eight minutes apart, according to a press pool report from that day.
But an AT&T spokesman said the two men did not meet that day, and have never met.
According to a source with knowledge of the matter, the contract with Cohen's firm started shortly after inauguration day in January.
Avenatti alleged that the payments totaled $200,000.
But Cohen was paid for almost all of 2017, according to the company's timeline.
AT&T declined to comment on the total, but the source confirmed that the total did indeed exceed $200,000.
Throughout 2017, AT&T sought approval for its takeover of Time Warner.
Trump's Justice Department ultimately sued to block the deal in November.
Initially, AT&T sought to prove that the administration was unfairly singling the company out in the lawsuit. But the judge on the case blocked discovery on communications between the White House and the Justice Department and AT&T dropped that defense.
The trial recently wrapped up, and a judge is expected to issue a decision on June 12, though it could come sooner.
On Wednesday afternoon, the ranking members on the Senate and House Antitrust Subcommittees wrote to Makan Delrahim, the head of the Justice Department's antitrust division, asking for "any information that you may have concerning payments made by AT&T that may have influenced the Administration, White House, or transition regarding the AT&T/Time Warner transaction."
CNN's Elizabeth Landers contributed to this report.