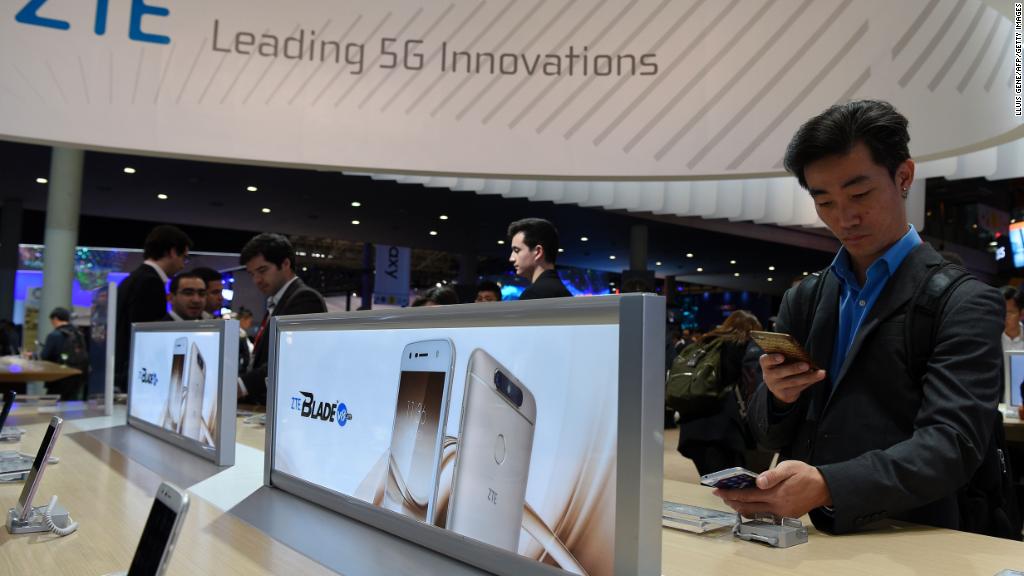 ZTE Corporation, a Chinese firm that sells millions of phones in the United States, has halted "major operating activities" after a US ban against the company went into effect, according to a new public filing.
Some of the company's products, which include smartphones and telecommunications equipment, appeared to no longer be for sale online on Wednesday.
It was unclear exactly which of ZTE's operations were impacted. The public filing says the company has enough cash to fulfill its "commercial obligations." No further details were offered. The company did not immediately respond to a request for more information.
Last month, the US Commerce Department blocked American firms from selling parts or providing services to ZTE until 2025. Washington accused ZTE of violating US sanctions on North Korea and Iran and then lying to US officials about whether the employees responsible were punished.
ZTE denies it did not take adequate corrective action. And the crackdown has been interpreted as part of a broader push by the United States to stifle China's tech ambition.
Last month ZTE said it expected its business to be "severely impacted" by the sanctions and its stock halted trading on the Hong Kong exchange April 16.
A New York Times journalist in China reported Wednesday that manufacturing has been shuttered at the company's plant in Shenzhen.
If ZTE goes out of business, it would mark the most dramatic development yet in the looming trade war between China and the United States.
Washington moved in March to punish Beijing for what is says is China's theft of US intellectual property. Both sides have threatened to implement billions of dollars worth of tariffs on goods from the other country.
The US government previously fined ZTE about $1.2 billion for violating US sanctions on Iran and North Korea. The Commerce Department said last month when it announced the ban that ZTE had lied to US officials about steps it had taken to punish employees who violated the sanctions. ZTE denies the claim.
Related: China's ZTE asks the US to lift sanctions
"It is unacceptable that [the US Commerce Department's Bureau of Industry and Security] insists on unfairly imposing the most severe penalty on ZTE even before the completion of investigation of facts," the company said in an April statement. The statement added that ZTE would continue "its efforts to resolve the issue through communication."
Those efforts so far appear to be unsuccessful.
A spokesperson for the Commerce Department's Bureau of Industry and Security said in a statement Wednesday that the agency is "exercising its discretion to grant ZTE the opportunity to present additional evidence through informal procedures and will give this information prompt consideration.
Jeff Fieldhack, the North America research director at Counterpoint Research, said these sanctions are a "death sentence" for ZTE's smartphone business.
And ZTE's public filing states the ban "will also cause damages to all partners of ZTE including a large number of U.S. companies."
Related: US and China will go for Round 2 of trade talks next week
ZTE relies on US firms for key smartphone components, including microchips from Qualcomm (QCOM) and glass from Corning (CNIG).
Fieldhack said Qualcomm would likely see the largest impact to its business. About 70% of ZTE's smartphones use Qualcomm chips, he said.
Qualcomm's CEO said during a recent earnings call that the anticipated impact on orders from ZTE would likely eat about $44 million out of the company's revenue next quarter.
Corning said it's not expecting any "material impact" on its business.
ZTE is the fourth largest smartphone brand in the United States behind Apple, Samsung and LGE, according to Fieldhack. While Apple and Samsung have cornered the high-end market, ZTE makes relatively inexpensive smart devices that have grown in popularity, Fieldhack added.
—CNN's Julia Horowitz contributed to this report.