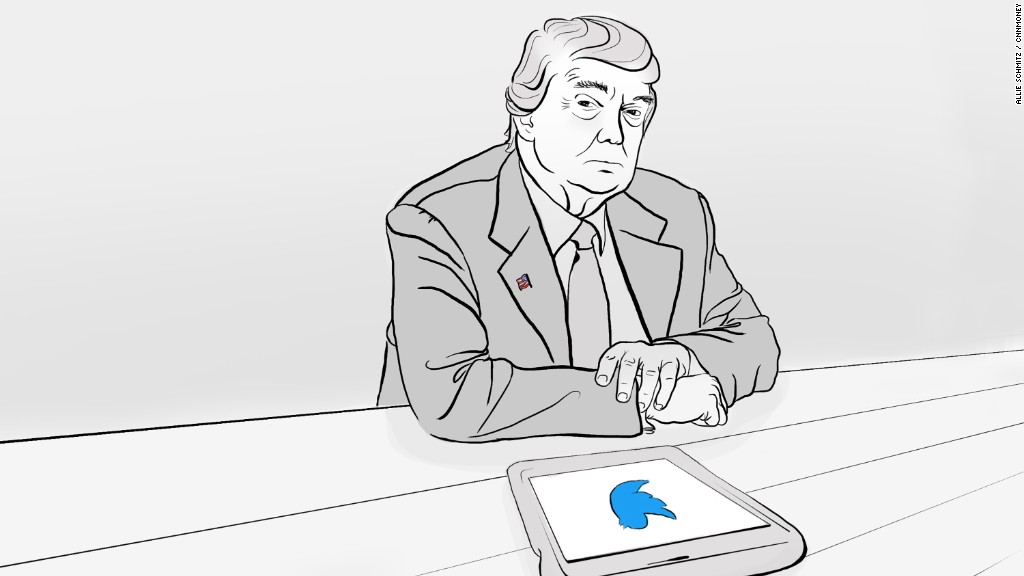 From his perch atop a White House full of leakers on Monday, President Trump tweeted, "leakers are traitors and cowards, and we will find out who they are!"
The tweet was Trump's first time calling anyone a "traitor" since the first week of his presidency, when he assailed Chelsea Manning.
In the past he has also labeled Edward Snowden a traitor. Both Manning and Snowden leaked sensitive government secrets during the Obama administration.
Some of the Trump-era leaks have also involved national security and other sensitive information. But recent headlines have been about more mundane matters: details of conversations from White House meetings.
Last week, anonymous staffers told reporters about a crass remark press aide Kelly Sadler made about Senator John McCain in a West Wing meeting. When press secretary Sarah Sanders berated staffers for leaking about it, her remarks were promptly leaked, too.
Observers say it's a symptom of a troubled White House culture, with various factions and competing agendas.
Related: Trump's latest shot at the press corps: 'Take away credentials?'
On Sunday Axios reporter Jonathan Swan, one of the beneficiaries of the constant leaking, wrote a piece all about why White House officials do it. He quoted a source saying "to be honest, it probably falls into a couple of categories. The first is personal vendettas. And two is to make sure there's an accurate record of what's really going on in the White House."
Because so many White House aides and insiders are willing to be anonymous sources, the public has learned an awful lot about the inner workings of the White House.
Barely a day goes by without a surprising or scandalous leak from the administration, be it about a powerful agency or the West Wing directly. So it's a constant source of tension between the press and the president.
Trump claimed in his Monday afternoon tweet that the embarrassing stories based on leaks are a "massive over exaggeration put out by the Fake News Media in order to make us look as bad as possible."
"With that being said, leakers are traitors and cowards, and we will find out who they are!" he wrote.
Trump has done this before: Suggested that stories based on leaks are untrue, while simultaneously pledging to stem leaks. Thus far, he has little to show for that pledge.
His Justice Department has prosecuted a few cases involving alleged leakers, not nearly as many as some media watchdogs feared, or as many as some Trump allies hoped.
The leaks are "a big threat to the agenda," American Conservative Union chair Matt Schlapp said on CNN's "New Day" Monday morning. Schlapp's wife, Mercedes, is a White House aide.
On "New Day," conservative Trump critic Bill Kristol responded, "I'm glad they're leaking, because you know what? We get a little window into what kinds of people are working in that White House."
Counselor to the president Kellyanne Conway said on Fox News Monday evening that she spoke with Trump about the leak issue multiple times on Monday.
When asked if she expects personnel changes as a result, Conway said, "I do, actually. Yes I do."
"There are all kinds of leaks," Conway added. "Some leaks exist to hurt, I guess, colleagues. Some leaks exist because they disagree with the policies that are being put forth. But none of them are helpful."
She commented that staffers are sometimes "using the media to shiv each other," but said it's not happening as often as it did in the early days of the Trump presidency.
Trump himself is known to sometimes call reporters and talk candidly.
Maggie Haberman of The New York Times tweeted on Monday evening, "Sometimes the person yelling the most about leakers is doing the leaking."