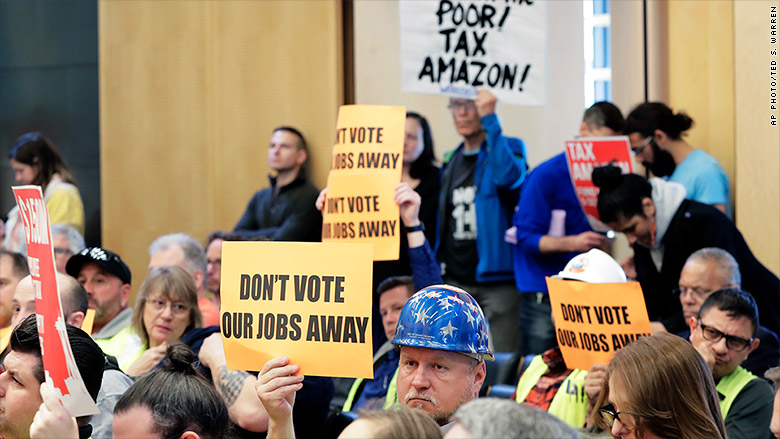 A controversial proposal that will tax big businesses in Seattle to alleviate the city's homelessness and affordable housing problems was approved Monday.
The Seattle City Council passed it unanimously in a 9-0 vote.
The final package, however, is almost half the size of the original proposal, which never garnered a veto-proof majority on the council. It was publicly opposed by Amazon -- the city's largest private sector employer -- and 131 other businesses.
The newly passed ordinance, which takes effect in January 2019, will impose a "head tax" on the city's highest grossing businesses. The tax will amount to $275 a year per full-time employee in Seattle. It would raise roughly $47 million a year on average and expire after five years, according to the Council.
That's down from the $75 million a year the original proposal would have generated by imposing a $540 head tax per employee for the next few years, after which it would be converted to a 0.7% payroll tax.
Related: For Amazon HQ2 hopefuls, Seattle serves as a cautionary tale
The only companies affected by the new ordinance would be those generating $20 million or more of annual revenue in the city. That's roughly 3% of businesses in Seattle, or 585 employers, according to the Council's estimates.
Roughly 60% of the revenue raised would go to building affordable housing, and 40% will be put toward emergency services for the homeless, Councilmember Lorena González said in the Council's public meeting Monday.
Seattle Mayor Jenny Durkan, who threatened to veto the original $540 head tax out of concern that it could cost the city good jobs, said Monday evening she would sign the new compromise deal into law.
"This legislation will help us address our homelessness crisis without jeopardizing critical jobs," Durkan said in a statement.
She promised "urgent action to move people off our streets and into safer places and to clean up garbage, needles and waste from our parks and communities" while also creating "more accountability and transparency with taxpayer dollars."
Seattle does not have an income tax because it's prohibited under Washington state law. So the city is restricted in how it can raise revenue, and currently relies on sales and property taxes as well as a business and occupancy tax.
In recent years the city has experienced an economic boom, but in tandem with that also an acute affordable housing and homelessness problem.
"People are dying on the doorsteps of prosperity," Councilmember Teresa Mosqueda said in the meeting.
Amazon is still not pleased
As a result of the scaled back head tax, Amazon would see its potential bill fall from an estimated $20 million a year to $12.4 million, given that it employs about 45,000 people in the Seattle area.
Nevertheless, the company is "disappointed by today's City Council decision to introduce a tax on jobs," Amazon Vice President Drew Herdener said in a statement.
Herdener noted that the company, which has embarked on numerous efforts to help alleviate the homeless problem, has resumed its construction on a new 17-floor office tower, which it had paused ahead of the vote.
But, he added, "we remain very apprehensive about the future created by the Council's hostile approach and rhetoric toward larger businesses, which forces us to question our growth here."
Correction: An earlier version of this story stated the tax would raise $44.7 million a year, according to the Council. The Council's estimate is $47 million a year.