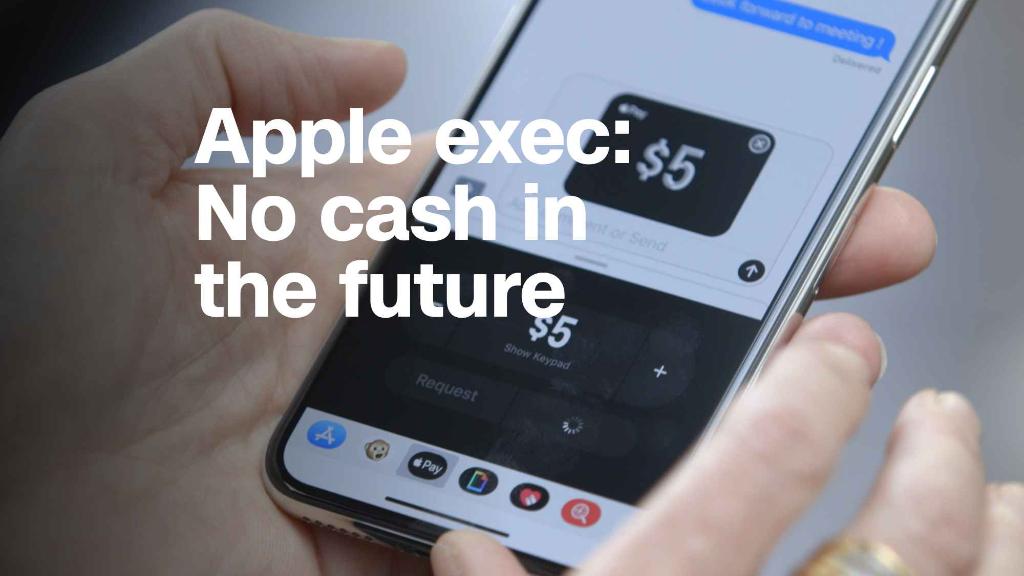 Watch out, big banks. Silicon Valley is targeting finance as the next industry ripe for disruption.
In the not-too-distant-future, Amazon (AMZN) could let customers zap each other cash with Alexa, and then deposit the money in an Amazon-branded checking account.
Apple (AAPL) is reportedly on the verge of launching a joint credit card with Goldman Sachs (GS) that would carry the Apple Pay brand. And Facebook (FB) just formed a team to explore the power of blockchain that could include creating its own cryptocurrency for payments.
Big Tech's experiment with finance is aimed at deepening relationships with customers -- especially younger ones -- making it less likely they'll go through the hassle of taking their business elsewhere.
"There has been a clear shift, with much more aggression into the banking space," said Daniel Ives, chief strategy officer at research firm GBH Insights.
"Technology companies are trying to get further entrenched in the consumer lifestyle," he said.
At the same time, delving into finance can give tech firms valuable insight into what Americans are spending money on. That information can then be used to shape future business strategies and defend against threats.
"The lure is the data. It gives them a broader view of their customers' wallet," said Ben Elliott, Bloomberg Intelligence's Washington policy analyst for financials.
Related: Amazon wants to be your banker?
The push into finance makes sense right now because Americans increasingly use their smartphones and tablets to do their banking anyway.
Customers are depositing checks from their smartphones, sending money on payment apps and even using their smartphones to access ATMs. The rise of mobile banking has allowed Bank of America (BAC), JPMorgan Chase and Wells Fargo (WFC) to close thousands of bank branches since the 2008 crisis.
"These tech companies realize there is major low hanging fruit to go after with this banking opportunity, especially as banking moves more into their backyard," said Ives.
Are tech firms a serious threat to banks?
None of this means that JPMorgan Chase (JPM) boss Jamie Dimon should be losing sleep about Amazon diving headfirst into banking.
The barriers for newcomers to enter banking are just too high -- and expensive. To become a bank, tech firms would need to get a banking charter, maintain minimum capital levels, adhere to major rules like the Community Reinvestment Act and submit to in-house supervision from government regulators. None of that will sound appealing to tech firms that have largely avoided regulatory scrutiny, at least up until the recent Facebook user data crisis.
"I don't see tech firms as an existential threat to the JPMorgan's of the world," said Elliott. "No matter how good their technology is, a fintech company can't overcome the cost of the new regulatory burden."
In other words, the very regulatory restraints that banks often complain about serve as protection from new competition.
Silicon Valley-Wall Street alliances
Instead of trying to compete directly, tech firms are expected to form alliances with banks that already have the required licenses and regulatory oversight.
"Big tech would rather partner with banks because that allows them to avoid the regulatory headaches while still providing their customers with enhanced offerings," said Isaac Boltansky, director of policy research at Compass Point Research & Trading.
For instance, reports suggest that Amazon's checking account product would be offered in tandem with a major bank. JPMorgan Chase, Capital One (COF) and other big banks have held talks with Amazon, The Wall Street Journal reported in March.
JPMorgan declined to comment, while Capital One (COF) and Amazon did not respond to requests for comment.
Likewise, Apple could launch a joint credit card with Goldman Sachs early next year, the Journal reported last week. The new credit card could help Apple juice the revenue its makes from its services business, while simultaneously boosting the prominence of Apple Pay.
Forging an alliance with Apple could be a win for Goldman Sachs as well. The Wall Street heavyweight has broadened its focus beyond investment banking by recently rolling out a consumer banking platform called Marcus.
Related: JPMorgan is serious about artificial intelligence
'Hey Alexa, pay for my gas'
Silicon Valley could pose more of a threat in the payments space, where tech firms like PayPal (PYPL) and Square have already upended the business.
Amazon is deliberating whether to add a person-to-person payments feature to its popular Alexa virtual assistant, the Journal reported in April. One idea would let drivers in Alexa-enabled cars pay for gas by using their voice.
Such a move by Amazon could steal some thunder from PayPal's Venmo and the Zelle digital payments network run by big banks like Wells Fargo, JPMorgan and Bank of America. It could take away market share from traditional payment processors like Visa (V) and MasterCard (MA).
Likewise, Facebook is exploring the creation of its own cryptocurrency that would let the social network's 2.2 billion users make electronic payments, Cheddar reported last week.
Facebook confirmed in a statement that it's "exploring ways to leverage the power of blockchain technology." However, the Mark Zuckerberg company cautioned that the newly-formed blockchain team is experimenting with "many different applications."
Apple, Samsung (SSNLF) and Google (GOOGL) have all rolled out platforms in recent years aimed at capturing a slice of the mobile payments space.
"Is an Apple or Amazon payment product a threat to Visa or MasterCard? That's more of a possibility," said Elliott.