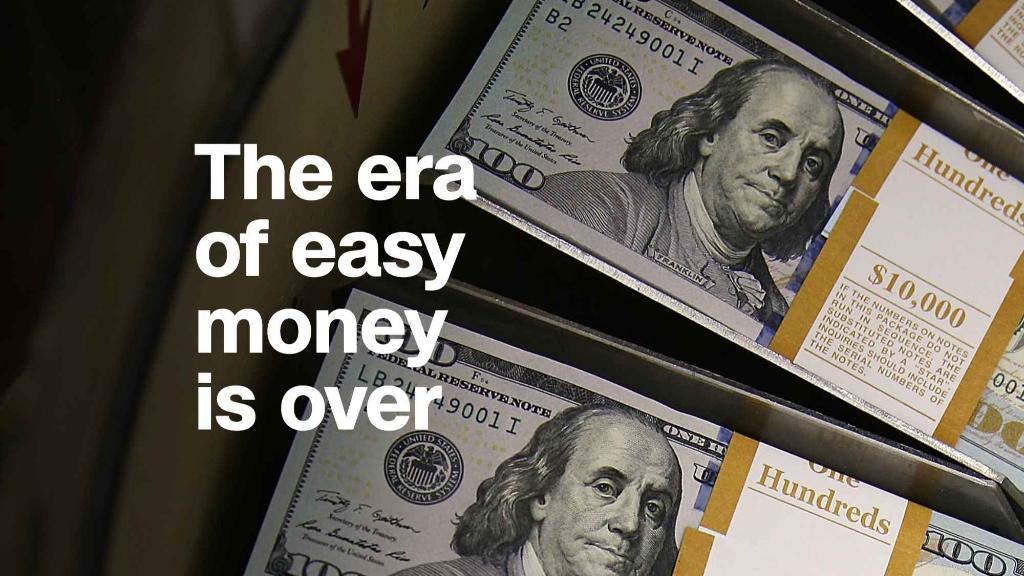 For nearly a decade, Americans have benefited from a magical trio of cheap loans, low prices and soaring stocks.
It's been a heady mix of mortgage rates below 4%, cheap gas and double-digit investment returns.
But nine years into the economic expansion, the pixie dust may be wearing off.
The Federal Reserve is raising benchmark interest rates, which means more expensive auto loans and mortgages. The 30-year fixed-rate mortgage has crept to a four-year high above 4.5%. That's still historically low, but it means borrowers can afford a little less house for their money.
After years of super-low inflation, Americans are paying more for the things they buy.
Gas prices this summer are expected to be the highest in four years. Bank of America forecasts global oil prices to top $100 a barrel next year. That means higher costs for airlines, truckers, package delivery companies and big consumer brands. Manufacturers report higher costs for steel and aluminum.
Related: The reason shipping costs are skyrocketing
And that roaring stock market? The Dow is up about 35% and the broader S&P 500 up 27% since the election, but they are flat this year.
Phenomenal corporate profits remain the stock market's backbone, but risks abound as the United States engages in trade talks with China, enters nuclear negotiations with North Korea and plans to re-impose sanctions on Iran.
For now, Americans feel good. A recent CNN poll shows 52% of Americans approve of President Trump's handling of the economy. The timing is fascinating: Higher gas prices and rising interest rates just months ahead of the midterm elections in the fall.