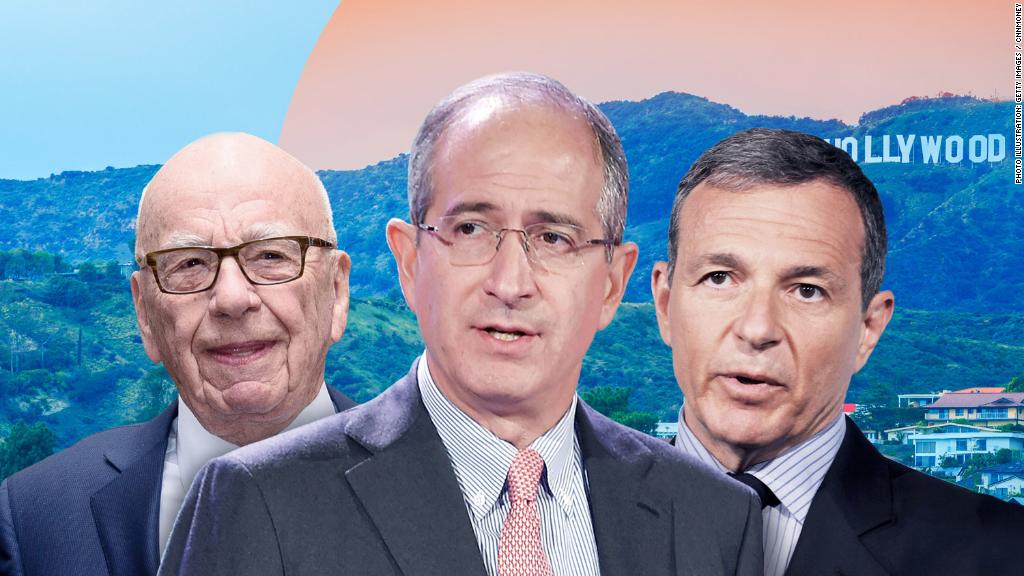 Comcast is trying to build a global media empire on top of a mountain of debt.
The cable giant has already submitted a $31 billion all-debt offer to beat Disney (DIS) and acquire Sky, the British satellite broadcaster. And Comcast (CMCSA) is talking to bankers about borrowing another $60 billion to out-bid Disney for most of 21st Century Fox (FOXA).
If both deals are successful, Comcast's total debt will more than double to a whopping $164 billion, according to Moody's Investors Service.
That would give Comcast the heaviest debt burden of any company rated by Moody's, narrowly ahead of AT&T. (AT&T would reclaim the top spot if its acquisition of Time Warner, the parent company of CNN, goes through.)
Taking on so much debt would be a dramatic reversal by Comcast, a company long known for a more conservative approach to deal-making that relied on cash and stock.
The aggressive stance shows how badly CEO Brian Roberts wants to add Sky's international pay-TV services and Fox's valuable film studio and cable networks.
To use one measure of corporate leverage, Comcast's debt today is about 2.5 times its annual earnings. If it acquires both Fox and Sky, that ratio will jump to 4.1. Among high-debt companies, only beer king Anheuser-Busch InBev (BUD) has a higher leverage ratio, Moody's said.
It would be a tricky time for Comcast to pile on that much debt. Borrowing costs have soared as the Federal Reserve raises interest rates from historically low levels. That means it will cost Comcast more to borrow than it would have a few years ago. And the cost to refinance debt down the road may be even higher.
In addition, some economists believe the risk of a recession will rise significantly in 2019 and 2020. A downturn would hurt corporate profits, making it harder for companies such as Comcast to pay back debt.
"These levels of debt have been untested in stressful financial periods, and therefore add material financial risk," Moody's analyst Neil Begley said in a report published on Tuesday.
Related: What Comcast, Disney and Fox all see in Sky
Moody's warned that Comcast has "no room for an offer for Fox without imperiling" its high credit rating.
A credit rating downgrade could increase Comcast's future borrowing costs, making it more difficult to pull off blockbuster deals like the Fox bid that Roberts is mulling.
Some stock analysts have voiced concern about the amount of debt Comcast needs to take on just to acquire Sky.
Cowen analyst Gregory Williams wrote to clients last month that he is "skeptical of the Sky deal" because of the high price and debt burden.
Williams warned that instead of returning cash to shareholders, Comcast will need to focus on making the deal work and "balance sheet repair."
Comcast declined to comment.
Of course, there is no guarantee that Comcast will go ahead with an all-debt Fox deal.
Last week, sources told CNNMoney that Comcast is in discussions with banks about making a $60 billion play for the same assets Fox agreed to sell to Disney.
The deal would give Comcast control of Fox's vaunted film studio, which includes franchises like X-Men and Avatar, as well as Fox's regional sports networks. Also up for grabs: Fox's stake in Hulu, which has 20 million subscribers.
However, a source told CNNMoney that Comcast will probably move ahead with a deal only if AT&T (T)wins its court battle against the Justice Department to acquire Time Warner (TWX).
Comcast's potential bid for Disney would be worth about $8 billion more than Disney has agreed to pay. Comcast would sweeten the deal even further by paying all cash.
But Comcast, like most companies not named Apple (AAPL), doesn't have that kind of cash sitting around. Comcast listed about $6 billion in cash on its balance sheet at the end of the first quarter.
Related: Morgan Stanley thinks it knows when the bull market will end
In theory, Comcast could try to acquire Fox by using stock. That's what Comcast tried to do in 2014 when it made a $45 billion all-stock bid for Time Warner Cable. Regulators opposed the deal, and Comcast eventually walked away.
However, Comcast indicated last month its stock price is too depressed to use it for acquisitions. Comcast shares are down 16% over the past year. That leaves the company little choice but to borrow to pay for acquisitions.
Even assuming $3 billion in cost savings and other financial benefits, Moody's estimated it would take Comcast more than four years to get its leverage ratios back to healthy levels. And that's only if Comcast didn't devote some of its cash toward stock buybacks and other costly investments.
Moody's warned that "such a departure" from Comcast's past practices and commitments would create "significant doubt for the future."
— CNNMoney's Dylan Byers, Jill Disis and Hadas Gold contributed to this report.