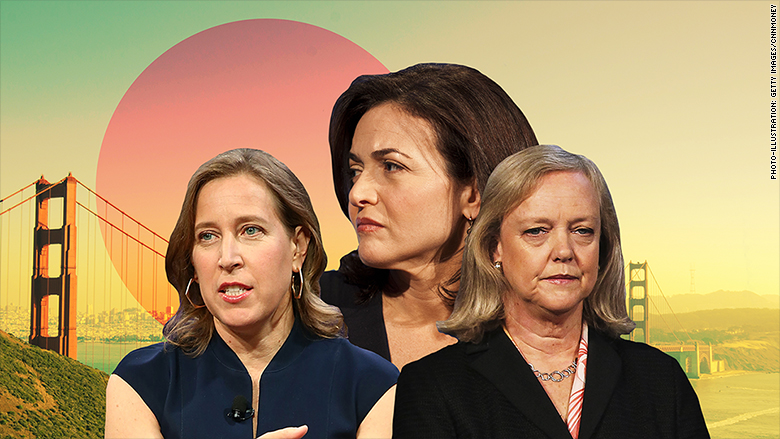 The Big Picture: There aren't enough women in tech.
The vast majority of people making the decisions that will determine our future are men, which means the unique insights and skills of the majority gender are being left out of the equation. From grand strategy to day-to-day implementation, there aren't enough women authoring our future.
Reuters' Jennifer Saba has created a calculator to show how many years it would take Apple, Google and Facebook to achieve gender parity in their workforces if they each committed to making 51% of new hires women: Apple: 15, Google: 14, Facebook: 7.
But: 51% is not the current ratio. Far from it. Which means that without bold leadership on gender parity, we're at least several decades away from a world where tech companies reflect the overall makeup of the labor market.
What's standing in the way, via Saba:
• Education: "Less than one-fifth of computer and information science majors are female," according to the National Center for Women & Information Technology.
• Promotion: "Companies entrench the problem by failing to promote women or retain them."
Sign up for PACIFIC: The new CNNMoney newsletter about the center of change and innovation
---
Today's PACIFIC
It's Friday.
Seven weeks after March for Our Lives and six weeks after Sundar Pichai, Susan Wojcicki and other tech CEOs called for increased gun control in the wake of the YouTube shooting, police in Sante Fe, Texas, say a shooter has killed at least 10 people at a local high school, most of them students.
Our hearts are with Texas.
---
Alphabet Soup: Google girds for '60 Minutes'
Alphabet and Google executives are readying themselves for a CBS "60 Minutes" report featuring critics who say the company has stifled competition. CBS also interviewed European Union antitrust chief Margrethe Vestager, who fined Google $2.7 billion last year for antitrust abuse.
My colleague Jordan Valinsky emails:
• The report focuses on the tech giant's monopolies in search, digital advertising and its deep breadth of user data.
• Alphabet shares fell 1.7% in early trading when CBS announced the segment. Shares are now down 1%.
The Big Picture: Big tech is facing increased scrutiny over the sheer scale of its influence over our lives. Alphabet and Google have so far avoided the public pressure that Facebook has faced, but that is starting to change.
Meanwhile, The Verge's Vlad Savov has obtained an internal Google video from 2016 that shows a concept "for how total data collection could reshape society." Savov calls it "stunningly ambitious and unsettling."
Bonus, via Valinsky: "Sunday's '60 Minutes' will also feature a piece on Theranos, with former employees explaining how the company deceived investors and endangered unsuspecting patients. The report is timed to the release of 'Bad Blood,' a book detailing Theranos' rise and collapse."
---
Sex Ed: Gates dishes on Trump
MSNBC's Chris Hayes has obtained footage of Bill Gates speaking to Gates Foundation staff about his interactions with President Trump.
What he said:
• Trump left an event "and 20 minutes later flew in in a helicopter to the same place. So clearly he had been driven away and wanted to make a grand entrance in a helicopter."
• "When I first talked to him it was actually kind of scary how much he knew about my daughter's appearance. Melinda didn't like that too well."
• In two separate meetings Trump "asked me if vaccines weren't a bad thing because he was considering a commission to look into ill-effects of vaccines." Gates said he told Trump, "That's a dead end, that would be a bad thing, don't do that."
• In both meetings, Trump "wanted to know if there was a difference between HIV and HPV. So I was able to explain that those two are rarely confused with each other."
• Trump spoke to Gates in the third person: "When I first walked in, he said, 'Trump hears that you don't like what Trump is doing.'"
The Big Picture: I mean ...
Sign up for PACIFIC: The new CNNMoney newsletter about the center of change and innovation
---
Analog Administration: Trump pushes on Amazon
President Trump has reportedly pushed the US Postmaster General to double the rate the Postal Service charges Amazon and others to ship packages, despite the fact that the postmaster general herself believes the move is counterintuitive.
The Washington Post's Damian Paletta and Josh Dawsey scoop:
• U.S. Postmaster General Megan Brennan "has so far resisted Trump's demand, explaining in multiple conversations occurring this year and last that these arrangements are bound by contracts and must be reviewed by a regulatory commission."
• "She has told the president that the Amazon relationship is beneficial for the Postal Service and gave him a set of slides that showed the variety of companies, in addition to Amazon, that also partner for deliveries."
• "Despite these presentations ... Trump [signed] an executive order mandating a government review of the financially strapped Postal Service that could lead to major changes in the way it charges Amazon and others for package delivery."
---
Top links via PACIFIC's Jordan Valinsky
YouTube makes a deal with Cardi B (Bloomberg)
Apple pays a tranche of disputed taxes (Reuters)
PayPal makes a $2.2 billion acquisition (NYT)
Uber's Jeff Holden steps down (Recode)
Seattle misses Amazon's number (Seattle Times)
---
Musk Watch: Elon's tunnel vision
Elon Musk declared last night that his Boring Company tunnels will one day allow people to get from LAX to Dodgers Stadium in 10 minutes for $1.
It currently takes well over an hour to make that trip at almost any time of day.
My colleague Matt McFarland has more:
• Musk described the tunnels as "almost like an autonomous, underground multi-level car system," which may eventually number in the thousands.
• Musk said Boring's machines will be 10 times as fast as existing tunneling machines.
• Boring is seeking permits for a 2.7-mile tunnel under Sepulveda Boulevard in L.A. It's the first step toward a 60-mile tunnel network across the city.
• The city government has been receptive, and a city council committee granted the Boring Company an exemption to a state environmental review.
The Big Picture: As I said yesterday, Musk is part visionary, part P.T. Barnum. The tunnel is a grand vision that could do wonders to alleviate traffic, if it ever comes to fruition. It's also a nice distraction from all of Musk's problems at Tesla. Those two things are not mutually exclusive.
Sign up for PACIFIC: The new CNNMoney newsletter about the center of change and innovation
---
Time Off: Weekend Long Reads
"The 9.9 Percent Is the New American Aristocracy" by The Atlantic's Matthew Stewart: "The class divide is already toxic, and is fast becoming unbridgeable. You're probably part of the problem."
"Apple and Its Rivals Bet Their Futures on These Men's Dreams" by Bloomberg's Ashlee Vance: "The ideas behind modern AI -- neural networks and machine learning -- have roots you can trace to the last stages of World War II."
"How Ajit Pai Became the Most Hated Man on the Internet" by Wired's Andrew Rice: "The FCC chair just wants to be one of the tech nerds. But he seems to be trying to destroy everything tech nerds believe in."
"How Evan Spiegel Fumbled Snap's Redesign" by The Information's Tom Dotan: "Evan Spiegel decided to remake Snapchat ... What followed has been the most trying period in Snap's young life as a company."
"We Made Plastic. We Depend On It. Now We're Drowning In It" by National Geographic's Laura Parker: "The miracle material has made modern life possible. But more than 40 percent of it is used just once, and it's choking our waterways."
---
What Next: The Warriors-Rockets series comes to Oracle Arena. Game 3 is Sunday at 5:00 p.m. Pacific on TNT.
See you Monday.
Sign up for PACIFIC: The new CNNMoney newsletter about the center of change and innovation