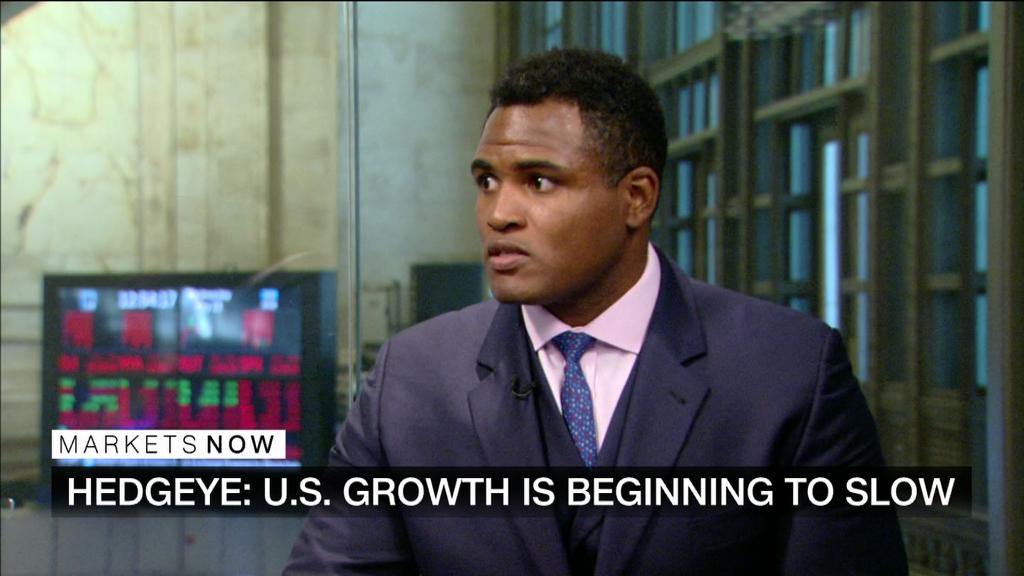 Investors should watch out for three big risks as they enter into the second half of the year.
On CNNMoney's "Markets Now" Wednesday, analyst Darius Dale warned about the strengthening dollar, wage growth and a peaking global economy.
"There's a lot of negative signals out there that seem to suggest that we're not going to be able to surpass this historically high level of operating margins," Dale, a senior macro analyst with investment research firm Hedgeye Risk Management, told CNNMoney anchor Maggie Lake.
Dale predicts that the pace of economic growth and inflation will slow this year, but he doesn't think a recession is coming soon.
Related: Apple inches closer to $1 trillion market value
Dale said that investors should avoid consumer staples, the industrial sector, and even some technology companies.
Investors who bet on tech companies that rely on economic strength, like semiconductors, for example, could be making "a huge mistake."
Dale also cast doubt on the Trump administration's ability to hit its 3% growth target because companies have been spending savings from their new lower tax rate on stock buybacks, rather than investing in new facilities or research.
Related: Watch 'Markets Now' here every Wednesday at 12:45 p.m. ET
CNNMoney's "Markets Now" streams live from the New York Stock Exchange every Wednesday at 12:45 p.m. ET. Hosted by Lake and CNNMoney editor-at-large Richard Quest, the 15-minute long program features incisive commentary from experts. Recent guests include former Chrysler and Home Depo (HD)CEO Bob Nardelli and Bitcoin bull Mike Novogratz.
You can watch "Markets Now" at CNNMoney.com/MarketsNow from your desk or on your phone or tablet. If you can't catch the show live, check out highlights online and through the Markets Now newsletter, delivered to your inbox every afternoon.