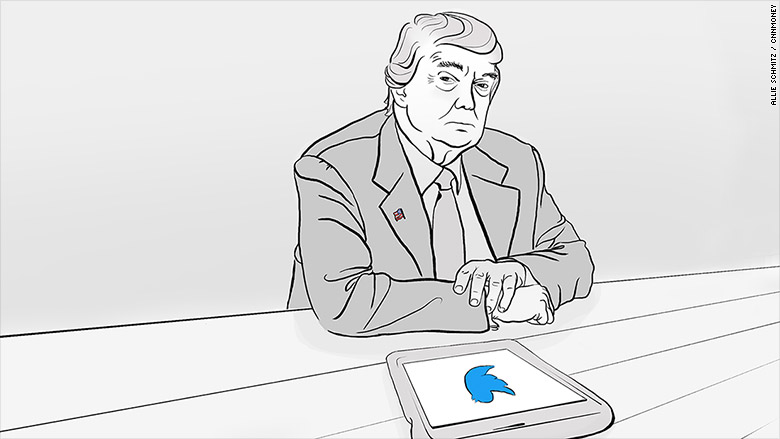 In many of President Trump's comments about an alleged "spy" in his presidential campaign, there's a tell.
Usually it's the word "if." Sometimes it's the word "maybe." Or "possibly." Or the word "or!"
The caveats give him some wiggle room while he's promoting a full-fledged conspiracy theory.
"It looks like a very serious event, but we'll find out," he told reporters on Wednesday. Many of his sentences contained caveats: "I hope it's not true, but it looks like it is."
What IS true is that the FBI used a confidential source to talk to Trump advisers after the bureau became suspicious about Russian interference in the 2016 election.
Related: Officials tell CNN that FBI 'informant' not planted inside Trump campaign
But Trump's leap to "SPYGATE" isn't supported by the publicly available facts. On Wednesday he tweeted that this "could be one of the biggest political scandals in history!"
Notice the word "could?"
Readers and viewers are left with the overall impression of a sinister plot against the president.
But Trump has hedged many -- not all, but many -- of his remarks about the controversy. On Tuesday, he said on camera, "If they had spies in my campaign, that would be a disgrace to this country."
Anderson Cooper pointed out the "if" on CNN Tuesday night: "The president used a small fig leaf in that first sentence, the word 'if,' to cover a very loaded word, 'spies.'"
Some of the GOP lawmakers and pro-Trump media figures beating the drum about this issue have also hedged their heated remarks. In a key interview on Sunday, Congressman Devin Nunes said things like "if they ran a spy ring, that is an absolute red line."
"If."
White House deputy press secretary Hogan Gidley kept it up on Wednesday, telling a Fox interviewer "if, in fact, this occurred," it "could be one of the biggest scandals in history."
So what did you notice about that quote? "Could be," or "one of the biggest scandals in history?"
This is a time-honored tactic, not just among politicians -- but by members of the media, too. Raising questions has proven remarkably effective for Trump and his allies.
Many Trump supporters are dispensing with the "ifs" altogether, swearing they are uncovering a "deep state" attack against the president.
Journalists are having to work very carefully to fact-check the claims.
The Washington Post included this context in the fourth paragraph of its story on Wednesday: "There is no evidence to suggest that the source was inserted into the Trump campaign, as the president has suggested, but the source did seek out and meet Trump campaign advisers."
In this piece for CNN.com, Chris Cillizza explained how Trump built this "spy" narrative "from whole cloth" by ignoring a "series of subsequent facts that undercut his conclusion."
Some other news outlets, however, have either buried or skipped the fact-checking part.
And Trump's advocates can always fall back to his "hey, I'm just asking if I was spied on" position.
But he's trying to have it both ways. In some of his tweets this week, Trump has included "ifs." But other times, he has stated the existence of a "spy" as fact.
"He was only there to spy for political reasons and to help Crooked Hillary win," he wrote Tuesday night.